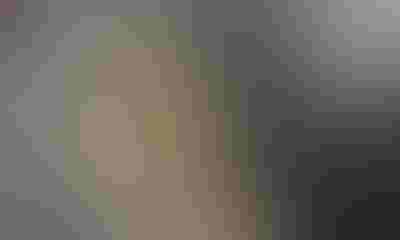 Maybe you're in your combine right now checking us out on your phone or tablet. If you are, look at how your cornhead handles corn stalks. One company believes there is a better way to handle stalks to actually get an edge on yield benefit for next season.
Related: 360 Yield Center focuses early product lineup on mid-season N corrections
360 Yield Center introduces new stalk rolls that do more crimping to stalks than regular rolls. Note in the picture how the stalks have been opened down the side of the stalk. Each one of these stalks was run through a demo where the "cornhead" was equipped with the stalk rollers offered by 360 Yield Center.

Notice the stalk: Here's what stalks look like after passing through the new stalk rolls offered by 360 Yield Center.
Spokespersons say the primary advantage is that corn stalks are opened up to begin breakdown by microbes sooner. Bacteria can start working on them during the fall and can begin the degradation process.
Especially if you're growing corn after corn, the buildup of stalk residue is becoming more of a concern. That's particularly true after harvesting a good crop of corn.
Improved plant health through genetics or through the use of Bt traits is also keeping stalks greener longer into the fall in many situations. Spokespersons say this is one way to help get a jump on next season.
360 Yield Center as a company is about anything that can improve yield and net income from planting through harvest. One other product displayed at the recent Farm Progress Show was a concept gathering belt for cornheads. Instead of a chain an interlocking belt would bring ears up to the throat of the machine.
Related: 360 Yield Center Unveils Three New Products
The biggest advantage of the interlocking belt over the chain is that it prevents corn kernels from falling through and being lost to the ground. One challenge still ahead is how to make sure ears continue traveling up the cornhead toward the throat and not falling backward. Stay tuned.
Subscribe to receive top agriculture news
Be informed daily with these free e-newsletters
You May Also Like
---