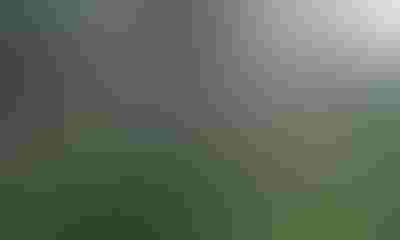 The longstanding annual Weed Identification Contest will take place once again this year at the 2016 Iowa State Fair. It will be held on Aug. 12 from 9 a.m. to 11:30 a.m. in front of the John Deere Agriculture Building. Everyone is welcome to enter the contest in one of the three divisions: Expert, Public and Youth. The top five winners from each division will receive a cash prize and a coveted Iowa State Fair ribbon.

NAME THAT WEED: Contestants at the 2015 Iowa State Fair Weed Identification contest had fun testing their skill. Like last year, the top 5 winners in each division in 2016 will receive a cash prize and a coveted Iowa State Fair ribbon.
"The goal of the contest is to increase the participants' knowledge of weeds," says Bob Hartzler, professor of agronomy and an Extension weed specialist at Iowa State University. "We try to make the test difficult enough so that nobody gets all 40 weeds correct, but we also include our most common weeds to ensure everyone gets some correct."
No preregistration required; just show up to participate
The first place winners from 2015 included: Madelyn DeJong in the Youth class, Matthew Vandehaar in the General Public class, and Lowell Sandell in the Professional class. The contest usually draws 10 to 15 youth participants, 30 to 40 participants in the general division, and 15 to 20 professionals each year. Contest coordinators are Bob Hartzler and Meaghan Anderson, an ISU Extension field agronomist. They have high expectations for another great turnout this year.
No preregistration is required for the contest. To participate, contestants are to show up during the allotted time between 9 a.m. and 11:30 a.m. Winners will be announced following the contest at 3 p.m. inside the John Deere Agriculture Building.
However, it's a good idea to "study up" ahead of time
The following weed identification resources are available to help contestants study for the contest: Weed Identification Field Guide, 2nd Edition; Weed Identification Sheets for 100 Iowa Weeds; University of Missouri Weed Identification Guide; Michigan State University Turf Weeds; and University of Illinois Weed Identification Page.
Information about the Weed Identification Contest and other contests at the 2016 Iowa State Fair can be found in the Iowa State Fair Agriculture and Horticulture Crops Premium Book. For questions or more information about the Weed Identification Contest, contact Meaghan Anderson at 319-337-2145 or [email protected].
"With three divisions (future agronomists or youth, the general public, and a professional division) this is fun for the entire family," says Anderson. Future agronomists will identify 25 common Iowa weeds, those in the general division identify 35 weeds, and professionals will identify 35, plus five extra challenging Iowa weeds."
Subscribe to receive top agriculture news
Be informed daily with these free e-newsletters
You May Also Like
---