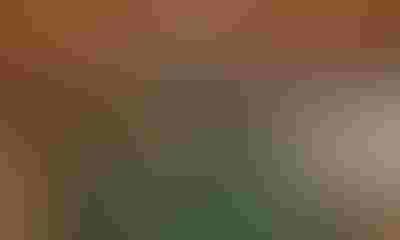 Internet auctions haven't replaced live auctions, but they've certainly taken their place alongside them in terms of importance in merchandising, especially in the livestock industry. For example, even 10 years ago most 4-H club animal prospects moved through live sales. Today Internet-only auctions account for a growing percentage of animals sold each year.
"It's the only way we can market our show pigs and get a good price for them today," one producer said. This person grows pigs primarily for 4-H projects. Instead of having one live auction, he has five to six Internet auctions, selling 12 to 15 each time.

BUY BULLS WITH TEST DATA: Dave Redman, who served as Lawrence County Extension ag educator for many years and a cattleman himself, shows off the test scales and data collection area at Feldun-Purdue. This is where data is collected on bulls that were sold in a recent sale, broadcast live on the Internet.
One livestock breeder recently offered a dozen animals in a sale, and they were primarily breeding stock. Only one of the 12 didn't get a bid at the floor price. One he would have sold for the floor, $400, brought twice that price.
IBEP sale evolves
The Indiana Bull Test Evaluation program still sells the top half of bulls that were on test through a live auction. Brad Shelton, station manager at Feldun-Purdue Farm, Bedford, says that even so, sale methods have evolved with the times.
For many years, they have broadcast the sale by video to two locations around the state, Lafayette and Rochester. People could bid from those locations. Now they bid from there by Internet. Now, they also broadcast the sale live on the Internet so that anyone with a computer can watch it and bid if they want.
"The two remote sites were very active this time," he says, talking about the recent sale held April 13. "Several bulls went to Rochester, sold to farmers gathered there and bidding by Internet."
One advantage to visiting and buying at one of the two sites is that bulls are delivered to those locations the next day for pickup.
Related: IBEP bull test sale 5th best average on record
"This time we also had one individual buy six bulls over the Internet," Shelton continues. "He wasn't at a site." Sitting at his computer somewhere, he bid and purchased bulls strictly by Internet.
Internet bidders were active on many lots in the sale, even ones they didn't purchase. It was common to hear the auctioneer say "The Internet is in," or "You're out, Internet."
The auction was conducted by DVAuctions, which offers Internet bidding as an option. This major livestock auction company broadcasts sales frequently. You can either just view the sale, or register to bid, and view and bid if you want.
"There was more activity on the Internet than we've had in the past," Shelton says. "Interest is definitely picking up."
Subscribe to receive top agriculture news
Be informed daily with these free e-newsletters
You May Also Like
---