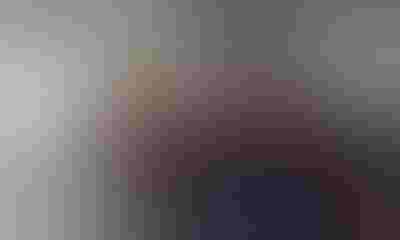 For Scott Williams, building a hog barn represents a way to diversify. "It's a way to go back to the old way of farming," says Williams.
Williams has raised hogs on his own since he was 12 years old in 4-H, and helped his dad raise pigs before that, but took a ten-year break from pork production until February, when he and his wife, Dawna built a 2,499-head permitted hog barn on their farm near Plainview to help diversify their cow-calf operation.

DIVERSIFYING THE FARM: For Dawna and Scott Williams, building a hog barn represents a way to diversify and bring bac the next generation. "I've got a 25-year-old, a 17-year-old, and a 15-year-old, and hopefully this will be theirs someday," says Scott.
The barn is one of twelve that have been built in Nebraska in the last two years to contract finish pigs with the Maschhoffs, LLC. A big piece of the puzzle for many of these producers, like the Williamses, is providing a way for the next generation to come back to the farm, notes Alan Stephens, senior business development manager at the Maschhoffs. "The owners of this site look at this as an investment in their future and their children's future to be able to build equity and generate a consistent revenue stream," Stephens says.
Diversifying the farm
Scott and Dawna's 25-year-old son Seth will partner with Scott in managing the cow-calf herd and the hog barn. Meanwhile, their daughter, Catie, 17 and youngest son, Micah, 15, will be able to earn some extra income during the summer months and have an opportunity to come back to the farm after college. "It diversifies the operation – that's the key to everything," says Seth. "I've always been taught that if you put all your eggs in one basket, if you're strictly cow-calf or row crops, and any one of those things falls apart, you're sitting in a hole."
The hog building will not only help diversify, but also help improve the soil health on pastures and on neighbors' fields by providing them with manure to use as fertilizer. "The real benefit is to the microbes and bacteria, population in the soil, since the manure is naturally going to help build organic matter," Seth says. "Especially on sandy soil like we have, if you put manure on consistently, not over a couple years but an extended period, you can change your soil composition."
For a 2,499-head building, producers typically save an average of $35,000 a year in fertilizer, says Stephens – and that's just accounting for nutrient value, not the organic matter and soil health improvements from manure.
Room for expansion
Nebraska's hog finishing numbers are on the rise, although Stephens notes when compared to farrowing operations, there's still room for expansion. Around 25% of hogs raised in Nebraska are exported, finished elsewhere, and shipped back to Nebraska for processing. "We've still got a long ways to go at the industry level," Stephens says. "We're still at a finishing space deficit in Nebraska."
In February, LB176 was passed, allowing packers to own pigs in the state, which Stephens notes helps open up a barrier for pork production. "But that opportunity does exist with non-packer entities," he says. "I think a lot of people are thinking 'now we can do this.' But there are other opportunities too – there are packer contracts, but there are non-packer contracts as well."
There is also an economic factor in this mindset, Stephens notes. "Prior to the last year or two there wasn't a lot of economic incentive for row crop farmers to diversify or reduce their operating costs, which are things hog finishing can provide."
Learn more in an upcoming issue of Nebraska Farmer.
Subscribe to receive top agriculture news
Be informed daily with these free e-newsletters
You May Also Like
---