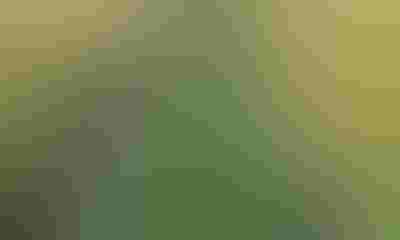 No, the farmer who owns this field didn't leave a perfect gap between two blocks of soybeans and seed Canada thistle. Instead it's an irrigation track where center pivot wheels ran. Thistles were mowed earlier, and they're growing back.
Related: Fall Spraying Of Herbicides Can Nail Winter Annual Weeds
This is one time when it's to his advantage they're growing back. Any time within the next few weeks is a great time to hit Canada thistle with herbicides. You have a better chance of taking them completely out, roots and all, than if you hit them earlier in the season during reproductive stages.

Prime time for dying: These thistles are ready for spraying. Danny Greene says you might wait a bit closer to frost, but spray them before a hard freeze occurs.
Fall regrowth on non-crop areas – or after a crop if you can harvest early enough – makes a great place to work on thistles. The young plants are actively taking up and transporting materials at this point, and they will transport herbicides absorbed through the leaves down to the roots, where herbicides can work and kill plants.
"Glyphosate is the best option for control and should be applied as late in fall as possible," says Danny Greene, a crops consultant and owner of Greene Crop Consulting, Inc., Franklin. He is also an Indiana Certified Crops Adviser. Currently he is a panelist in Crops Corner and Hoosier Bug Beat in Indiana Prairie Farmer.
You need to spray before the first freeze, however, Greene says. "2,4-D is relatively inexpensive and is another good option," he adds. "Several other products are labeled for Canada thistle control in a corn or soybean crop."
The only sticky wicket may come if you have thistles along a ditch bank that you would like to get rid of. "Use common sense and be aware of regulations concerning spraying ditches," Greene advises. "Do not apply to open ditches with water in them."
On highly erodible land you may also want to use herbicides that are selective against thistles, not non-selective. Glyphosate is non-selective and would kill everything.
Subscribe to receive top agriculture news
Be informed daily with these free e-newsletters
You May Also Like
---