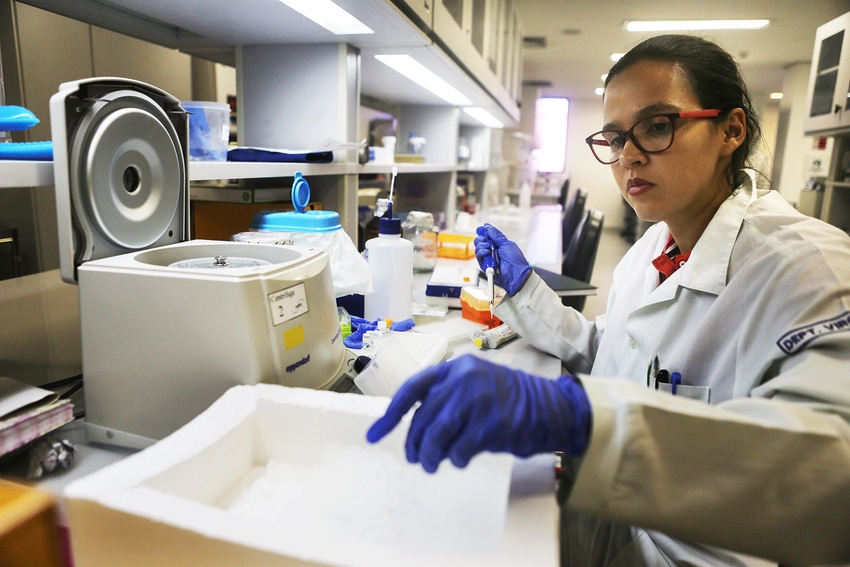 Updated May 15
What is the federal government doing to address the COVID-19 pandemic? What cleaners kill the new coronavirus? We're updating the list as more things come across our desk.
Hydroxychloroquine clinicial trial begins
A clinical trial has begun to evaluate whether the malaria drug hydroxychloroquine, given together with the antibiotic azithromycin, can prevent hospitalization and death from COVID-19. The National Institute of Allergy and Infectious Diseases (NIAID), part of the National Institutes of Health, is sponsoring the trial, which is being conducted by the NIAID-funded AIDS Clinical Trials Group (ACTG). Teva Pharmaceuticals is donating medications for the study.
The trial will enroll approximately 2,000 adults at participating ACTG sites across the United States. Study participants must have confirmed infection with SARS-CoV-2, the virus that causes COVID-19, and be experiencing fever, cough and/or shortness of breath. The investigators anticipate that many of those enrolled will be 60 years of age or older or have a comorbidity associated with developing serious complications from COVID-19, such as cardiovascular disease or diabetes. Participants will be randomly assigned to receive short-term treatment with either hydroxychloroquine and azithromycin or matching placebos. People living with HIV and pregnant and breastfeeding women also are eligible to participate in the study.
Read more here.
Coordinated strategy is key, NIH experts say
A harmonized and collaborative approach to the clinical testing, scale-up and distribution of candidate vaccines to prevent COVID-19 is essential, scientific leaders write in a perspective published in Science. As the COVID-19 pandemic continues, government, industry and academia have introduced a variety of vaccine candidates. The authors note that more than one effective vaccine approach likely will be required to successfully protect the global community from SARS-CoV-2, the virus that causes COVID-19. They describe a strategic approach to research and development that would generate essential data for multiple vaccine candidates in parallel.  
National Institutes of Health Director Francis S. Collins, M.D., Ph.D., National Institute of Allergy and Infectious Diseases Director Anthony S. Fauci, M.D.,  Lawrence Corey, M.D., professor in the Vaccine and Infectious Disease Division at the Fred Hutchinson Cancer Research Center in Seattle, and John R. Mascola, M.D., director of NIAID's Vaccine Research Center are the co-authors of the commentary.
Read more here.
Random testing trial for remdesivir begins
A randomized, controlled clinical trial evaluating the safety and efficacy of a treatment regimen of the investigational antiviral remdesivir plus the anti-inflammatory drug baricitinib for coronavirus disease 2019 (COVID-19) has begun. The trial is now enrolling hospitalized adults with COVID-19 in the United States. The trial is expected to open at approximately 100 U.S. and international sites. Investigators currently anticipate enrolling more than 1,000 participants. National Institute of Allergy and Infectious Diseases, part of the National Institutes of Health, is sponsoring the trial.
Read more here.
Study examines COVID-19 impact on rare disease community
For the millions of people living with a rare disease, the novel coronavirus disease COVID-19 presents challenges, from potential reduced access to needed medical care to possible heightened anxiety and stress. A new online survey launched by the National Institutes of Health-supported Rare Diseases Clinical Research Network aims to find out how the COVID-19 pandemic is impacting individuals with rare diseases, their families and their caregivers. Results will help the rare disease research community shed light on the needs of people with rare diseases during the COVID-19 pandemic and other potential health crises, in addition to informing future research efforts.
Read more here.
Study investigates COVID-19 incidence in children
A study to help determine the rate of novel coronavirus infection in children and their family members in the United States has begun enrolling participants. The study, called Human Epidemiology and Response to SARS-CoV-2 (HEROS), also will help determine what percentage of children infected with SARS-CoV-2, the virus that causes COVID-19, develop symptoms of the disease. In addition, the HEROS study will examine whether rates of SARS-CoV-2 infection differ between children who have asthma or other allergic conditions and children who do not. The National Institute of Allergy and Infectious Diseases, part of the National Institutes of Health, is sponsoring and funding the HEROS study.
Read more here.
Vaccine work moves ahead
The National Institute of Health and the Foundation for the NIH are bringing together more than a dozen biopharmaceutical companies, the Health and Human Services Office of the Assistant Secretary for Preparedness and Response, the Centers for Disease Control and Prevention, the U.S. Food and Drug Administration and the European Medicines Agency to develop an international strategy for a coordinated research response to the COVID-19 pandemic.
"Now is the time to come together with unassailable objectivity to swiftly advance the development of the most promising vaccine and therapeutic candidates that can help end the COVID-19 global pandemic," said said NIH Director Francis S. Collins.
Learn more here.
EPA updates its coronavirus website
The U.S. Environmental Protection Agency is updating its coronavirus website to include new resources for state, local, and tribal agencies and intergovernmental associations.
EPA's Coronavirus Resources for State, Local, and Tribal Agencies and Associations contains information on grants, enforcement and compliance programs, water infrastructure, and a host of other issues important to effective environmental program delivery. The webpage will be updated regularly with new information.
EPA is also continuing to update resources on its website and add to the list of surface disinfectant products that are effective against SARS-CoV-2.
To contact EPA about any Coronavirus (COVID-19) issue, you may do so here: https://www.epa.gov/coronavirus/forms/contact-us-about-coronavirus-covid-19.
New study begins at National Institute of Health
A new study has begun recruiting at the National Institutes of Health in Bethesda, Maryland, to determine how many adults in the United States without a confirmed history of infection with SARS-CoV-2, the virus that causes COVID-19, have antibodies to the virus.
The study will be conducted by researchers at the National Institute of Allergy and Infectious Diseases and the National Institute of Biomedical Imaging and Bioengineering, with additional support from the National Center for Advancing Translational Sciences and the National Cancer Institute, all parts of NIH.
New resource for workers to protect themselves from COVID-19
The National Institutes of Health will launch a website with important educational resources for workers dealing with the spread of COVID-19. The initial focus is to build a virtual safety training delivery platform in partnership with private sector e-learning companies with the capability to deliver synchronized just-in-time web-based training across the country in targeted high-risk industrial sectors. 
COVID-19 clinical trial begins
A Phase 1 clinical trial evaluating an investigational vaccine designed to protect against coronavirus disease 2019 has begun at Kaiser Permanente Washington Health Research Institute in Seattle. The open-label trial will enroll 45 healthy adult volunteers ages 18 to 55 years over approximately 6 weeks. The first participant received the investigational vaccine March 16.
COVID-19 virus stays on surfaces for several hours
The virus that causes COVID-19 is stable for several hours to days in aerosols and on surfaces, according to a new study from National Institutes of Health, CDC, UCLA and Princeton University scientists in The New England Journal of Medicine.
The scientists found that severe acute respiratory syndrome coronavirus 2 (SARS-CoV-2) was detectable in aerosols for up to three hours, up to four hours on copper, up to 24 hours on cardboard and up to two to three days on plastic and stainless steel. The results provide key information about the stability of SARS-CoV-2, which causes COVID-19 disease, and suggests that people may acquire the virus through the air and after touching contaminated objects.
The study information was widely shared during the past two weeks after the researchers placed the contents on a preprint server to quickly share their data with colleagues.
USDA to deliver meals to homebound students
USDA is collaborating with the Baylor Collaborative on Hunger and Poverty, McLane Global, PepsiCo, and others to deliver nearly 1 million meals to students in a limited number of rural schools closed due to COVID-19. Email [email protected] for more information or to help.
Centers for Disease Control: COVID-19 not a foodborne illness
The CDC says "currently there is no evidence to support transmission of COVID-19 associated with food."
However, it is always important to follow good hygiene practices when handling or preparing foods.
For background and the most up-to-date information, visit the Centers for Disease Control and Prevention Coronavirus Disease 2019 website.
Other resources:
USDA is allowing additional flexibility in the Special Supplemental Nutrition Program for Women, Infants and Children to support social distancing and ensure participants can still purchase food when certain items are out of stock, providing flexibility for jobless workers to remain eligible for SNAP benefits and allowing states to issue emergency supplements to SNAP households.  
USDA Rural Development launched a COVID-19 resource page to share updates. Visit www.rd.usda.gov/coronavirus for information on Rural Development loan payment assistance, application deadline extensions and more.
EPA is providing flexibilities to manufacturers of disinfectants and other pesticides to increase the availability of products for Americans to use against the new coronavirus. The agency is also expediting the review of submissions from companies requesting to add emerging viral pathogen claims to their already registered surface disinfectant labels.
About the Author(s)
Subscribe to receive top agriculture news
Be informed daily with these free e-newsletters
You May Also Like
---