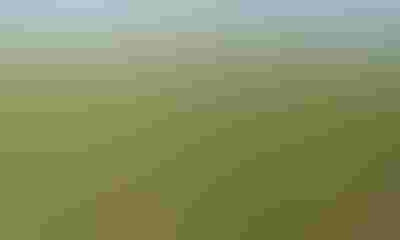 The 2016 Kansas winter wheat crop is out of dormancy, emerald green and growing.
While the green, along with robins, daffodils and other early flowers are welcome signs of spring, it's only the second week of March and there's plenty of room to worry about the chance that a late frost could wreak havoc on a crop that, so far, is looking pretty good over most of the state.
The March 6 National Agricultural Statistics Service crop progress report found the crop at 56% good to excellent and 37% fair with only 1% rated very poor.

WHEAT VULNERABLE: The Kansas winter whest crdop of 2016 is green and growing fasts, mkaing it vulneralbe to a cold snap that at this point couldn't even be called "late."
James Gillum, Wheat Technical Product Manager for WestBred, says it appears this year's conditions are shaping up to mirror those of last  year and that the lessons learned about the importance of timely fungicide applications can be of great value to producers.
"We've heard reports of stripe rust in southern Oklahoma near the Red River," he said, "We don't know which stripe rust strains with blow in with the winds, but we do know they will be coming. Getting those fungicide applications down can mean the difference between a bad year and a good year or between a good year and a great year."
Gillum also warns that there's likely to be strong weed pressure as well and that good management is going to key.
"This season we have seen a lot of rye, cheat and winter brome," he said. "In some early-planted fields that had to be replanted, we also saw a second flush of those winter annuals."
Scouting is going to be critical as the unseasonably warm weather of February and early March has the crop well ahead of its normal growth, he said. Some fields were already jointing by the end of February, he said.
Shifts in prevalent stripe rust races have occurred in the past and farmers should be mindful that sources of resistance that worked last year could prove less effective this year.  The good news is that excellent fungicide control options are available to help protect the crop should they be needed. 
"Stripe rust can go really fast when it arrives," he said. "You have got to protect that flag leaf, so when the crop gets close to that stage, you want to make sure you are on top of it."
WB-GRAINFIELD is a WestBred variety that did well last year, in part because it is a later variety and held dormancy longer. "It had the disease resistance and at the end of the season, it was still green when other varieties had already succumbed to disease pressures. We saw it take top yield position in our trials throughout the Central Plains," he said.
Foundation seed is in the ground now for new commercial varieties that promising agronomic traits as well, Gillum said.
WB 4721 is a lot like WB-GRAINFIELD, he said, but has better disease resistance. It is not quite as late, but is susceptible to soil-borne mosaic, it is recommended for areas of the state that don't have SBMV pressure.
For the east, southeast and south central regions, WestBred will offer WB 4515.
"It has a phenomenal disease package, outstanding yield potential and great straw strength, and holds it dormancy" Gillum said.
Subscribe to receive top agriculture news
Be informed daily with these free e-newsletters
You May Also Like
---