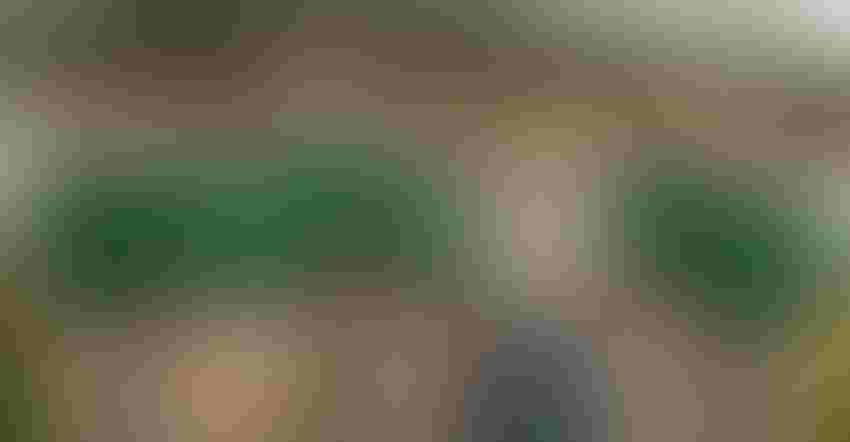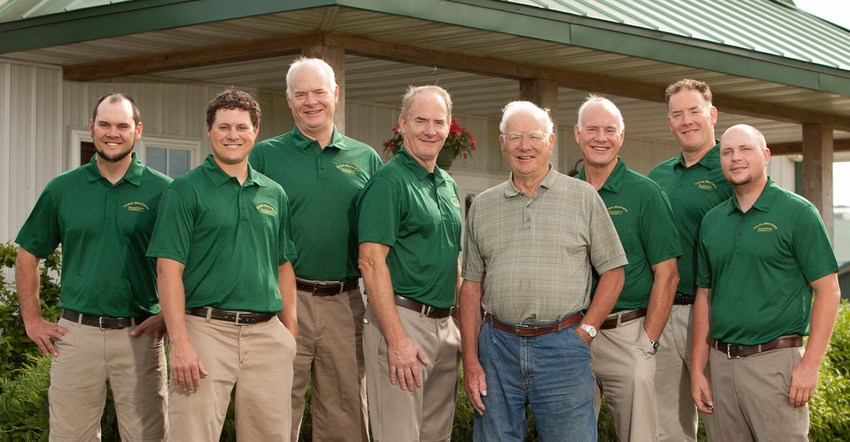 FAMILY OPERATION: Bob Crave (in brown) is pictured with the partners in Crave Brothers Farm, including Andy (left), Jordan, Tom, George, Charlie, Mark and Patrick Crave.
Paul Crave of Crave Photography
2020 Master Agriculturists Charles, George, Tom and Mark Crave grew up on a 40-cow dairy farm in Rock County near Beloit, Wis., along with another brother and two sisters. In 1974, when Charlie, the oldest, was 18, their parents, Bob and Sara, quit farming.
"Some of the people in the community asked, 'Bob, your boys like farming. Are you sure you should quit?' Dad said, "They will do better without me,'" Charlie recalls. "His thinking was a bit forward for the time, but he turned out to be right."
After graduating from high school, Charlie enrolled in University of Wisconsin-Madison Farm and Industry Short Course. George, the next oldest, did the same in 1977.
After graduating from Short Course, Charlie worked on a dairy farm for two years near Pickett in Winnebago County.
"I was 21 and I decided I wanted to participate in the International 4-H Youth Exchange [IFYE] Program," Charlie says. "One of the interviewers was my Short Course professor Dave Wieckert.
"After the interview, Dave said he was quite impressed with me. I ended up going to Taiwan.
"Meanwhile, Dave decided he wanted to farm in partnership with me and George, who was just finishing up Short Course. Dave convinced his wife to mortgage their house and invest in a dairy operation near Mount Horeb with this 21-year-old former student and his 20-year-old brother."
Humble beginnings
In 1978, Charlie and George went into partnership with Wieckert. They rented a 160-acre farm near Mount Horeb and milked 72 cows.
"When we started farming, George and I had a 1974 Firebird and another car that didn't have a reverse gear," Charlie explains. "We always had to be careful where we parked it. We shared that car for a whole year. We ran around in old junk cars for several years. We didn't have a pickup truck for the first six years we farmed."
In 1979, Charlie started dating his future wife, Joni. A year later, Wieckert and the Craves decided they wanted to buy a farm.
"We felt we wanted to stay in southern Wisconsin near our parents. We looked at the farm we are on now near Waterloo in Dodge County," Charlie recalls. "It had 250 acres, which was the acreage we wanted, and it was high-quality land."
The farm also had an 80-stanchion barn and a swing-six milking parlor.
"We bought the farm with Dave on Dec. 1, 1980, and we moved here and started milking on March 1, 1981. Joni and I got married on March 7," Charlie says, adding, "I do not recommend moving a farm and getting married all in the same week."
Tom graduated from Short Course and joined the partnership when the brothers moved to the new farm. George had begun dating his future wife, Debbie, in high school. She served as Alice in Dairyland in 1981-82. In the fall of 1982, George and Debbie got married.
In 1988, Mark graduated from UW-Madison with a bachelor's degree in dairy science and joined his older brothers on the farm as a partner and herd manager. By 1995, the herd had grown to 600 cows. The Craves bought out Wieckert's share of the partnership, and the business became Crave Brothers Farm LLC.
New venture
In 2001, the Crave brothers built a cheese plant on their farm to add value to their high-quality milk. George became a licensed cheesemaker and still manages the cheese plant. Debbie is vice president and marketing director of Crave Brothers Farmstead Cheese. Over the years, the Craves have won dozens of state, national and international awards for their specialty cheeses.
The brothers steadily expanded their farm and cheese plant. Today, the Craves farm 3,000 acres and milk 2,100 cows. The cheese plant has been expanded to 45,000 square feet and produces up to 100,000 pounds of cheese weekly.
Mark is the farm's general manager. Charlie handles administration, bookkeeping and the biogas business. Tom oversees building projects, and supports cropping and maintenance. He is president of the Dairy Business Association.
Over the years, the number of employees in the business has grown to 85, plus 10 Crave family members.
In 2007, the Craves installed a manure digester on their farm and partnered with Clear Horizons. This innovative technology allows their business to turn waste into energy. Three years ago, they bought the digester from Clear Horizons.
The digester system produces enough energy to power the farm and cheese plant and 300 additional homes. The system also produces bedding for the cows and heifers. Charlie and Joni's oldest son, Karl, is a partner in US Biogas and does contract work for the farm.
Early innovators
Over the years, the Craves were one of the first dairy operations in the state to use total mixed rations, bunker silos, curtain-sided freestall barns and cover crops. They emphasize cow comfort and working in harmony with the land.
They have won numerous awards over the years. In 1993, they were the first to be selected Wisconsin Dairy Farm Family of the Year. In 2008, Crave Brothers received the World Dairy Expo Dairymen of the Year award. In 2017, they were named Wisconsin Family Business of the Year.
In 2009, they hosted Wisconsin Farm Technology Days at their farm.
Today, Charlie, George, Tom and Mark are busy transitioning the farm to the next generation. George's son Patrick and Charlie's sons Jordan and Andy are all partners in the farm. Patrick is herd manager, while Jordan is agronomy manager, and Andy is maintenance manager. George's son Brian is a cheesemaker at the cheese plant. Charlie's daughter-in-law Beth is director of quality assurance and customer service.
Six years ago, Bob and Sara moved to Waterloo so Bob, now 92, could spend more time helping his sons and grandsons on their multigenerational family farm.
MASTER AT A GLANCE
Charles, George, Tom and Mark Crave
Ages: 64, 62, 61 and 53
Location: Waterloo, Dodge County
Farming enterprises: Holstein cows, Holstein heifers, crops, cheese plant, biogas
Size of farm: 1,800 acres owned; 1,200 acres rented; 2,100 cows; 1,300 heifers and calves
Family: Charlie and wife Joni have sons Karl, Jordan and Andy; daughter Marlee; daughters-in-law Beth, Leah, Mindy; and nine grandchildren. George and wife Debbie have sons Patrick and Brian, daughter Roseann, and daughter-in-law Courtney. Tom and wife Janet have daughters Carlee, Bethany and Laura. Mark and wife Tina have son Jacob and daughter Claire.
Subscribe to receive top agriculture news
Be informed daily with these free e-newsletters
You May Also Like
---