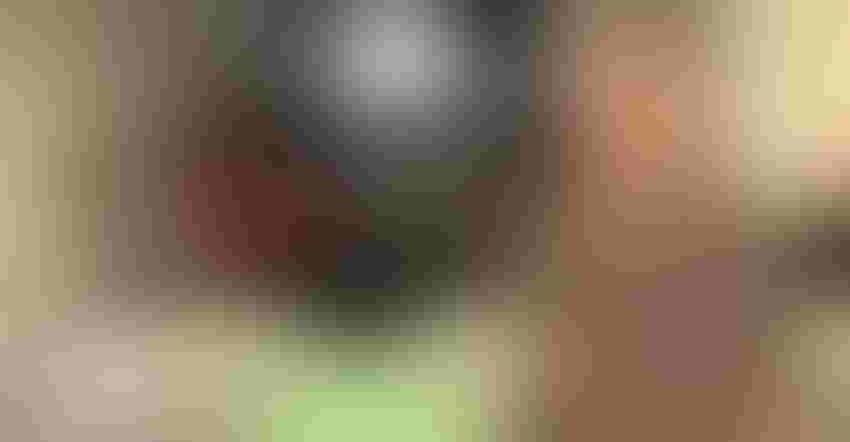 Dr. Ruixiu Sui, acting research leader and scientist, USDA-ARS Ginning Research Unit, Stoneville, Miss., enjoyed the largest attendance at this year's Ginners School since 1998, thanks in part to increased cotton acreage across the Mid-South.
Brad Robb
More cotton acres across the Mid-South increase the need for farmers and ginners to become even more proactive in their efforts to prevent contamination — which is starting to threaten U.S. cotton's reputation for providing contamination-free fiber to the world market.
The curriculum at this year's Ginners School at the USDA-ARS Ginning Research Unit at Stoneville, Miss., included updates on the latest research being conducted to address this growing problem.
Six of the 11 states across the Mid-South and Southeast increased their cotton plantings for 2019 over 2018. Arkansas has seen the largest increase with its producers planting an additional 95,000 acres.
Dr. Ruixiu Sui, acting research leader at the USDA-ARS facility, confirms the student increase. "This year's Ginners School saw our largest attendance since 1998 and that increase in acreage, 275,000 acres across the Mid-South alone, is most assuredly the reason," says Sui. "We hosted 126 students that came to take part in either our Levels 1, 2, 3, or our Continuing Education (CE) program."
The curriculum is split into levels to match each student's experience level. "The CE program usually attracts certified ginners who want to be updated on the latest in ginning research, ginning techniques and/or new automations in ginning machinery," says Sui.
"The new on-board module harvesters are impacting our industry's ginning equipment manufacturers, and they are designing and delivering new ways to transport and handle round plastic-wrapped round modules, and that creates the need for training."
The Gin School's CE section not only consists of classes, but also features panels that include ginners discussing relevant and current issues facing the ginning industry. "Ginners like to hear from other ginners on important issues and how they approach specific problems," says Harrison Ashley, executive vice president, National Cotton Ginners Association.
"During this year's classes, we had three ginner panel discussions which covered the adoption of automation in the gin, dealing with wet seed cotton modules, and steps being taken by ginners to combat plastic contamination."
Proactively Preventing Contamination
Guest speakers and lecturers always play an important role in each of the three Gin Schools. It should come as no surprise that contamination prevention was front and center. The National Cotton Council has been very proactive in raising awareness of this problem. A series of videos featuring NCC President Dr. Gary Adams addresses this critical issue and may be viewed at https://bit.ly/2IJvEht.
Judging by inspection and color, over 90 percent of all plastic being found at USDA-AMS classing offices are plastics. "We don't identify the origin or specific manufacturers of the plastics that we find, just that they are plastic contaminants," says Byron Cole, area director, USDA-AMS Classing Office, Memphis, Tenn.
"In the comments section of any classing report, if the numbers 71 and/or 72 are listed, those are the designation numbers for plastic contaminants."
AMS information dated May 27, 2019, on the 2018 cotton crop listed 3,013 bales had been called for plastic contamination. Module wrap is the predominant plastic "type" being found.
"As is nearly always the case, there are competing influences, but the premium for U.S. cotton relative to fiber from exporters has eroded 2 to 4 cents per pound in recent years, says Jon Devine, senior economist, Cotton Incorporated. Likely, some of this has had to do with the growth in U.S. stocks over the same period — but could also have been affected by concerns about contamination."
There has also been a first case reported where a claim from a mill, made via cotton trading rules channels, has been made against a ginning operation for plastic contamination on a very limited number of bales. Fortunately, the contaminated bales were caught in the opening room of the mill before the cotton made it into the textile stream.
Research at the Stoneville Ginning Research Unit is addressing a method to identify contaminants in the field. Cody Blake, a post-doctoral research associate, is utilizing unmanned aerial vehicles (UAVs) and remote sensing technologies to take broad images of cotton fields
"We'll take the images back to the lab and upload them to a computer with image processing analysis software," says Blake. "The software will create visual differentiation between plant material, the soil, and a contaminant."
The resulting information can be used to allow someone to physically retrieve the contaminant. "We also hope to one day be able to use that information to create a prescription, similar to those used in tractors and spray rigs equipped with precision farming technology," says Blake. "That's a little farther down the research road though."
The Ginning Research Unit at Stoneville and other USDA-ARS ginning research units have entered into collaborative agreements with land grant universities to develop a contamination "sensing and removal" system.
One of the presenters at the Stoneville Gin School this year was Dr. Mathew Pelletier from the USDA/ARS Cotton Production and Processing Research Unit in Lubbock, Texas. Pelletier has experience in computer vision technologies and is currently working with a team of ARS research engineers at the Las Cruces, N.M., Gin Laboratory.
"My initial recommendations centered around a technology currently being used in the produce, recycling, and vegetable industries called optical sorting," says Pelletier.
Optical sorting technologies use cameras to identify objects by their color, shape, or size. Pelletier has designed software that directs cameras to recognize foreign objects that contrast to cotton's white fiber. "An 'accept' or 'reject' criteria will have to be established that will be translated from the optical sensors," says Pelletier. "Those sensors will trigger a pneumatic air-knife blow-off system that will physically eject the contaminant."
Research is ongoing, and education at the Gin Schools is one way to instill that awareness early in a young ginner's career.
One ginner participating in the Level I class this year was Jason McDonald, plant manager for TJ Beall's mote gin operation. "The school was very informative and I can see why ginners like to return and progress through the different levels," says McDonald.
"I learned about a new gin-related product from Samuel Jackson called Choke Finder, that measures and monitors air pressure at various points across the ginning system. It can prevent extended down times during ginning which can improve efficiency."
The Ginners Schools are conducted each year. More information about the Ginners Schools may be found at the National Cotton Council website http://bit.ly/2FasxhH.
Subscribe to receive top agriculture news
Be informed daily with these free e-newsletters
You May Also Like
---