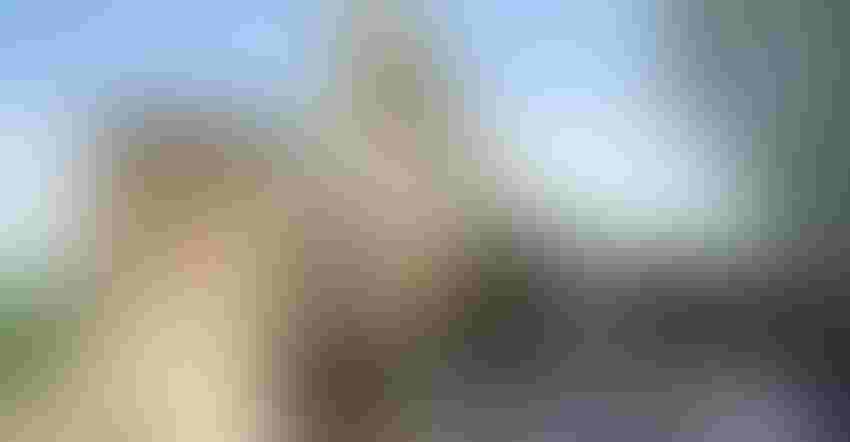 WATER QUALITY: Recently awarded cost-share funding will be used to help install bioreactors, wetlands and oxbows, and seed 150,000 acres of cover crops over five years in the North Raccoon Watershed.
Joseph L. Murphy/ISA
City of Des Moines officials on April 30 lauded a series of public-private commitments totaling nearly $59 million to reduce flooding and improve water quality in the North Raccoon and Des Moines river watersheds. 
USDA's Regional Conservation Partnership Program recently awarded close to $10 million to the Iowa Department of Agriculture and Land Stewardship and $9.8 million to the Iowa Soybean Association to help farmers and landowners expand conservation efforts, enhance soil health and improve water quality. 
The two federal grants, coupled with an additional $39 million in public-private partner contributions, brought the total for the two conservation initiatives to $58.8 million — $33 million for the IDALS program and $25.8 million for the ISA effort. Both will accelerate the adoption of conservation practices intended to improve water quality by reducing nutrients delivered to the two watersheds through runoff.
"The goal of these initiatives is to reduce the risk of flooding and to improve water quality along the Des Moines and North Raccoon rivers," says Jonathan Gano, public works director for the city of Des Moines. 
Farmers, city both benefit  
"Delivering results and value upstream on farms will also deliver downstream benefits. Together we are better," says Roger Wolf, ISA's director of Innovation and Integrated Solutions. "We greatly appreciate working cooperatively with the city of Des Moines and all the other partners on this project."  
The funding includes cost-sharing to be provided to farmers and landowners as an incentive for them to install an increased number of conservation practices such as bioreactors, wetlands, grass buffers and oxbows, and to seed more acres to cover crops over the next five years. Work is expected to begin later this year with enrollment for farmers and landowners occurring in October. 
As part of a 12-member coalition in the ISA partnership, the city of Des Moines committed $2 million in water quality projects in Des Moines, while the Des Moines Metropolitan Wastewater Reclamation Authority invested $3 million in streambank stabilization projects in the metro area as a member of the 16-member IDALS partnership. 
Flood control relief
Gano called the efforts "a holistic and comprehensive approach to reducing flood risks," and said the city's newly formed partnerships with Iowa ag and conservation groups will focus resources and innovative approaches to farm fields in both the Raccoon and Des Moines river watersheds. These efforts, he said, are vital for Des Moines which sits at the confluence of the two rivers and has seen increased flooding since 1993. 
"The best place to manage a drop of water is to catch it where it lands, which makes working with farmers and landowners a necessary part of our flood fighting toolbox," Gano says. "In addition, if we keep rainwater on-site, we keep the nutrients there, too." 
The collaborative efforts of the two coalitions allowed the city of Des Moines and the reclamation authority to leverage modest investments in water quality locally into larger investments upstream, which led to the federal support through the two RCPP awards.
"One of the benefits beyond reduced flood risk is that as the state's largest city, we are working with our ag partners to make two of Iowa's rivers cleaner and safer," Gano says. This is the second and third RCPP the city of Des Moines has joined in the last four years, with new investments totaling over $100 million. 
Leveraging helps reach goals 
Iowa Secretary of Agriculture Mike Naig agrees that the bridging of urban and rural interests is key to successfully accomplishing the water quality and flood protection goals. 
"Whether you live in the city or the country, our rivers and streams unite us all. We all have a stake in helping to improve our water quality. When public and private partners work together and leverage our collective investments, we can have a much greater impact," Naig says. "I thank the city of Des Moines and the Wastewater Reclamation Authority for providing additional resources to help scale up conservation practices in the North Raccoon and Des Moines river watersheds. Working together, we can reduce the impacts of flooding and improve water quality locally and downstream." 
The project's goals are ambitious, as are expected outcomes. USDA's Natural Resources Conservation Service administers the RCPP program.
"It's a partner-driven approach to conservation that funds solutions to natural resource challenges on agricultural land," says Kurt Simon, NRCS state conservationist for Iowa. "By leveraging collective resources and collaborating on common goals, RCPP demonstrates the power of public-private partnerships in delivering results." 
Partners contributing to this recently announced five-year project include Ag Partners LLC, Agriculture's Clean Water Alliance, city of Des Moines, Heartland Co-op, Iowa Agriculture Water Alliance, Iowa Department of Agriculture and Land Stewardship, Iowa Department of Natural Resources, North Raccoon River Water Management Authority, Syngenta LLC, and Upstream Tech. 
About the Author(s)
Subscribe to receive top agriculture news
Be informed daily with these free e-newsletters
You May Also Like
---