A season's worth of water in three weeks has plagued many fields, especially in the northern half of Indiana.
If you have escaped it, feel lucky. If you're smack dab in the middle of it, fighting with flooded fields, yellow corn and the like, I feel for you. Seeing fields flooded and crops dying or stunted when you can't do much about it isn't fun.
I participated in the Delphi FFA tractor drive on June 13, after some heavy rains but before the biggest deluge that was yet to come. We rode along the Wabash River. I saw the areas drowned out and water standing. That can mean immediate loss and a direct hit on income this year.
Related: What is the nutrient value of lost organic matter by erosion?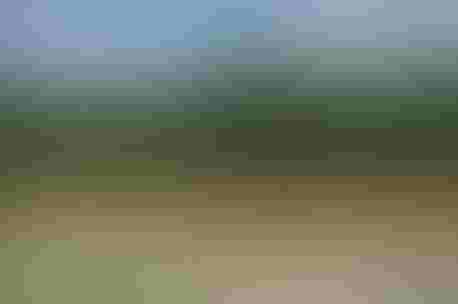 Muddy water: This shot of the Wabash River in Carroll County illustrates how much sediment was in the water, and this was before some of the latest, heaviest rain events.
What I also saw was a very brown, almost dark brown, Wabash River. Just a few days ago, I saw it again, traveling in northwest Indiana. It was just as brown, and now much higher, swollen out of its banks.
Why was it so brown? Soil erosion, plain and simple! For as much as soil conservation partners and farmers have worked to spread the message, and as hard as many have worked to adopt practices, two things happen. When big rains come, sometimes practices are overwhelmed. But it seems to me that sometimes when rains come, there are still too many fields bare or nearly bare after planting, except for the crop that is growing.
Those rains carry soil to tributaries, and eventually to rivers, including the Wabash River. You certainly wouldn't want to take a picture of the Wabash River right now as a poster child for the success of soil conservation in Indiana.
I've seen this before – muddy rivers, muddy creeks, and water drying up on the road after big rains. My town, Franklin, was hit by the flood of 2008, which ate away parts of whole fields and left mud everywhere. It's a memory worth forgetting.
What I saw on the tractor drive and more recently as I crossed and followed the Wabash River was a reminder we can't afford to forget. The job of covering up Indiana soils with more residue, especially at vulnerable times, isn't over.
Related: Farm Soil Erosion Is Clear In Muddy Waters
Right now you're worried about making it through this year and what fewer bushels may mean to your bottom line, due to flooding and ponding. I understand that. But hidden behind all that is the hidden loss- the soil you've lost if fields weren't protected that you will never get back. It may not cost you much directly this year, but your kids and grandkids may still be paying the bill.
Let's all do our part to make sure the next time big rains come, our rivers don't look like someone dumped in truckloads of dirt!
Subscribe to receive top agriculture news
Be informed daily with these free e-newsletters
You May Also Like
---