Aronia: A High Value Crop For Iowa?
Aronia: A High Value Crop For Iowa?
Growers, processors, marketers and others interested in producing the aronia berry, a new crop to the Midwest, will meet for the first annual Midwest Aronia conference April 8 & 9 in Des Moines. A potential return of up to $12,000 an acre grabs their attention.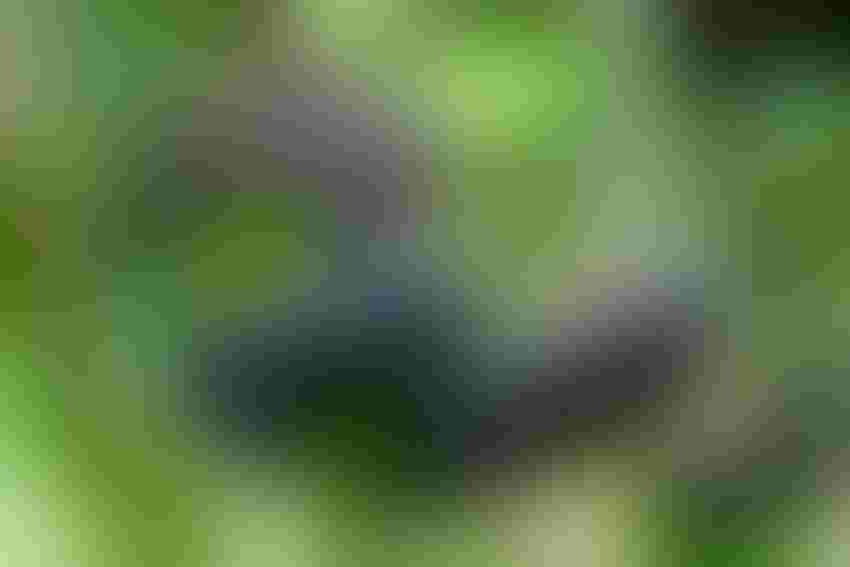 The Midwest Aronia Association is having its first annual conference April 8 and 9, 2011 in Des Moines, and anyone interested in this potentially new value-added crop is invited to attend. Members who are growers of aronia, along with aronia processors and the vendors who sell products related to aronia, will be present. You don't have to be a member of the Midwest Aronia Association to come to the meeting and learn more about this new crop for Iowa and the Midwest. However, you are encouraged to pre-register for the conference.
For more information or to register, go to www.midwestaronia.org or call Noel Sesker, one of the conference organizers at 515-720-8802. He is an aronia grower in Warren County, on his acreage located south of Des Moines.
Aronia is a purple berry, the aronia plant is a bush. It is a native American plant and is sometimes found growing in people's yards, used as an ornamental plant for landscaping. Native Americans used the berries for medicine. Aronia berries are processed and used in products sold in health food sections of grocery stores or marketed by specialty health food stores. Looking at what the potential return is for growing it, aronia is a very impressive plant. How did Sesker and a handful of others who are growing aronia in Iowa and the Midwest get interested in this?
Net return for aronia grower could be as high as $12,000 an acre
"I got started with aronia as the result of a Farm Progress Show here in Iowa four years ago. I visited the Iowa State University Extension tent," says Sesker, "and picked up brochures on aronia written by Dr. Eldon Everhart, an ISU Extension horticulturist. The cost and return calculations by Everhart caught my attention. The market for aronia is as a health food specialty, and as a healthy fruit juice."
Two years ago in the spring, Sesker drove to southern Illinois and purchased his first 110 aronia bushes, brought them back to central Iowa and planted them.  He harvested his first crop this past fall. The calculations by Everhart show with a plant population of about 600 bushes per acre, net return off of that could be as high as $12,000 per acre. That was based on a current market price at the time for the berries, which was running around $2 a pound. Each plant can produce 20 to 30 pounds of berries at maturity when the bushes reach proper height.
"I was lucky this past year and sold my berries at $4.50 a pound," says Sesker. "The point is the economics are there and there's opportunity for more people to grow this crop as we start coming online with more and more production." Also known as Black Chokeberry, the bush has deciduous leaves with dense, upright foliage reaching 8 to 12 feet tall with large white blossoms in spring. The plant can last for many years, some sources say from 25 to 40 years. It is a favorite of landscapers due to its hardiness and the blossoms. Extension specialists in the Dakotas have recommended it as a windbreak.
Topics on program for April 8 & 9 aronia conference in Des Moines
On April 8 and 9, 2011 the Midwest Aronia Association will hold its first annual conference at the Holiday Inn on Merle Hay Road in Des Moines. One of the world's experts on aronia is coming all the way from Poland to address the meeting. "Our featured speaker is Dr. Stan Pluta, a professor of fruit plant breeding at the Research Institute of Pomology and Floriculture in Skierniewice, Poland," says Sesker. "As a horticulturist and researcher, he is very well qualified to talk about this topic and has conducted a lot of studies with aronia."
Topics will include discussion of anti-oxidant testing and standardized reporting, and regulations by Food and Drug Administration and the Federal Trade Commission for making product claims. Other topics are contract growing, the Leopold Center for Sustainable Agriculture's explanation of the Iowa Farm and Food Plan, developing new products and markets for aronia, growing it on a small scale and a larger scale, and a demonstration of a mechanical harvester.
While aronia is a native American plant that's been here a long time as an ornamental, interest in it has surged recently with the findings that it has health benefits for human diets. "The plant has grown naturally forever here in the U.S." says Sesker. "But it wasn't until some people in Poland imported the plant to that country and started doing research on it in the 1960s that they came up with measurements of the health benefits. Aronia berries have one of the highest oxygen radical absorbance capacities of any of berries USDA has ever tested. This crop has incredible human health benefits in the long-run."
Aronia has health benefits for humans and is a potential crop
"We've established this association to try and encourage farmers and assist those who are interested in growing the crop," says Sesker. "Processors and others in the health food business are now getting involved and coming up with new products for the market."
He adds, "The idea of promoting and encouraging aronia production is we're focusing on Midwest farmers who for generations have been the group that's fed the world and now with the introduction of renewable fuels they're able to help fuel the world too. So, if we can expand aronia further and get farmers to grow a crop like this that has health benefits, it would help the world too. The Midwest farmer can cash in on a new generation of a crop they could grow that can benefit our country not only economically but also the health of the people."
What are the health benefits of including aronia in human diet?
The ORAC value is the oxygen radical absorbance capacity. Basically the human body in normal metabolism creates what are called free radicals and free radicals floating in the body will cause inflammations and can actually lead to some very serious diseases such as heart disease and cancers and other maladies. "But when you introduce high levels of anti-oxidants, specific types of anti-oxidants," says Sesker, "you can combat the free radicals and take away the inflammation, thus promoting healing and even preventing DNA damage to human cells."
Everyone eats anti-oxidants in our natural food supply, and even taking vitamin C is going to increase your anti-oxidant levels. But aronia gives you an even bigger level of increase of anti-oxidants thanks those in the berry, he says.
Sesker is growing aronia and says it is indeed is a very high value crop. If you look at the economics and information available, such as the ISU Extension fact sheet published a few years ago, it projects that with the proper plant population you could generate about $12,000 per acre with the berries. "The market will push this one way or the other. It'll depend on processors who buy the berries and on public awareness of aronia's benefits and demand for the berry and aronia berry products at grocery stores and health food markets," he says.
Speakers will talk about how to grow and market aronia berry
"On April 8 and 9, 2011 we'll have our very first conference at the Holiday Inn north on Merle Hay Road in Des Moines," notes Sesker. "The first speaker starts at 12 noon Friday April 8 and we'll run through to our featured speaker in the evening at the banquet. He is Dr. Stan Pluta, who as a doctorate in horticulture and is coming all the way from Poland."
The next day the conference will feature a variety of speakers from the Midwest talking about how to grow aronia, why should you grow it and what to do with the product once you harvest it. Speakers are coming from several Extension Services, talking about sustainable agriculture grants and contact growing and a variety of other subjects pertinent to Midwest aronia growing.
Of course, $12,000 gets people's attention and you must have retail demand for the product to get that much return as a grower. "Our understanding is there are some physicians now who are telling patients to go to health food stores and buy aronia either in juice or as frozen berries," says Sesker. "Once physicians are aware of the health benefits and start to instruct their patients who have health problems that they should be including aronia in their diet, the demand will start increasing and the economics for growing aronia will improve dramatically."
Smaller farmers especially are interested in value-added crops
"But more important than profit potential for growing this crop, I think it is going to change the health care picture," he says. "We're interested in improving health care for everyone." But why would you want to grow a new crop when corn and soybeans are enjoying such historically strong prices now. "Farmers are asking about other crops that are out there that they might consider producing, to add value to their farming operation, especially the smaller farmers are asking that question. Aronia might be a way to do that," says Sesker.
What about Sesker's own aronia production? He has only 1,300 plants or about 2.5 acres of aronia bushes growing on his acreage. He also has planted 200 elderberry plants because they, like aronia, have very good health benefits. "I plan on expanding this year, probably another 1,000 plants and the year after that I'll put in another 1,000 plants," he says. "I'm going to plant some different varieties that have different benefits as well. Ultimately my goal is to have 6 acres of aronia, as I plan on filling every square inch of my land with aronia if I can."
There are two farmers in western Iowa who have sizeable acreages of aronia, he says. "One has 40 acres growing and another who farms nearby has 30 acres."
How much labor is required to grow and harvest an aronia crop?
How labor-intensive is production of this crop? Once you plant the bushes you have to mow around them to keep grass and weeds down. Also, Sesker uses a fish emulsion fertilizer which he sprays on the leaves monthly. So it's basically just doing a foliar feeding and keeping weeds under control. When the aronia berries start to reach maturity in August, he harvests the berries by hand.
"That's the only labor intensive part of this," he says. "Until I get enough plants and grow them to maturity, and also have enough other people nearby interested in growing aronia, then I'll convert and go to a mechanical harvester."
This is a very interesting crop and Sesker says "we've heard from a lot of people who want information. We refer them to our website www.midwestaronia.org. If you want to attend the conference, call the hotel to make reservations or call me at 515-720-8802 or send an email to [email protected]."
Subscribe to receive top agriculture news
Be informed daily with these free e-newsletters
You May Also Like
---