If you soon spot an unmanned aircraft soaring over your neighbor's crop field, don't panic. It's just Kansas State University's small Unmanned Aircraft System gathering information to help monitor the condition of crops and grassland.
To be sure, unmanned drone technology used for crop and grassland surveillance is in its infancy. But someday you may be launching planes or hexaopters that can quickly fly over your crops, note any weed or other infestations, and report back to home base - without much, if any, supervision.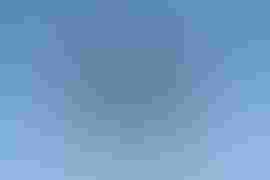 EYE ON THE SKY: This six-propeller hexacopter can see plenty on your farm, and help gather key crop production information. The model shown here is the DJI S800 Spreading Wings hexacopter.
Kevin Price, professor of agronomy and geography at Kansas State, works closely on the project along with Deon van der Merwe, who is Head of Toxicology at the K-State Veterinary Diagnostic Laboratory
Price is tinkering with two approaches: a 'flying wing' by RiteWingRC called the Zephyr II, and a DJI S800 Spreading Wings hexacopter (see photo).
The six-propeller hexacopter is capable of lifting 14 pounds of high-powered camera or video equipment and hovering over a site for extended periods of time to take pictures and record data.
"You can map an entire section of land at one-inch resolution in about 18 minutes," says Price. "It would take hours and hours on a tractor to get the same data."
Price says remote aerial sensing can also provide data that can't be observed by the human eye. The sensors collect near infrared wavelength as well as red, green and blue wavelength color used to create a normalized difference vegetative index.
As a result, scientists can create a precise map of nitrogen deficiencies across a field that can then be fed into a GSP unit on a fertilizer applicator, to apply the exact amount of fertilizer needed at a particular point in the field.
It also has potential application in identifying and mapping the spread of crop diseases, creating the ability for a farmer to fly his own field and know if he needs to treat the entire field or perhaps just a few areas. Price predicts that one day in the future, drones rather than people on four-wheelers will be the preferred method of crop scouting.
There will always be a need to go to the field and make close up observations, Price says, but the drone technology will enhance the scouts' ability to more accurately identify problems in the field.
Price said the new imaging capabilities are much more precise than satellite imagery because of the much higher spatial resolution that allows land owners to see greater detail in their field.
"These images are so precise that they can take readings at the individual plant leaf level," Price says. "Farmers will be able to look at their crop through a lens they haven't had in the past."
Hurdles to clear
Taking the technology to a commercial level and making it widely available to farmers does have a few hurdles to clear, not the least of which is Federal Aviation Administration regulation on unmanned surveillance aircraft. It's more restrictive than the regulations remote-controlled hobbyists must obey.
Another hurdle is privacy concerns.
"Those are things that can be worked out," Price says, comparing the technology to the Internet, with far more benefits than drawbacks.
"People will have to be taught about proper etiquette. If you are a farmer using this technology, let your neighbors know and maybe even offer to fly one of their fields," he suggests.
K-State is also working to design affordable, agriculture-specific drones. They hope to reduce the cost of the technology to around $5,000 for a system. Systems now sell for $10,000 to $50,000.
- Griekspoor writes for sister publication Kansas Farmer
Subscribe to receive top agriculture news
Be informed daily with these free e-newsletters
You May Also Like
---