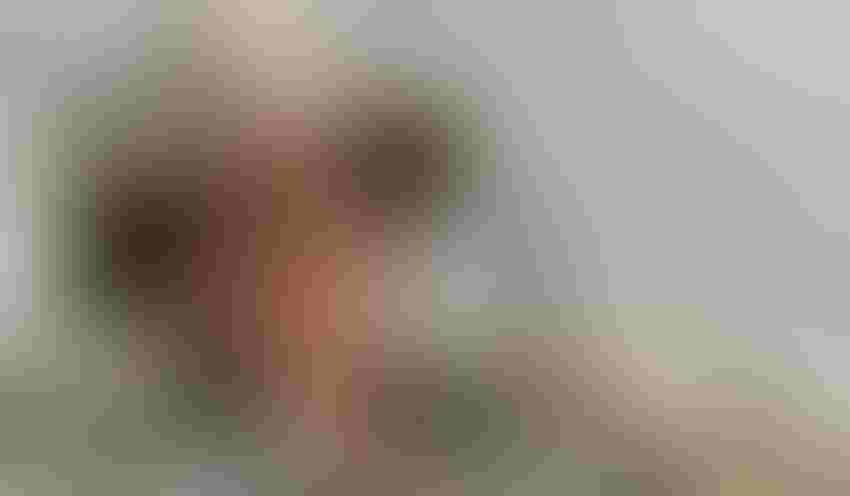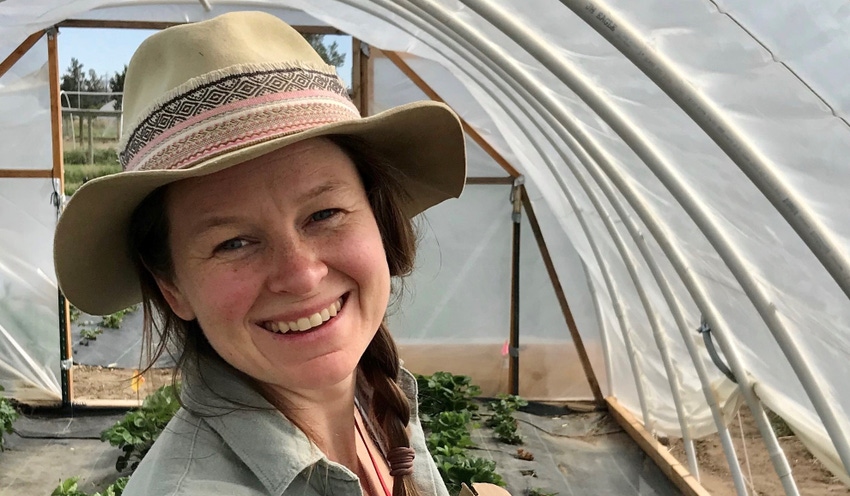 Clare Sullivan, an Oregon State University soil scientist and former Extension agent, is project director for the Western SARE project.
Clare Sullivan
Michael Rozyne no longer talks about integrated pest management (IPM) when explaining farming practices to people outside of agriculture.
"I don't even mention IPM," said Rozyne, founder of the Northeast U.S. food hub Red Tomato. "Explaining what that means to the public has proven to be incredibly difficult."
Instead, he talks about how he minimizes use of chemicals and takes steps to protect bees, water quality and soil health, principles that the public relates to.
The turning point, he said, happened eight years ago when he solicited help from the FrameWorks Institute, a Washington, D.C., think tank, to help get the message across that he and the farmers he represents aren't organic but nonetheless employ environmentally friendly farming practices.
"We had invested so much in terms of producing messaging and promotion materials that explained to ordinary people what our growers do and how they do it," Rozyne said. "And somewhere around 2015, I felt like I really hit a wall and was able to just say, 'We are not doing a very good job of explaining this.' At that point, I just said, we really need to invest in social science research."
What resulted was a years-long research project involving, among other approaches, surveys of what the public thinks about agriculture and focus groups wherein researchers tested different messaging. The project, titled the Farming and Food Narrative, a collaboration among the FrameWorks Institute, Red Tomato and IPM Voice, is now launching its outreach phase, beginning with two workshops on the West Coast: July 11 and 12 at the Best Western Agate Beach in Newport, Oregon; and a second, July 18 and 19 at the Asilomar Conference Center in Pacific Grove, California.
Upon completion, Rozyne said, workshop participants will have a better idea of how to communicate about complex agricultural topics with the general public.
Katie Murray, former Statewide IPM Coordinator at Oregon State University, who worked with the project and helped secure a Western Sustainable Agriculture and Education (SARE) grant that is supporting the workshops, said knowing how to do so can be critical to the future of the natural resources industries.
"Changing the narrative around food and farming, particularly with public audiences, is an essential part of the equation to sustain natural resource industries into the future," said Murray, now executive director of Oregonians for Food and Shelter.
One hurdle
One hurdle to public understanding, according to Clare Sullivan, an Oregon State University soil scientist and former Extension agent, who is project director for the Western SARE project, is the public often characterizes farming as either organic or nonorganic. "The public often jumps to: It's either organic or it's not organic, and if it's organic, it is good, and if it is nonorganic, it is bad," Sullivan said.
Rozyne said he has encountered this often. "No matter how hard we try to explain IPM with details, photos and good writing, people inevitably ask, 'Oh, so are those apples organic?'" Rozyne said.
Rozyne added that with its high humidity, rain and extensive pest pressure, it is nearly impossible to grow organic tree fruit on a commercial scale in the Northeast. As evidence, he noted, New York, the number two apple producing state, is home to only about 150 to 200 acres of certified organic apples. Washington state, on the other hand, the top apple producing state, has more than 25,000 acres of organic apples.
"It's not that it's absolutely impossible to raise organic apples in the East," he said. "It is just hard to do it at a commercial wholesale scale."
Rozyne and other growers in Red Tomato's network eventually decided to develop an Eco Certified Protocol that verifies a grower employs environmentally conscious or earth-friendly fruit production. The protocol includes use of advanced IPM methods, including regenerative agriculture, which involves maintaining living roots in the soil year-round.
"It is a science-based program that involves protecting pollinators, wildlife habitat and improving soil conditions, as well as ensuring farmworker well-being," Rozyne said.
The certificate has helped get the word out that Red Tomato growers produce crops in an environmentally friendly and sustainable manner, Rozyne said. Still, he said, more outreach is needed, to create an understanding of the effort growers take to produce crops sustainably, and the Farming and Food Narrative principals have been reaching out to agricultural organizations for two years now to share what they have learned in the project.
"We've had several presentations in front of a group called Practical Farmers of Iowa, and they found this really useful," Rozyne said. Project leaders also have provided a presentation on the project at the annual meeting of Pasa Sustainable Agriculture.
The upcoming workshops, however, will be the first in depth looks at what the project has learned, Rozyne said, noting the presentations before the Practical Farmers of Iowa lasted 90 minutes and the presentation in Pennsylvania was a three-hour presentation.
"These next two are going to be a day-and-a-half, so much more in depth," Rozyne said.
Target audience
Rozyne identified the target audience as professional ag communicators but said other interested parties could join if space allows. The workshops are limited to between 20 and 25 participants.
"We're really targeting agricultural communicators," Rozyne said. "People who are communicating about ag all the time who know what kind of cultural gaps are out there and where the cognitive gaps are in terms of people not understanding what happens on a farm.
"We also welcome growers who want to participate," Rozyne said. "It is always helpful to have growers in the room."
Workshop hosts and presenters will include a scientist from the FrameWorks Institute, Rozyne, Sullivan, Kelsey Gosch of Red Tomato and project advisor and Director of the University of California Statewide IPM Program Jim Farrar.
Rozyne added that participants shouldn't expect to walk away with a complete understanding about how to communicate complex agricultural issues to the public. "This is not magic," he said. "We don't see the tools that are going to be presented as silver bullets. But hopefully there will be tools that will be helpful and in a large part effective in helping people understand what is working and what isn't."
More information on the workshops, including a short explainer video, can be found at the project website: www.farmingandfoodnarrative.org/western-sare.
The organizers ask that people apply for the workshops by May 15.
The cost for participation is $100 and includes one night's lodging and meals.
To apply, go to https://forms.gle/JsJAXjrtZN27Hvyy5.
Subscribe to receive top agriculture news
Be informed daily with these free e-newsletters
You May Also Like
---