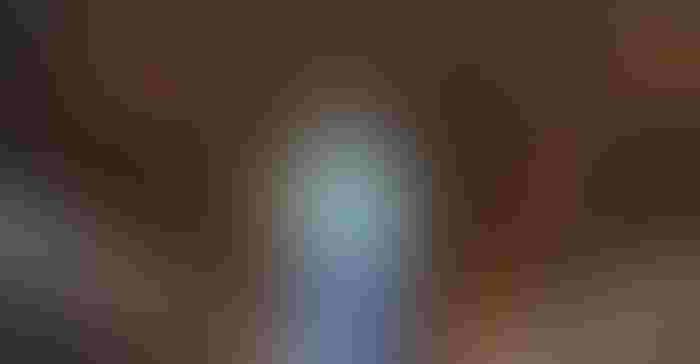 Back in grade school, Larna Schnitker doodled designs for a cattle-handling facility on the back of her homework. Two years ago, she put the final touches on her childhood dream at the family farm near Middletown, Mo.
When she was only 8, Schnitker visited a cattle operation outside of Paris, Mo. "They invested a lot of money in their barn," she says. "We even had to wear shoe protectors over our boots to go in, so that is going to stick with you when you're that young."
The barn design did have staying power in her mind. By 12, she was crafting her own designs. "I had so many pieces of papers with drawings on them," Schnitker recalls. "I'd keep adding or taking away ideas until, finally, I had one I liked."
In 2015, the family began turning her design into a reality. "If you added up all the steel in the building, it would be about 9 miles long," she says. "And we did all the welding ourselves."
Schnitker found it was a whole lot cheaper than buying a barn system. "We could build three times the size of the building for half the price," she says.
The photo gallery offers a look and a little more insight into this young farmer's design.
About the Author(s) Editor, Missouri Ruralist
Mindy resides on a small farm just outside of Holstein, Mo, about 80 miles southwest of St. Louis.
After graduating from the University of Missouri-Columbia with a bachelor's degree in agricultural journalism, she worked briefly at a public relations firm in Kansas City. Her husband's career led the couple north to Minnesota.
There, she reported on large-scale production of corn, soybeans, sugar beets, and dairy, as well as, biofuels for The Land. After 10 years, the couple returned to Missouri and she began covering agriculture in the Show-Me State.
"In all my 15 years of writing about agriculture, I have found some of the most progressive thinkers are farmers," she says. "They are constantly searching for ways to do more with less, improve their land and leave their legacy to the next generation."
Mindy and her husband, Stacy, together with their daughters, Elisa and Cassidy, operate Showtime Farms in southern Warren County. The family spends a great deal of time caring for and showing Dorset, Oxford and crossbred sheep.
Subscribe to receive top agriculture news
Be informed daily with these free e-newsletters
You May Also Like
---