Michael Howlett remembers fondly when he decided that he wanted to come back to his family's farm in Avon, N.Y.
Even though he graduated from a top ag school — the University of Illinois — and worked for several years at the Chicago Board of Trade, his father, Bruce, didn't just welcome him with open arms.
"He kind of said, 'What are you going to do here?' And I kind of went back on my heels and said, 'I'll do something.' And he said, 'Well no, you got to contribute something to our business, and we just can't have people joining just for the sake of joining. What are you going to add?'"
Turns out that Michael has added a lot. Since joining Howlett Farms, Michael has led the farm's transition into grain marketing, and feed production and sales, completing the farm's transition from what was a commercial vegetable operation into one of the Northeast's largest vertically integrated grain operations. And he's not done yet.
"We continue to change our operation to make sure we keep up with the times and … maintain a legacy that is viable going forward," he says.
Michael, 33, is the fifth generation of his family on the farm. It was founded back in the late 1800s with only 13 acres and two cows. Everything from livestock to veggies have been part of the business.
Expansion was steady through the years, but it was under Michael's grandfather, Eugene Howlett — the third generation — and his father, Bruce — the fourth generation — that the expansion kicked into high gear.
The Howletts have always had an eye on the future. Sensing that the contract vegetable business wasn't sustainable long term, Eugene and Bruce shifted the business again, pivoting from veggies and custom farming work to focusing on grain.
"It was going well, but over the horizon they saw threats, and they started to shift toward grain and built infrastructure for that," Michael says.
They started a trucking company and expanded grain elevators in Avon, Groveland and York. The family still farms 4,000 acres of corn, soybeans and wheat in and around Avon.
Coming home
Even though he grew up in western New York, an area that's already rich in agriculture, Michael wanted to see the heart of farming: the Midwest.
"I knew I wanted to see large-scale agriculture. I really wanted to see the heart of the commodity industry, and that's why I went to Illinois," he says.
He got a degree from the University of Illinois and got a job at a commodity brokerage house in Chicago, spending much of his time at the Chicago Board of Trade.
But he wanted to come home and rejoin the operation. In 2013, he decided to put his gained knowledge to work and bring changes to the home farm.
"I looked at the model and said, we don't just have to do custom storage, drying and trucking," Michael says. "Let's go out on a limb and connect supply with demand and do some contracting."
Under his watch, Howlett Farms has become more vertically integrated, growing its own grain and buying from farms all over the state and region, then selling it to end users. Last year, the farm handled 18.4 million bushels of grain — mostly corn, soybeans and wheat.
"The mentality is not like it is out in the Midwest where the growth is the only objective," Michael says. "We don't have unlimited arable farmland, we aren't as close to our neighbors and fighting over our ground. We have a lower cost of production, so it's not as crowded.
"And New York, from the get-go, is a corn deficit state, and it's always a challenge to connect what is typically a seasonal supply to the steady use demand of end-use customers. So when we saw the opportunity, more solid demand from cows that are going to eat every day, and we don't see that demand come and go as quickly as say an ethanol plant sitting idly or say an export program getting shut down, we saw the consistency in demand as a great opportunity to try to pursue."
His father needed some convincing that becoming more vertically integrated would be good for the future, but he also wanted to see if his son could succeed.
"He kind of gave me the reigns and said, 'Hey, this is a big opportunity. This is how we had been doing it, but I know there's a lot more to it. If you want to take this and run with it, feel free. I'm behind you all the way,'" Michael says.
Howlett Grain's end customers include exporters, feed mills, flour mills, pet food plants, cattle feeders and poultry farms. Their largest single grain customer is Western New York Energy in Medina, the state's lone ethanol plant.
But most of the grain they handle goes for animal feed, Michael says. In 2019, the farm bought Pat O'Brien Feed and Grain to manufacture grains for dairy and livestock.
Another business, Clover Ag Risk Management, also was started in 2019.
Marketing opportunities
Corn and soybean prices are strong right now, something that is more demand driven that supply driven, Michael says.
The big demand is from China, which is rebuilding its hog herd and needs grain imports.
Corn right now is hovering about $5.50 a bushel on the Chicago Mercantile Exchange, and soybeans are $13.83 a bushel. But Michael sees another big rally if planting season gets off to a slow start. And, of course, basis is typically higher — especially corn — in the Northeast and mid-Atlantic.
Long term, prices will likely come back to cost of production, but for now prices are good. His advice? Don't put all your eggs in one basket.
"If there is a good price on the table, you don't have to sell 100% of your production, but what you need to do is look where your risk is, and if you're a producer and you haven't sold any for new crop, your risk is entirely on the downside," Michael says. "Take a little bit off the table, layer in sales, maybe 5% or 10% of new crop, and make a sale. It doesn't have to be big blocks. You can break it up and sell 10 or 20 times per year and layer in the sales."
Planning for the future
Michael got married in 2015 to his wife, Carly. They have two children — 2-year-old Benjamin and 4-month-old Henry. They met in Chicago, and Carly moved with Michael back to the home farm.
Bruce is president of Howlett Grains, and Michael's official title is grain merchandiser. But the two work together on running the business and planning for the future.
"I want to make sure we're able to remain agile," Michael says. "I look at our business a little bit different than other companies that compete in the space. We don't look at trying to hit specific numbers in 30 days, we look at trying to build relationships we have and our customer lifetime value. I'm going to be living here the rest of my life and working with my neighbors the rest of my life. We need to make sure we work together on things."
For young people wanting to get into the business, Michael says you better have a love for it first.
"You truly have to understand agriculture and be passionate about it. You have to have a passion for what you do because at the end of the day, every farmer out there who works an acre of ground, every truck driver out that hauls around grain or milk, they are helping the American people and people all around the world," he says.
"The world relies on farmers to eat, and every single person needs to eat. So you have to understand we're not just out here doing a little thing, we're not just building a widget that may go out of style in six months or a year. We are feeding the world, and if you can be passionate about others and about agriculture, you'll be successful."
About the Author(s)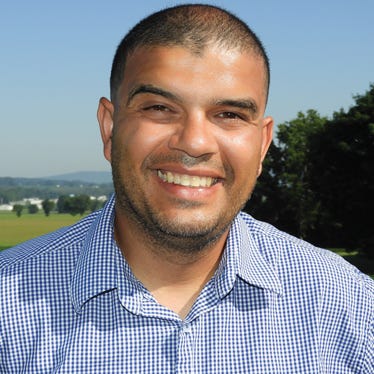 Editor, American Agriculturist
Chris Torres, editor of American Agriculturist, previously worked at Lancaster Farming, where he started in 2006 as a staff writer and later became regional editor. Torres is a seven-time winner of the Keystone Press Awards, handed out by the Pennsylvania Press Association, and he is a Pennsylvania State University graduate.
Torres says he wants American Agriculturist to be farmers' "go-to product, continuing the legacy and high standard (former American Agriculturist editor) John Vogel has set." Torres succeeds Vogel, who retired after 47 years with Farm Progress and its related publications.
"The news business is a challenging job," Torres says. "It makes you think outside your small box, and you have to formulate what the reader wants to see from the overall product. It's rewarding to see a nice product in the end."
Torres' family is based in Lebanon County, Pa. His wife grew up on a small farm in Berks County, Pa., where they raised corn, soybeans, feeder cattle and more. Torres and his wife are parents to three young boys.
Subscribe to receive top agriculture news
Be informed daily with these free e-newsletters
You May Also Like
---