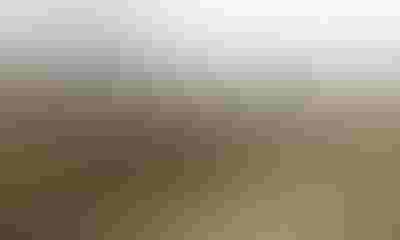 Whoever was the first to say "I love it when a plan comes together" was on to something big. A plan typically comes together best when several groups, each bringing something to the table, work on a common project for a common goal, and do it with passion.
Amy Sims says that's happening with a two-stage ditch project underway in Spencer County. Sims is a resource conservationist in the Division of Soil Conservation for the Indiana State Department of Agriculture. Here are five things you should know about this particular project.
1. What is a two-stage ditch?

GROUPS PARTNER TO BUILD PRACTICE: Private industry, an environmental group and several state and local agencies are cooperating to install a two-stage ditch in Spencer County similar to this one. (Photo courtesy of Natural Resources Conservation Service)
"My job is to design projects like this, and I could give you a technical definition," Sims says. But instead, she says imagine a ditch with two levels. One level is higher than the level at the center of the ditch. Water rests on the higher level first. Sediment and other things have a chance to settle out there before flowing to the lower, center level.
2. Why is a two-stage ditch being built in Spencer County?
"There is an area there where a two-stage ditch is the best solution to handle resource issues," Sims says. "This particular ditch is a quarter mile long and is located just outside of Chrisney."
 3. Who are the major players that wanted to make this project happen?
"It's a joint project between Alcoa, a major industrial player in the area, and The Nature Conservancy," Sims explains. The Nature Conservancy is dedicated to finding environmentally friendly solutions not only for ground it owns, but for other land, as well. The group has been involved in constructing two-stage ditches in other parts of Indiana both to solve immediate issues and to serve as a demonstration, showing others what can be done.
4. Who else is involved in this project?
"Several members of the [Indiana] Conservation Partnership are taking part," Sims says. "These groups include the Natural Resources Conservation Service, ISDA, and local soil and water conservation districts. It really is an example of government agencies working together at the local, state and federal level. In this case, we're also working with private industry and an environmental group, as noted earlier."
5. What will be the outcome of this two-stage ditch project?
"First of all, the two-stage ditch itself serves a need and will improve water management and environmental quality in the area. Second, we want to bring other people there to show them what can be done when various groups work together," Sims says.
Conservation specialists say when properly maintained, a two-stage ditch can function for a long period of time. Instead of water rushing into a ditch and creating soil erosion, the flow of water is more controlled, since it sits on the upper level of the ditch before dropping down to the center of the ditch.
Local groups will plan a field day once the Spencer County ditch is completed. Watch for details.
Subscribe to receive top agriculture news
Be informed daily with these free e-newsletters
You May Also Like
---