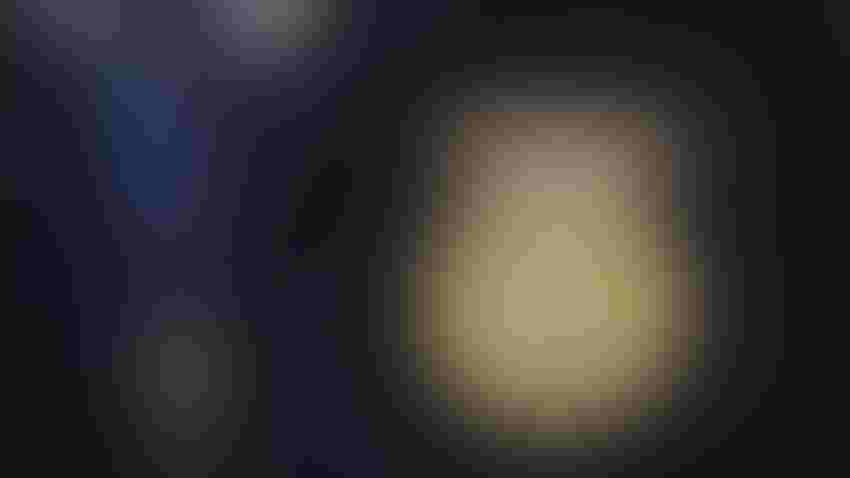 LEADING THE BLUE: Lavyne Rada removed the "interim" from her title when she was named the executive director of the Minnesota FFA Association earlier this year. She had served as interim executive director since August of 2022.
Courtesy of National FFA Organization
It's amazing how a little push in high school can alter a person's career path.
"I did not voluntarily go to my first agriculture class," Lavyne Rada recalls. "My parents and principal put me in there, much to my chagrin." Rada grew up the daughter of dairy farmers, and she knew that was not the future for her.
The year she was "placed" in her first agriculture class coincided with the time Milbank, S.D., High School was building a greenhouse, and "being able to work in horticulture really opened my eyes to the variety in agriculture. … I found a lot of other passions once I stopped looking at cows being milked three times a day."
Once that passion was planted, Rada went on to become a South Dakota state FFA officer during her freshman year at the South Dakota State University. Also during her time at SDSU, she served as national president of the Professional Agriculture Students organization 2004-06, which Rada says is a collegiate organization with components similar to FFA.
After graduating from SDSU, she taught high school agriculture at Beresford, S.D., then worked for a couple of years at Ridgewater College in Willmar, Minn., before coming back to the high school teaching ranks at Hutchinson, Minn., where she spent eight years.
Since then, she has been with the Minnesota FFA Association, culminating with her being named executive director this summer. She had been interim executive director since August 2022.
Benefit of many hats
"I think the biggest benefit that I bring is that I've worked in a lot of positions and volunteered at a lot of positions that give me the perspective," she says. "I was a student. I was a college student. I worked at a technical college for a while. And I was a high school agriculture teacher."
Wearing those various hats at different levels of ag education, Rada believes gives her the proper insight into the needs of the FFA organization.
"I often find myself saying, 'What would make it easier for me as a teacher? How can I communicate this to our teachers? How can I promote this so our students will think it's interesting?'" she asks. "So, I think the fact that I've been in those shoes, I'm able to take a step back and really think if I was back in those shoes, how can I best present the information and then move forward that way — and also think about some of the frustrations that I had as a student and teacher and try to avoid some of those."
Over the years, Rada has worked with a number of people — from high school advisers to college professors to fellow teachers — but she says in work, she models her style most after what she learned from Gerri Eide, who was executive secretary of the South Dakota FFA Association.
"She held high standards, high expectations, but then supported us to reach those," Rada says, echoing the same impact of Jerry Janisch, her FFA advisor at Milbank High School, who also had "very high expectations; he didn't do anything halfway."
Rada is not averse to reaching out to those around her — veteran educators and leaders as well as young teachers.
"There're people who have been doing this a lot longer than I have, and I don't have to make all the decisions myself. I can reach out to those people and get that advice, and I think that especially over the last year, while we've been in transition, I found myself really reaching out to those local leaders and getting their perspective and in hearing what they're saying," she says. "It was really good to have people who have been around longer than I had, but then also to be able to reach out to young teachers and say, 'OK, what's not making sense? How can I support you with what's not being clearly communicated?'"
Growing FFA
What can be clearly communicated is the strength that Rada sees in Minnesota FFA, and some of that is being brought on by National FFA announcing the goal to have 100% of agriculture education students as FFA members by the organization's 100th anniversary five years from now.
For Minnesota, that means the current 15,000 active FFA members, which has grown by 6,000 in the last three years, will jump to more than 40,000 FFA members when going to the 100% model. "I think the biggest thing you'll see from me is trying to figure out what does Minnesota FFA with 40,000 students even look like?" she says. "I don't think that will mean 40,000 students at state convention, because I don't think that's what's best."
Instead, she foresees providing more of an authentic experience for students at the local level. "Our local communities are where the magic happens," she says. "That's where the students find careers that they didn't know existed in their agriculture classes, and they find their voice in doing leadership events."
Rada speaks from experience of agriculture knowledge that can be gained from a high school agriculture class — even one that she was pushed into.
Subscribe to receive top agriculture news
Be informed daily with these free e-newsletters
You May Also Like
---