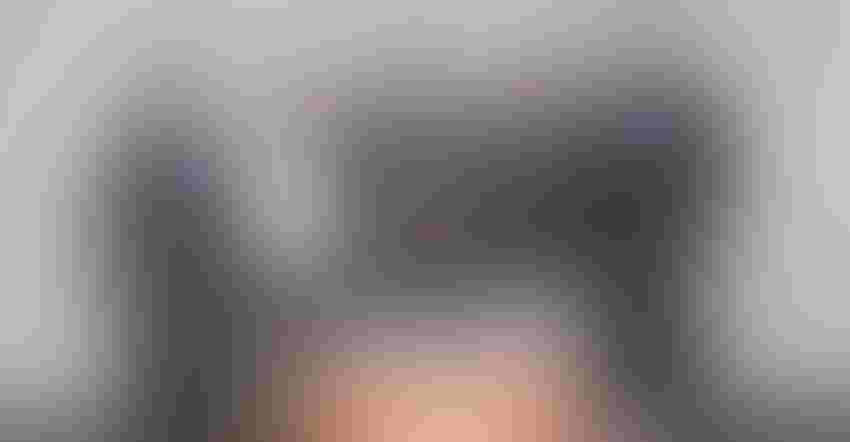 TOP TEAM AT EXPO: The UW-River Falls dairy judging team includes Matthew Kramer (left), Erica Helmer, professor and coach Steve Kelm, Kaila Wussow Tauchen, and Clint Irrthum.
The University of Wisconsin-River Falls dairy judging team captured top honors Oct. 1 at the National Intercollegiate Dairy Judging Contest, held during World Dairy Expo in Madison, Wis. The team took first place overall and first team in reasons. UW-River Falls hasn't won the national title in more than two decades. 
Leading the team to victory over the 21 participating schools was Erica Helmer of Plymouth, Wis., with her third-place individual finish overall. Teammate Kaila Wussow Tauchen of Cecil, Wis., finished ninth overall. Matthew Kramer of St. Cloud, Wis., and Clint Irrthum of Wanamingo, Minn., rounded out the winning team for UW-River Falls. Steve Kelm, professor of dairy science, and Mary Holle, a 2012 graduate of UW-River Falls, coached the team.
"I am so proud of the team we have become and all of our accomplishments," Helmer says. "My teammates have become some of my closest friends. Considering all my years of judging and experience, there couldn't have been a better way to end it."
"Winning at Dairy Expo is something I thought I could only dream about when I was younger," Kramer says. "I am thankful for Dr. Kelm and Mary Holle for all of their time preparing us for this contest."
Tauchen, too, thought back to her youth. "Dairy judging … is a passion we've been chasing since a very young age. To have so many people [coaches and families] dedicated to helping us pursue this dream is truly humbling," she says.
Irrthum has been in the spotlight before. He was a member of the Minnesota 4-H team that took top honors in the National 4-H Dairy Judging Contest at World Dairy Expo two years ago.
"They were both extremely fun, and both were really close margins. I guess I've just been lucky to be part of two really great teams!" he says.
Kelm sums up his reaction to the top finish and reflects on his many years of coaching teams. "What an absolute thrill to hear UW-River Falls announced as the contest winner!" he says. "I have had the honor to work with so many great students over the years. It is a real honor to work with this year's group of seniors, good judges and even better people."
The following teams rounded out the top five in the contest:
2. Virginia Tech. Katelyn Allen, Shelby Iager, Sarah Thomas and Leah Hall, coached by Katharine Knowlton and Kayla Umbel
3. Cornell University. Christopher Sweeny, Stephanie McBath, Kayla Windecker and Brittany Hardy, coached by Kevin Ziemba
4. University of Wisconsin-Madison. David Pintens, Nicole Pralle, Molly Hendrickson and Danielle Warmka, coached by Brian Kelroy and Trent Olson
5. Oklahoma State University. Jax Bauer, Carly Olufs, Nicole Sanders and Hannah Young, coached by David Jones
Sources: UW-River Falls, World Dairy Expo
Subscribe to receive top agriculture news
Be informed daily with these free e-newsletters
You May Also Like
---