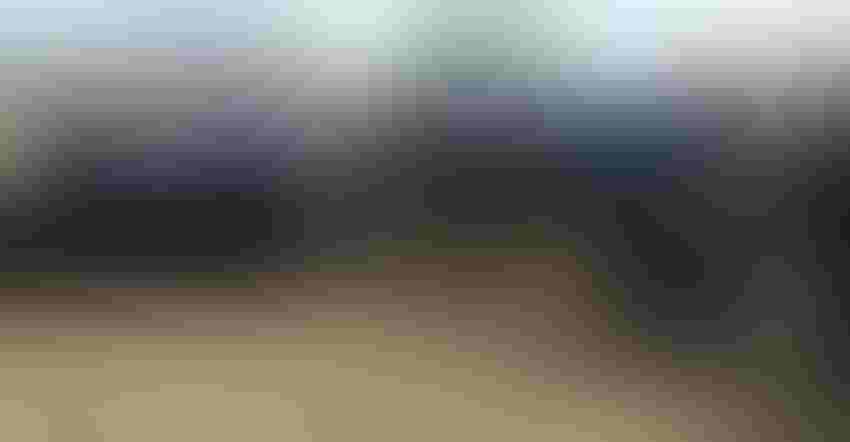 A CELEBRATION: Dignitaries gather Aug. 9 for the announcement that a large dairy processing plant will be locating in St. Johns.
One of largest dairy processing facilities in the country is locating in St. Johns and bringing with it great promise to improve the production, profitability and long-term prospects of Michigan's dairy industry.
A new cheese plant and an adjacent plant that will manufacture whey permeate products constitute a $550 million investment in this town with a population of 8,000, just 20 miles north of Lansing in Clinton County.
It's welcome news as Michigan's dairy industry has been growing beyond its means, lacking processing ability and forcing expensive shipping of milk out of state for processing.
With two shiny milk trucks to serve as a backdrop, a host of dignitaries, including the governor, were on hand for the Aug. 9 announcement. Large cardboard schematics of what the two plants will look like faced a crowd of about 75, as John Dardis, senior vice president of U.S. corporate affairs for Glanbia, laid out the plan.
Glanbia, an Irish company, has partnered with dairy cooperative Select Milk Producers Inc. and Dairy Farmers of America to form Spartan Michigan LLC. Together they plan to construct a $425 million dairy processing facility to produce cheese, taking in more than 8 million pounds of milk per day and producing 800,000 pounds of cheese per day.

NEW PLANT: Glanbia is partnering with dairy cooperative Select Milk Producers Inc. and Dairy Farmers of America to form Spartan Michigan LLC and build this new cheese plant.
The cheese plant will produce American-style cheddar cheese and other block cheeses. It is expected to create 259 new jobs.
Dairy Farmers of America and Select Milk Producers will supply milk to the processing plant, and while not an investor in the plant, Michigan Milk Producers Association is also expected to supply milk. 
Proliant Dairy Ingredients, a family-owned company headquartered in Iowa, will build the adjoining facility to use byproducts from the milk processing facility to make whey permeate products for both human and animal consumption. By sourcing the ingredients so close, just 200 feet away, it can piped into the facility, eliminating transportation costs. The product is then processed, dried and packaged. It is investing up to $85 million and will employ 30 to 38 new workers.
Mark Peterson, vice president of business development for Proliant Dairy Ingredients, said it will be the largest permeate plant in the world, drying 20,000 pounds of product an hour. Between the two plants, 1.3 million pounds of product will be generated daily.
Construction for both facilities is expected to begin in September and be completed by December 2020.
"We have the most productive cows in my opinion in this nation, wonderful dairy farmers that put it together, and now we needed more outlets for our products. Let's do that right here in Michigan," said Gov. Rick Snyder at the unveiling. "This is great win-win; it's a win-win for these companies. They wouldn't be doing this if it wasn't good, smart business. But they had choices, and they chose Michigan, and I want to say thank you for making that choice."
The project is supported by an estimated $27.6 million in grants and tax abatements from Michigan Strategic Fund, Michigan Department of Agriculture and Rural Development, and Michigan Department of Transportation.
The 147 acres for the project is in the St. Johns Business Park on the northern skirts of town, and it includes acres acquired from Bingham Township, with a 425 agreement to share any potential future tax revenues.
The project will include a wastewater treatment facility to complement the city's system.
Kevin Kirk, a St. Johns area farmer who also serves on the Clinton County Planning Commission, told Michigan Farmer the location is perfect because it is easily accessible to Grade A roads and US-127. The project is yet to come before the commission, but Kirk said, "We will really have to look at truck traffic and make accommodations. We will need to look at routes to bring product in, but also exit routes and ensure they are not destroying county and township roads."
Kirk also noted the excitement for the ancillary businesses that might pop up, including maybe a truck depot for fueling and washing.
The Lansing Economic Area Partnership — a regional economic development agency that works in Ingham, Clinton and Eaton counties — first started working on the project three years ago. Bob Trezise, the president and CEO of LEAP, said, "I think I'm right in stating that this project represents the most significant non-automotive-related business attraction effort to our region in 25 years."
Subscribe to receive top agriculture news
Be informed daily with these free e-newsletters
You May Also Like
---