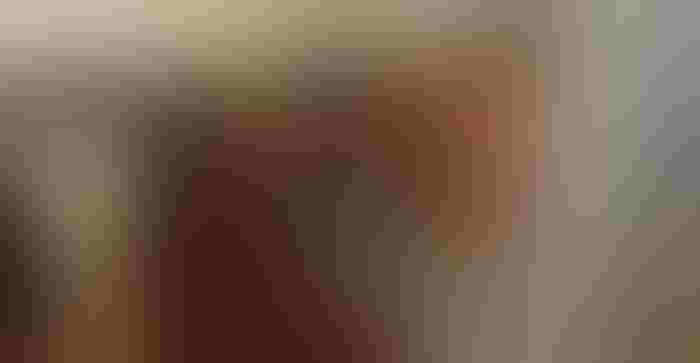 AUTOMATED MILKING: When a cow enters the robotic milking stall, the machinery reads the transponder on her collar, scans for the position of her udder and teats, washes and massages the udder, and then automatically attaches the milking cups.
David Foster was pretty sure robotic milking machines were in the future of the Foster Dairy almost a decade ago.
"It took more than seven years from the time I was sure I wanted them to convince Mom and Dad and our employees and find a dealership within a reasonable distance," he says. "Then it took all of us to convince the banker."
One of the things that pulled all the pieces together for the conversion to robotic milking several years ago was a realization that the time had come when the milking parlor and holding tanks needed to be replaced and modernized. They began milking with the new robotic system in September of 2016.
"I think this is the point when a lot of family-sized dairy operations like ours make a decision about making robotics part of their future," says Lynda Foster, the "dairyman" founding partner of the dairy she operates with her husband, Gary, and son, David. "Money has to be spent anyway. It becomes a matter of how to spend it."
Lynda has the distinction of being the only woman to win the Kansas Distinguished Dairy of the Year award. She was honored in 2013, the same year that she and Gary were inducted into the Master Farmer/Master Farm Homemaker Association.
She says the decision to move forward with a $1 million project to build a new milking barn, buy the robots, install new milk tanks and valving systems, and turn the overhead space into a bonus room with a kitchen, play space for kids and an office for David, came after extensive research.
"We had been to World Dairy Expo, and Gary and I took a trip with Dr. (Mike) Brouk from K-State to tour a dairy in Missouri," Lynda says. "Then we made a trip to Illinois and toured ten or more robotic dairies."
David and Lynda agree that a major incentive to move to robots came from the need to reduce the labor burden.
"We were looking at 12-hour days for two people, just to do the milking," Lynda says. "That's 12 hours every day, seven days a week. We needed help just to continue the set-up we had but we couldn't afford it even if we could find people. It wasn't sustainable. What we learned in our robotic exploration was that we could get the added production of 3X milking with robots and that would make the payments on the robots. And it would really help free up time."
With robotic milking, there are no scheduled milking times. Cows come in when they want and are milked at any time, day or night. Over time, individual cows tend to set their own schedule, and the milking becomes a 24-hour-a-day automated operation.
"The cows don't come in because they are full and want to be milked," Lynda explains. "They come for the grain ration they get. It's like candy to a kid. If you put a candy bar on the kitchen table and tell a kid he can have it any time he wants it, he will come and get it. It's sort of the same."
She says the eagerness of some cows for a treat initially meant they would come in 20 times a day to be milked. But the data collected by the robots prevent them from being fed every time they come in. The ration of grain is based on their body condition, place in the gestational cycle, and amount of milk production. If they don't need more grain, they don't get more grain, which soon stops them from coming in repeatedly.
The herd now averages about 2.8 milkings per day and 86 pounds of milk per cow. That could not have been achieved before the arrival of the robots, Lynda says, because they just did not have the manpower to do it.
"It only took a couple of weeks to train the cows," David says. "It took a lot longer to train the people."                                                                                                                          
The final decision point came when she saw how much data would be captured on each cow at each milking, Lynda says.
"I realized that we would be able to do a better job of taking care of our animals and be able to improve their health as well as spot any problems sooner," she says. "It is truly amazing how much information is captured at each milking."
That is made possible by a collar with a transponder that is fitted on every cow. When a cow enters the stall to be milked, the transponder that lies on her neck tells the robot when she was last milked, how much milk she is producing, how much she has eaten, what her body temperature is, what her weight is, where she is in the gestation cycle and more.
The robotic system also keeps track of which cows in the system have not been in for timely milking, enabling a dairy worker to go to the free stall barn and fetch those cattle for milking. Usually that is cows that are close to ready to be dried off for calving or that are recovering from an illness.
All data is immediately visible on the computer in the milking barn office, which enables the dairy manager to quickly spot any problems and be able to isolate and treat a cow who exhibits pending health problems.
"I was surprised that the data can tell you there is a problem even before you can spot a change in behavior," Lynda says.
The biggest obstacle to moving to robotic milking at their location in southeast Kansas was finding a dealer.
"Lely wouldn't sell us the robots if we didn't have service within a two-hour drive time," she says. "The only other Lely robotic dairy in Kansas is Duane Myers' dairy up by Clay Center. He has a dealer fairy close to his location but that is too far away. Thanks to David's persistence, we eventually found a dealer in Seneca, Mo., to service our robots."
Foster Dairy has room for four milking robots, but they only had the funds to install three initially, Lynda says. They are currently milking 158 cows.
Expanding to a fourth robot will only take about a week, and will eventually enable the dairy to grow.
"All of the wiring, plumbing and everything are in place already," Lynda says. "It will just take the cost of buying the robot and installing it to add it."
Foster Dairy sells bull calves but retains heifers for replacement cows. They are currently feeding about 20 calves, which are bottle fed from milk collected from cows that have issues that makes their milk unsalable.
The transponders of "bucket cows" automatically tell the robotic milkers to route their milk to separate buckets rather than to the collection tank. Those buckets are then dumped to storage tanks, and the milk is fed to calves. Milk from those buckets are then fed to the calves.
Lynda says that at their dairy, whole milk has proven to be better for calves than milk replacer, and the dairy rarely loses a baby calf.
Automated milking systems slowing farm consolidation
Various forms of robotic milking are helping to sustain small to medium sized dairy farms amid broader industry consolidation and improving labor efficiency for some larger operations, according to a new report from CoBank's Knowledge Exchange Division.
Dairy robots, also referred to as automated milking systems, take a variety of forms. From "box" style units to robotic components on rotary style milking parlors, they all provide an alternative to traditional dairy labor, which has become more expensive and harder to find in many regions of the U.S.
"Labor and finance are two of the most important issues when large farms are considering dairy robotics, but when I spoke to smaller-scale producers, the primary drivers of adopting this technology were around quality of life," says Ben Laine, senior analyst with CoBank. "However, the future growth of this technology and possible broader adoption will be centered on labor costs, milk production per robot, and proximity to dealers and service technicians."
A single box style unit can cost around $200,000 without housing, and the target production for one unit is 4,500 pounds of milk per day.
"As the technology improves and labor costs increase, we will see the tradeoffs continue to shift in favor of robotics," Laine says. "But, there is still plenty of uncertainty around useful life of the units and milk production efficiency that will give many producers pause."
Subscribe to receive top agriculture news
Be informed daily with these free e-newsletters
You May Also Like
---