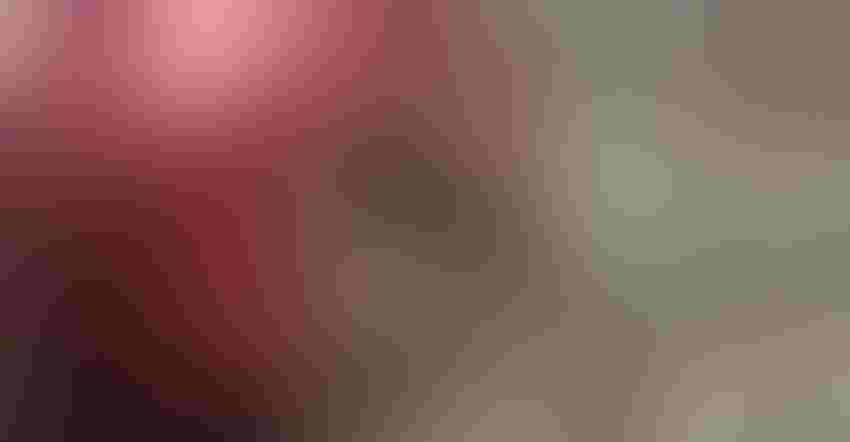 YIELD-ROBBER: Pink root in onions can cut crop output significantly. University of Idaho researchers are using new tools to identify areas where the disease-causing organism lives to target treatment areas.
Gerald Holmes, California Polytechnic State University at San Luis Obispo, Bugwood.org
Fungal diseases are hard to diagnose. Farmers don't see the problem until the crop — such as potatoes, onions or sugarbeets — wilts or dies above the soil. University of Idaho researchers want to use remote sensing technology to identify the fungi present before the crop dies. The university is turning to both traditional and new-tech tools not only to attack diseases but also create proactive solutions that could save farmers money.
Spore traps
Spore traps consist of vials on a carousel with 1.5-milliliter filters that capture airborne particles. Burkard Manufacturing builds most of Idaho's spore traps. The model contains a vacuum pump that draws air through the vials. Each vial traps spores for 24 hours, and then the carousel automatically switches to another vial. Once a week, researchers collect the vials. Back at the lab, spores are identified through DNA and real-time polymerase chain reaction tests.
"The beauty of the Burkard is that we get data for each day," explains James Woodhall, a University of Idaho plant pathologist. "Previous spore traps had one filter that you manually changed each week. We also evaluate a low-cost, passive spore trap called the Sporenado, and the results are promising for some pathogens."
Woodhall and his team test spores for specific fungi diseases. For instance, they check for Phytophthora infestans, Alternaria solani and Sclerotinia sclerotiorum. These are the causal agents of late blight, early blight and white mold, respectively, in potatoes.
"The potato growth stage varies a lot across Idaho," Woodhall explains from his office at the Parma Research and Extension Center. "In southwest Idaho, the crops have flowered — while they just emerged in eastern Idaho. The spore levels change with the climate, too. We situated spore traps so that most growers will have a spore sampler at least in their county, or an adjacent county. We still don't know how much of an area for which a spore sample will provide valid data. That's a research goal."

TAKING A READING: Kyler Beck, a University of Idaho graduate student, operates a hyperspectral instrument to record imagery of the presence of pink root in onions.
Hyperspectral imagery
Idaho farmers produce one-third of U.S. potatoes. They also grow 25%, along with eastern Oregon, of the nation's onions. Onion diseases are a murky field. University of Idaho graduate student Kyler Beck applies technology to probe the depths of onion pink root. This disease is caused by the soilborne fungus Setophoma terrestris and can cause yield losses of 20% or more.
"Our study seeks to detect pink root while the crop grows," Beck explains. "If this proves successful, we hope to create a fumigation map for the next season based on where onions are infected in the prior season."
For Beck's study, he carries a hyperspectral remote sensing unit in a backpack to gain imagery close to the actual onion leaves. Large drones can carry some types of hyperspectral remote sensors, but the imagery dilutes from greater heights.
"Most drones and satellites capture reflectance data in 50-to-100-nanometer wavebands that are limited in the detail they provide," Beck explains. "As humans, we can see in the wavelength range from 400 to 700 nanometers. Those are the wavelengths at which visible light reflects. However, our instrument can view 350 to 2,500 nanometers."
Beck talks wavelengths and radiation, because pink root dulls the reflectance of onion leaves. The fade of leaf health isn't always visible to the human eye. "Without remote sensing," Beck notes, "you can only spot if an onion has pink root if you pull it out of the ground."
Data processing
Reflectance data, such as Beck gathers for pink root, is commonly analyzed with the Normalized Difference Vegetative Index. However, there are many other vegetative indexes that may prove sensitive to a particular stress or nutrient deficiency. This information can be transferred to a field map to make decisions about fumigation according to locations and levels of fungal disease in the soil.
Woodhall finds that the spore tests can detect fungal spores prior to disease being observed in the crop. For example, sugarbeet powdery mildew can be identified up to two to three weeks before the disease appears. Right now, the spore test results live in numerous spreadsheets. Data are emailed out to a spore tracking network Listserv each week for potatoes.
"People can use the data they receive through the alert system to inform their spray program for the late blight, early blight and white mold," Woodhall explains. "The other part of the project is to build a data set of epidemiology, climate and spores to improve our overall intelligence of these diseases."
The University of Idaho works toward a pest alert website with interactive maps, spore trap locations and archived information from previous growing seasons. Woodhall wants to move from the current model of reactive pest alerts to results prompting proactivity.
Beck imagines a future where information about diseases and nutrient deficiencies that affect leaf reflectance will be provided to the general public as well. "The record would allow growers to see how soil pathogens spread and move locations," he says.
Cost of tech
Both the cost of technology and DNA-based testing have dropped in recent years. To operate a single spore trap, with testing for three targets, costs about $1,000 for a season. "One grower told me that [his farm] spent an extra $200,000 on fungicides in 2015. Spore traps can predict disease and be good for the whole state," Woodhall says.
Hemken writes from Lander, Wyo.
Subscribe to receive top agriculture news
Be informed daily with these free e-newsletters
You May Also Like
---