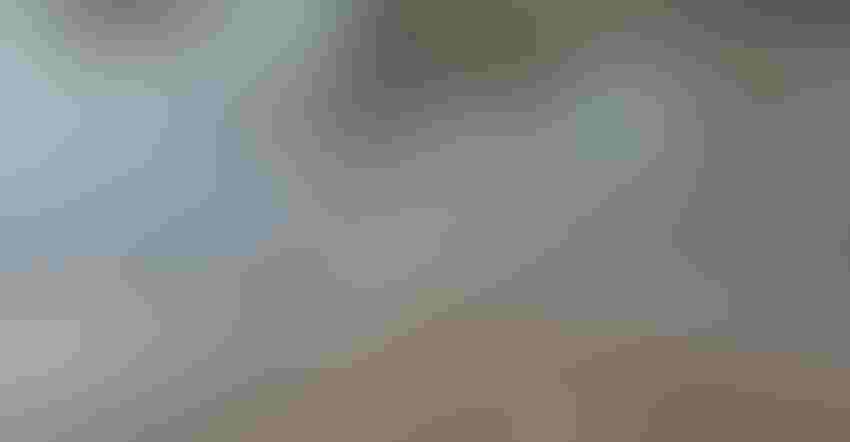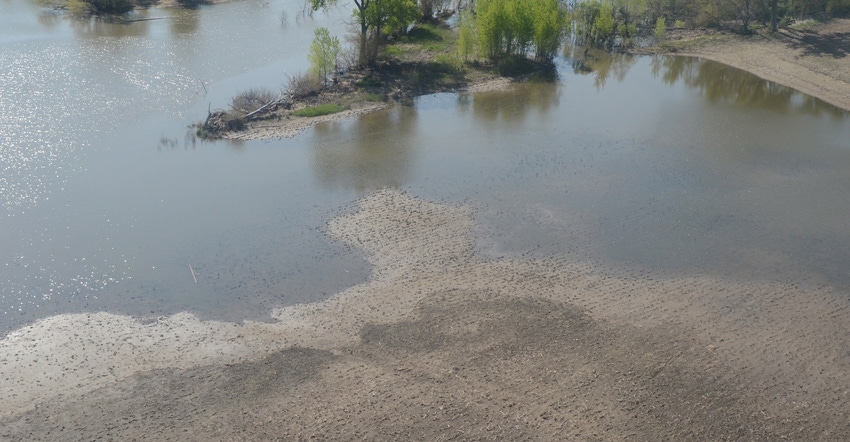 FLOODED FIELD SYNDROME: Fields experiencing flooded syndrome are similar to those with fallow syndrome — when there's nothing growing, the soil microbiome changes.
Tyler Harris
This year has been marked by extreme flood events — in some places in Nebraska, flood events occurred throughout the 2019 growing season. This meant some fields along the Missouri, Niobrara and Platte river bottoms couldn't be planted this spring. Unfortunately, damage from flooding this year could cause more problems next season.
Fields being saturated with water for an extended period of time creates an anerobic environment, and when nothing is planted for a year on a field left saturated, it creates a situation similar to fallow syndrome, says Mike Riffle, product development manager for Valent USA.
"The challenges are deep for those flooded areas," Riffle says. "We've looked into a ton of scientific literature and agronomy journals developing information for flooded field syndrome, and it looks like fallow syndrome is pretty similar. If a field is fallow for a while, and there are no plant roots in the soil, there are lots of things that change in the soil microbiome."
That's because even when there aren't anerobic conditions in a fallow situation, much of the fungi and bacteria that live in the soil are lost.
"One in particular that's gotten a lot of attention is mycorrhizal fungi," Riffle says. "They form a symbiosis with plant roots. The plant supplies carbon to the fungi, and fungi supply water and nutrients to the plant. When you have a fallow or flooded situation and you plant into those areas the following spring, you will see weak, sickly-looking corn. Plants can be purplish in color or an off-green or yellowish color. The plants will be stunted and not grow very well for a while. When fertilizer starts kicking in, plants will start coming back and sometimes can catch up. But if you don't get that corn crop off to a nice, fast start, the season is going to be a rough one."
Researchers at Iowa State University, the University of Nebraska-Lincoln and others have found mycorrhizal colonization on plant roots declines significantly after a flood or fallow situation. And in flooded fields where mycorrhizal colonization has declined, it takes longer for nutrients to become plant-available.
"After colonization, mycorrhizae can produce proteins that are able to help convert phosphorus and nitrogen into plant-available forms," Riffle says. "Mycorrhizae have been doing that for millions of years. They've converted nutrients in the soil to make them available and greatly increase the root's ability to gather moisture. The moisture is taken up by the plant roots along with nutrients."
While that's true for both nitrogen and phosphorus, it's a bigger factor for phosphorus.
So, what can be done if fields have been left fallow for the year after flooding? If it's entirely saturated, there's not much to do but wait. After sediment and debris are cleaned up and erosion is repaired, the next step is taking soil samples to test nutrient content and organic matter.
"Corn growers have adapted through judicious use of starter fertilizer," Riffle says. "That used to be mean only as an in-furrow treatment, but now they've developed systems with 2-by-2 applications, where phosphorus is applied 2 inches below the seed and 2 inches to the side. Some have even adapted with 2-by-2 applications to put it on both sides, so you have fertilizer 2 inches below and on both sides of the seed when they're planting."
Mycorrhizae also help rebuild soil structure through the production of glomalin — the glue that holds soil and organic particles together.
Certain biological products, such as MycoApply EndoPrime SC, which Valent released earlier this year, can be used to supply mycorrhizae for the soil, Riffle says.
"If you apply the right rate of fertilizer in the right place, and you also apply mycorrhizal fungi right next to the seed, you don't have to wait as long for mycorrhizae to colonize naturally," he says. "As soon as seeds germinate and develop roots, the mycorrhiza spores germinate, because the roots, spores and hyphae all signal each other — they have a true symbiosis. The mycorrhizae are going to colonize rapidly. These flooded fields need some help early on. If a grower can get that corn off to a nice start, that's a huge burden off of his or her shoulders."
Of course, it's important to keep in mind that flooded soils experience additional physical, chemical and biological changes — including aggregate stability, soil structure and pH. Cover crops are another option for rebuilding these soils, although they ideally would have been planted as soon as soils dried out this spring. Keeping living roots in the soil provides a place for mycorrhizae to colonize, stabilizes the soil and can suppress winter annual weeds.
"Especially if the field has been left fallow since spring and through summer, if growers can plant a winter-hardy, grass cover crop as soon as possible, they can begin to stabilize that soil," Riffle says.
Subscribe to receive top agriculture news
Be informed daily with these free e-newsletters
You May Also Like
---