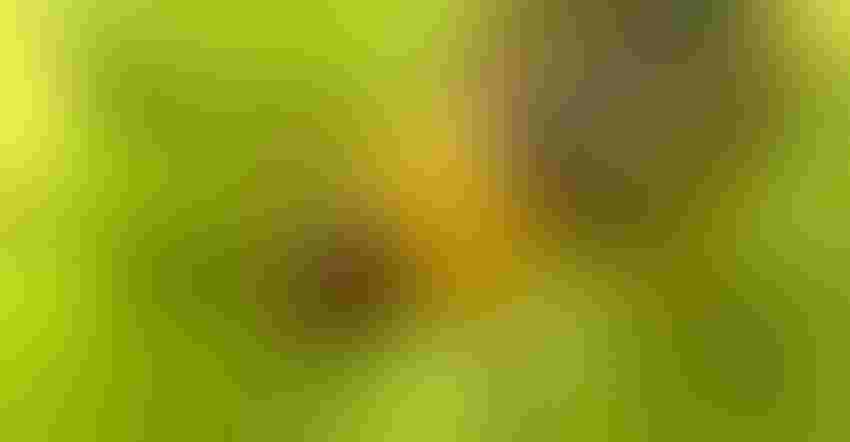 YIELD LOSS POTENTIAL: This is the time of year to assess root injury in cornfields — especially corn-on-corn acres. Corn rootworm larvae can potentially cause severe economic loss. For every node of roots pruned by larvae, expect a 15% yield loss on average.
Adam Sisson
I received several calls during the past two growing seasons about corn plants lodging, and about considerable rootworm injury, especially after some storms with significant winds passed through the region. Almost all discussions have revolved around corn-on-corn acres, and most fields seem to have more than one corn rootworm Bt trait. Iowa State University rootworm researcher Aaron Gassmann has confirmed that western corn rootworm has developed resistance to all four Bt traits in Iowa.
This is the time of year to assess root injury in your cornfields — in particular, corn-on-corn acres. Corn rootworm larvae feed on corn roots and can potentially cause severe economic loss. For every node of roots pruned by larvae, expect a 15% yield loss on average (Tinsley et al., 2013). When conditions are dry, yield loss is typically higher. Evaluate root injury in every cornfield to better understand the efficacy of your management strategy. Get into fields, dig several roots from different locations (not in end rows), haul them to a water source, wash the soil off and evaluate for larval feeding injury. Monitoring over several years will help establish a historical record of how larvae respond to management tactics (e.g., crop rotation, Bt corn, soil-applied insecticides, etc.). The ISU node-injury scale ranges from 0 to 3 and is directly related to yield loss. Learn more about the scale for node injuries. Root injury that exceeds 0.25 can mean the field experiences economic loss.
Corn rootworm variants
The typical life cycle for northern corn rootworm and western corn rootworm consists of one generation per year, with females laying eggs in cornfields to overwinter and hatch the following year. However, these highly adaptable pests have developed population variants to overcome crop rotation. To confirm variants of either species, check for larval root injury in first-year corn and whether adult western corn rootworm or northern corn rootworm are present in the field.
The northern corn rootworm has resistance to crop rotation through extended diapause. Instead of overwintering eggs hatching the following spring, it may be two or three years before larvae hatch. Female northern corn rootworms only lay eggs in corn, regardless if it is from a variant or a normal population. Extended diapause is more common in western Iowa, but it is possible to find variants in central and eastern Iowa. Larval injury is possible to first-year corn if a significant extended diapause population of this northern corn rootworm is in the field. Although northern corn rootworms often leave cornfields to feed on pollen and leaf tissue of weeds and soybeans, this species does not lay eggs outside of cornfields.
By contrast, western corn rootworms have not shown the extended diapause trait — they hatch the next year in fields, but will starve if corn isn't planted in that field. However, when we see resistance to Bt rootworm traits in Iowa, it has always been the western corn rootworms with this adaptation. We have not documented that trait resistance with northern corn rootworms, so at this time I expect all Bt traits to work on the northerns.
An effective way to manage fields with Bt trait resistance from western corn rootworms is to rotate fields out of corn production to break up the life cycle of this pest. This remains an extremely effective way to manage corn rootworm in Iowa. However, resistance to crop rotation by northern corn rootworm does occur in Iowa with that extended diapause capability. In cornfields where large populations of northern corn rootworm are observed, and where the presence of rotation resistance is suspected, farmers should protect first-year corn against northern corn rootworm larvae. That is why it is important to not only monitor root injury in fields, but also monitor which type of adult rootworm beetles are present in your fields.
Rotate management strategies
Do not forget: Soil-applied insecticides may be used at planting to protect from larval corn rootworm injury. ISU's corn rootworm evaluations of various Bt traits and soil-applied insecticides for management of corn rootworm larvae can be found in the evaluation annual reports ent.iastate.edu/dept/faculty/gassmann/rootworm.
To successfully manage corn rootworm, develop a long-term strategy that rotates among a variety of management approaches over multiple seasons. This is the best way to guard against the build-up of large populations and the development of resistance.
DeJong is an ISU Extension field agronomist.
Subscribe to receive top agriculture news
Be informed daily with these free e-newsletters
You May Also Like
---