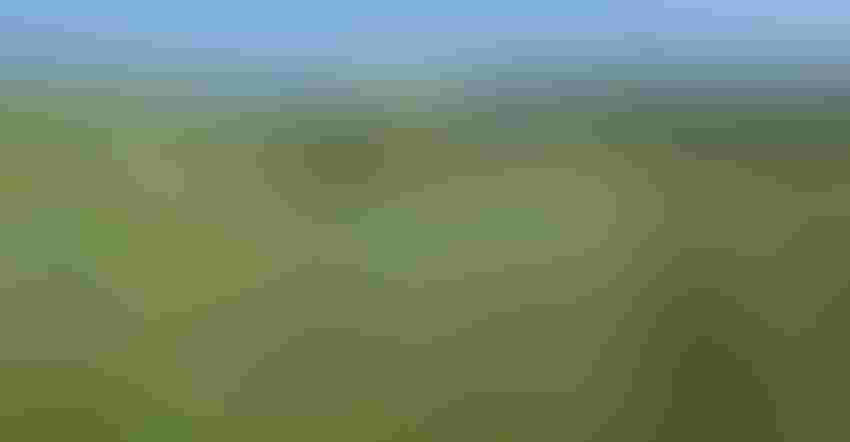 CRIMP TO TERMINATE: Crimping the cover crop after planting soybeans allows Rick Clark to minimize use of chemicals. Here he demonstrates crimping and planting green at a field day.
Finding progressive no-tillers who plant green before terminating a cover crop is becoming easier to do these days. However, it's difficult to find someone who takes soil health as seriously as Rick Clark; he goes beyond just planting green to improve soil health.
Not everyone is ready to do what Clark, part of Clark Land and Cattle, a family farming operation near Williamsport, Ind., does today. In fact, Clark cautions others not to do what he does unless they're sure they're ready to try advanced practices. That usually only happens after someone has experienced several years of no-till, cover crops and planting green.
"We're still learning, but our soil health is improving, and we believe we're on the right track," Clark says. "We raise non-GMO crops and are converting 600 acres to organic production because we have marketing opportunities. That makes what we're doing even a little more complex in some cases."
Down to specifics
Here is what Clark and family are trying on several areas related to building soil health:
• No seed treatments. "We don't use any seed treatments, because we want to provide the best environment we can for bacteria and fungi in the soil," Clark says. "We firmly believe that it's important to limit the amount of chemicals we use."
Surely he uses seed treatment on seed corn, right? One researcher at a major university noted a couple of years ago that he couldn't do trials he wanted to do because he couldn't find seed corn that wasn't treated.
"No, we don't have seed treatment on seed corn, either," Clark says. "You can get it if you work with your seedsman, but you have to plan ahead. Our suppliers do it for us, but they want commitments in late fall so that it can be the first seed run through their processing and bagging facilities. Then everything else gets seed treatment."
• No starter fertilizer. Eliminating starter comes with time, not right out of the gate, Clark stresses. As soil health improves, mineralization improves, and more nitrogen from the soil is released for the crop. He applies nitrogen, but not as starter.
• Spoon-fed nitrogen. Clark typically applies commercial nitrogen at the V10, or 10-leaf, growth stage. "That's when it's ready to take up the most nitrogen," he says.
His total application rate is about 125 pounds of commercial nitrogen per acre. The recommended rate in his area based on Purdue University trials is 180 to 185 total pounds of nitrogen per year.
"We grow it through legumes, and we get good mineralization," he says. "I've done the math and believe that in most years, we're supplying a total of well over 200 pounds of nitrogen per acre — it's just not all through commercial nitrogen."
• Letting cover crops grow. Letting cover crops grow is where planting green comes in, Clark says. "We want them to grow as long as practical in the spring," he explains. "Legumes in the mix are making nitrogen. My goal is to begin planting corn around Mother's Day."
Meanwhile, he times soybean planting around stage of growth of cereal rye. He aims to plant into rye when it's in the boot stage, just beginning to form heads. His method of choice is to roll it down with a crimper and not to apply burndown herbicides when it isn't necessary. He typically crimps cereal rye within three to five days of planting but has waited much longer.
• Pushing the envelope. Some soybeans on land transitioning to organic production were at the V2 stage and cereal rye was 5 feet tall when it was crimped in 2018, some 45 days after planting, Clark says. "We rolled the whole thing down, and the soybeans came back up through it while the rye died.
"We didn't put any chemicals on part of those acres for weed control. Yet we harvested a good crop last fall."
• Inputs vs. yields. "You won't hear me talking about yields," Clark says. "We're competitive and have good yields, but what we're most interested in is lower input costs. We've greatly dropped costs of production, and that's helping in a big way."
Clark keeps careful records. He recently compared inputs for 2011 before he moved deeper into planting green with cover crops. From 2011 through 2018, the farm dropped diesel fuel costs by nearly 50%, synthetic nitrogen costs by 27%, chemicals by 55%, phosphorus fertilizer by more than 90%, and applied no lime or potash in 2018 vs. 2,100 tons and 400 tons, respectively, in 2011. They've also reduced total horsepower requirements for all operations by 64.2% per acre.
• Soil testing. Clark continues to soil test every other year just as he always. Based on the most recent results, even without needing lime in 2018, pH levels are typically 6.5 or higher. He's confirmed that he hasn't needed to apply potash recently based on soil test results.
• Cover crop mixes. Cover crop species vary depending on whether corn or soybeans will follow the next spring, but Clark is very specific about what he includes in mixes. Each species has a purpose. The Gunslinger mix used ahead of corn, which he named and which is available by name from Cisco Seeds suppliers, includes these species: 30 pounds per acre of Haywire oats, 5 pounds per acre of Austrian winter peas, 5 pounds per acre of Balansa Fixation clover, 3 pounds per acre of sorghum-sudan and 3 pounds per acre of tillage radish.
Haywire oats grow quickly in the fall, he notes. Tillage radish penetrates deep into the soil, and sorghum-sudan feeds mycorrhizae fungi in the soil.
• Right combination. "Feeding the mycorrhizae is as important as anything we do," Clark says. "They play a big role in balancing out what happens between other microbes in the soil.
"The oats, radishes and sorghum-sudan winterkill, forming a mulch which protects the legumes. When everything works correctly, we have legumes producing nitrogen in the spring ahead of corn."
Subscribe to receive top agriculture news
Be informed daily with these free e-newsletters
You May Also Like
---