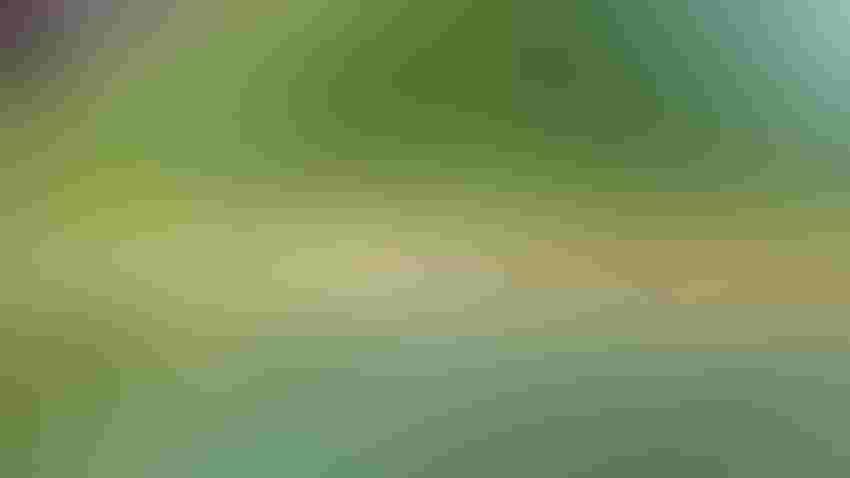 TAR SPOT: Tar spot infects corn plants by attacking the leaves and leads to yield loss if not caught early in the infestation.
Allison Robertson
Preventing the problematic corn disease of tar spot can start in the breeding pipeline for most seed companies, according to Clint Steketee, corn breeding project specialist for Syngenta.
"We screened several hundred of our inbred lines that are key in our corn pipeline for known hot spots for tar spot," Steketee says. "We found significant infection in northern Illinois and southwest Wisconsin, and some in Iowa by mid- to late-September."
A tar spot rating protocol was developed to help understand the level of disease in a field, with ratings taken on the ear leaf and taken across all fields:
1 = no symptoms or some very rare spots observed

3 = some small, raised black spots scattered across the upper and lower leaf surfaces (5% to 7%) of the majority of the plants

5 = scattered small, raised, black spots scattered across the upper and lower leaf surfaces (16% to 25%) of the majority of the plants

7 = confluent lesions on all the leaves, with 36% to 45% leaf surface affected

9 = confluent lesions on all the leaves, with 56% to 100% leaf surface affected
In the screening, researchers found plants with all the ratings and found some with tar spot resistance. "The hybrids scoring 1 to 3 ratings will be noted, and those plants then can be used in the breeding pipeline moving forward, as there is significant variability for tar spot infection severity across Syngenta genetics," Steketee says. "Resistance is polygenic. It's a quantitative trait that would most likely not have a black-and-white answer for which hybrid it affects."
Management of tar spot
Anyone in the central U.S. Corn Belt could get tar spot in their cornfields if the conditions are wet enough in the summer growing season.
"If tar spot comes in and kills the leaf tissue prematurely before black layer, it can cause a lot of yield loss," says Jeff Laufenberg, technical development lead for Syngenta. If tar spot shows up during soft dough stage, at R4, a 35% yield loss could be seen. Tar spot introduction at full dent, R5 stage could see a 27% yield loss. At half-milk line, R5.5 stage, a 6% potential yield loss could be seen; and if tar spot comes in at the R6 normal black layer stage, little or no loss would be seen in yield.
"In a year like 2018 — and some this year — we had corn dying at full dent stage due to tar spot infestation, and that's when you can see a 60-bushel yield decrease," he says. "Most years, it's not that bad and is somewhere around the half-milk line when it shows up."
Losing leaf mass can lead to a loss in yield, which can add up in a field when the average yield might have been 250 bushels per acre. Laufenberg says even with a resistant variety, there's always a chance to still have some tar spot damage depending on the growth stage. "The corn plant, if you start losing the leaf tissue, will start to cannibalize the stalk while it's still trying to fill the ear, and you'll have stalk degradation when that happens — and the last thing you want to have happen is to have a fertility shortage in the corn plant at the same time as a leaf disease infestation," he says. "Then you will have extreme yield loss."
Tar spot is linked to larger amounts of moisture and when the leaf is wet for several hours and into the overnight and early morning hours, which will lead to the greatest epidemic with this disease. Work continues, with hybrid tolerance to tar spot and fungicide applications at VT, R1 or R2 stages effective, but must be done during the right environment. Depending on the disease pressure will determine if one or two fungicide applications will make a difference. "Stalk integrity can be affected by tar spot also. Fungicide can help with the stand," Laufenberg says.
Starting the growing season with an understanding of the corn hybrid tolerance which is being planted. It is recommended to select more hybrids for higher-risk situations such as corn on corn with heavy crop residue, irrigated corn on corn acres or later planting, but he suggests one with a balanced overall management.
Laufenberg says, "It's important to guard against the disease getting ahead of you. Spraying for tar spot does not mean you won't have tar spot. You are essentially trying to delay a potential crash that may come late-season and keep some green leaf tissue in the top of the canopy."
Subscribe to receive top agriculture news
Be informed daily with these free e-newsletters
You May Also Like
---