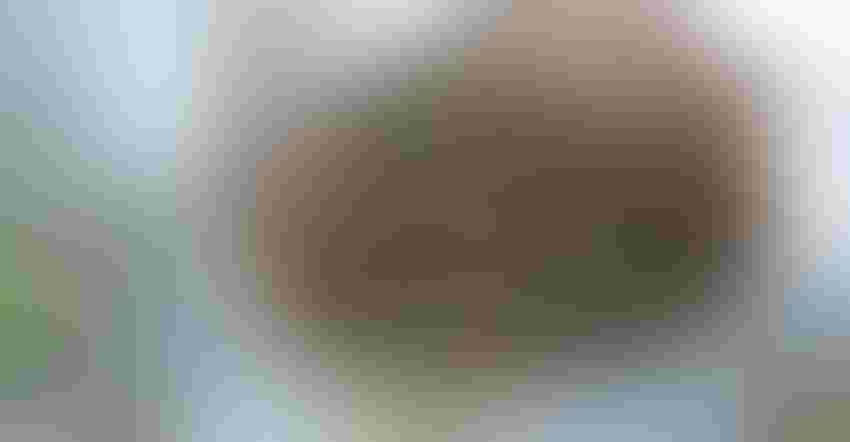 NEW MARK: Sunflowers set an average yield record in the U.S. in 2018.
According to USDA, the 2018 average U.S. sunflower yield per acre was 1,731 pounds, an increase of 128 pounds from 2017 and a record high.
Sunflower production in 2018 totaled 2.12 billion pounds, down 1% from 2017 but up 10% from the October forecast. Planted area, at 1.30 million acres, was 7% below the previous year. Area harvested decreased 8% from 2017 to 1.22 million acres.
South Dakota retained its status as the leading sunflower producing state in 2018, with total production of 975 million pounds, a decrease of 4% from 2017. Compared with 2017, planted area in South Dakota decreased 8%, but yield increased 105 pounds to 1,840 pounds per acre.
Sunflower production in North Dakota increased 5% primarily because of the average yield, which increased 6% from the previous year. The average yield in North Dakota increased 95 pounds from 2017 to 1,760 pounds per acre.
Minnesota average oil-type yield per acre of 2,250 pounds increased 300 pounds from 2017 and was a record high. The non-oil yield also was a record high in Minnesota at 2,150, topping the previous record high by 200 pounds.
"What is especially impressive about those numbers is that we had a long dry spell in northwest Minnesota where much of the state's sunflower crop is grown," says Kevin Capistran, a Crookston, Minn., producer and past chairman of the National Sunflower Association's Board of Directors. "Essentially, it didn't rain for about six weeks in July and August, yet we still had a very good quality crop and very little disease. I think that goes to show that if we can take care of the disease issues we've battled in the past, we can grow a really good sunflower crop year after year."
USDA estimated U.S. production of oil-type sunflower varieties at 1.9 billion pounds, representing an increase of 3% from 2017. Compared with the previous year, harvested acres were down 6%, but the average yield increased by 144 pounds to 1,726 pounds per acre. 
The harvest of oil-type seeds in 2018 exceeded industry expectations in comparison with the October report and will probably result in an increase in crush demand for marketing year 2018-19.
Production of confection sunflower varieties was estimated at 220 million pounds, a decrease of 24% from last year. Area harvested, at 123,500 acres, was down 25% from 2017. The average yield increased by 31 pounds from 2017 to 1,781 pounds per acre and represented the second-highest yield on record for confection varieties in the U.S.
In North Dakota, the average confection yield was up 60 pounds from a year earlier, setting a record high at 1,860 pounds per acre. The lower production figure was within trade expectations and will lead to tight stocks by the end of this marketing year.
The U.S. government shutdown delayed final 2018 crop production estimates into February. In most cases, the market was trading in a fog without any fundamentals to guide it. With some numbers in hand, old and new crop sunflower markets will be able to trade on supply and demand fundamentals in the months ahead. Traders also will be monitoring U.S. export demand, South American soybean exports to China, world farmer sales and carryout levels.
As you finish putting together your 2019 crop plan, take another look at sunflower. Crushers and confection processors still are offering 2019 production contracts. Sunflower prices are penciling out well in 2019, and the market will be aggressive to get acres this year as stocks will be tight come September because of smaller 2018 production.
Another thing to consider is that with sunflower contracts, you have the Act of God clause, which is helpful to reduce some of that risk. To keep up with price movement, visit the National Sunflower Association website.
Sandbakken is the executive director of the National Sunflower Association.
Subscribe to receive top agriculture news
Be informed daily with these free e-newsletters
You May Also Like
---