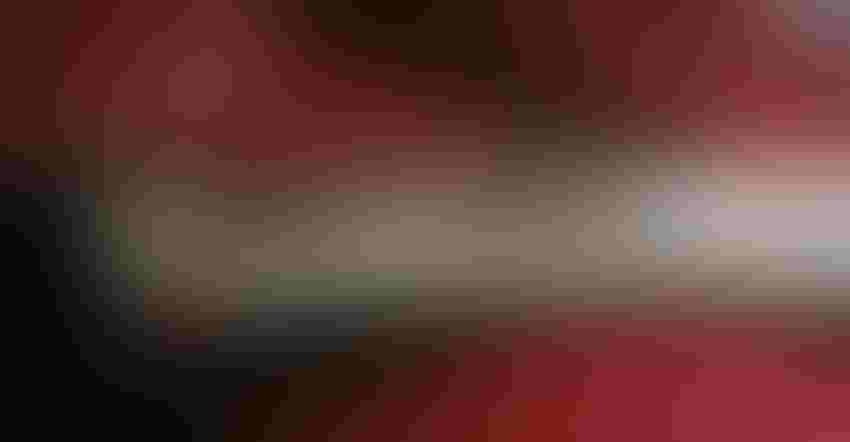 YIELD ROBBER: The dectes stem borer, more commonly known as the soybean stem borer, tunnels into soybean plants, causing damage and ultimately yield loss.
Photo: John C. French Sr., Retired, Universities:Auburn, GA, Clemson and U of MO, Bugwood.org
While dectes stem borer is a sporadic pest, its numbers are increasing. This year, University of Missouri Extension entomologist Kevin Rice needs farmers help to conduct a trap cropping study to determine dectes stem borer's presence in the state.
The dectes stem borer, more commonly known as the soybean stem borer, is a small, long-horned beetle whose larvae attack soybean plants. The larvae have bodies that look like an accordion with a larger brown head.
Larvae tunnel inside the plant, which can result in diminished water and nutrient uptake leading to soybean yield loss. Some university data shows as much as 40% soybean yield loss from soybean stem borer.
Limited control
Typically seen in Texas, Kansas and Nebraska, Rice says the dectes stem borer increased in numbers and locations over the past few decades. Why? There's not a real good control option for soybean stem borer.
"The adults have a really long emergence window, which makes applying a pesticide very difficult," Rice explains. Adult beetles begin emerging in late June or early July. "So, they are out for a month and a half to two months laying eggs," he says. Finding the right time to spray is difficult.
"The larvae are terminal feeders and later in the season," Rice adds, "so systemic insecticides aren't very effective."
Paid partnership
Without good protection from this pest, Rice says tracking its movement is critical. Unfortunately, there's no effective pheromone traps or monitoring systems for dectes stem borer.
"But what we do know from laboratory trials is that if you give them a sunflower and a soybean host, the females 100% of the time pick soybean to lay their eggs on," he says.
MU has a funded project to assess location and population of this pest in the state. Rice is looking for farmers with a history of soybean stem borer to participate in the 2020 field study.
Farmers will plant four rows of sunflowers around the soybeans to use the trap crop. Then Rice and his colleagues will count how many were in the crop.
"We will pay for the seed, and we will also give a minor stipend to offset the yield loss that they will incur for the sunflower planting," Rice says.
Management options
Only a few management practices have been found to reduce stand and yield losses from soybean stem borer damage, according to a MU Extension soybean pest management guide. These include:
Effective control of weed host plants such as cocklebur and giant ragweed reduces egg-laying sites for the female beetles.

Harvest the crop as soon as it matures to reduce losses from lodged plants.

Fall tillage kills dectes stem borer larvae. Plant stubble should be buried at least 2 to 3 inches.

Avoid planting soybeans in fields adjacent to fields that were heavily infested the previous year.
By tracking where the pest is headed, soybean farmers can make management decisions to reduce yield loss from this pest.
Rice is asking farmers willing to take part in the dectes stem borer trap cropping study to contact him directly via email at [email protected] or call 573-771-7386.
Subscribe to receive top agriculture news
Be informed daily with these free e-newsletters
You May Also Like
---