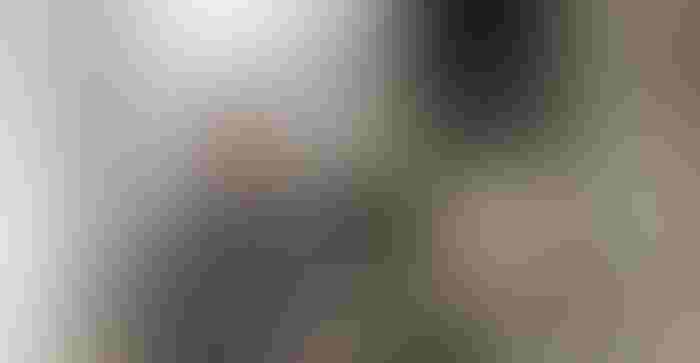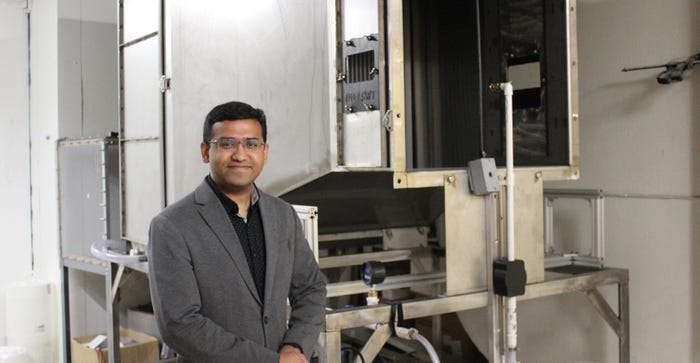 The University of Dayton has a very valuable low-speed wind tunnel. UD researchers and their industry partners are testing agricultural spray mixtures, pressures and nozzles.
Farm chemical and equipment manufacturers need tests on agricultural spray mixtures in certain wind circumstanced to get product approval from the U. S. EPA, and farmers need the results so they know how to keep their spray on target, explains Kyle Butz, a technical adviser with Spray Analytics who helped set up the testing program. "All the research we do gives them options out in the field," he says.
Several years ago, Butz recognized a need for more wind tunnel testing facilities for agricultural products because product releases were being delayed by backlogs in testing. He took the idea to UD and began working with Sid Gunasekaran, an assistant professor of mechanical and aeronautical engineering at UD, to adapt the existing UD wind tunnel for spray testing. They designed and built a portable test section that rolls into the wind tunnel and attaches to the upwind end.
The U.S. EPA began accepting and reviewing data from the UD wind tunnel earlier this year. To meet the EPA's testing requirements, Gunasekaran and Butz spent about a year and a half adjusting the design and verifying their spray-test results with a wind tunnel operated by the USDA, along with additional facilities in Australia, Europe and Nebraska. The University of Nebraska is the only other university with a wind tunnel being used for spray testing that is accepted by the EPA.
Droplet aerodynamics
The UD wind tunnel is used for a variety of aerodynamics research projects, including tests of aircraft wing designs, explains Gunasekaran. It has also been used to test golf clubs, flying discs and even drones. "We can actually fly a drone within the wind tunnel," he notes. The spray research effort is introducing students to another aspect of aerodynamics, he adds.
To gather spray-test data, researchers set the wind tunnel at a constant speed of 15 mph. That's the standard speed the EPA uses in evaluations, Gunasekaran explains. The EPA looks at data from several test facilities for each product being tested, so wind speeds and other research parameters need to be consistent for comparison.
The test section used for spray research has a constant pressure pump, which holds whatever pressure is set for a specific test. The spray liquid is pumped through a nozzle mounted on a vertical traverse that automatically moves up and down during testing. The spray leaving the nozzle is measured using a laser diffraction instrument, allowing researchers to analyze the size distribution of spray droplets, explains Gunasekaran.
As it leaves the nozzle, the spray is pulled through a set of louvers and a wire mesh filter, which captures the spray particles as the air continues through the tunnel. Spray comes out of a nozzle as a sheet, and the sheet then breaks into droplets, Gunasekaran says.
Multiple possibilities
For every combination of products and nozzle types, there will be a distribution of droplet sizes. The preferred droplet size varies by product; but as a rule of thumb, farmers  and spray applicators want to avoid droplets smaller than 140 microns, because those small droplets are most prone to drift.
When droplets are drifting, farmers aren't getting the full benefit of the products they're applying, Butz points out. Those drifting droplets can also create liability issues if they move off the field and damage a neighbor's crops.
The point of the spray studies is to determine what combinations of chemicals, nozzle designs and spray pressures produce droplets that will most efficiently reach their targets. The variable in a study might be the combination of chemicals, the spray pressure or even the nozzle design.
For instance, if a spray adjuvant is being tested, the researchers would start by looking at the distribution of droplet sizes with the herbicide alone. Then, using the same spray pressure and nozzle, they'd look at how the droplet size distribution changes with the addition of the adjuvant.
In the field, Butz points out, it can be difficult for farmers to pick up on small variations in droplet size, but small variations can make a big difference when it comes to drift. That's why product labels list appropriate spray pressures and nozzle types, he adds. "All this testing goes in to making the label what it is."
To demonstrate the wind tunnel's spray testing capabilities, the University of Dayton is planning a spray drift seminar and open house for March 2020. Details will be available from the University of Dayton by early February.
Keck writes from Raymond, Ohio.
Subscribe to receive top agriculture news
Be informed daily with these free e-newsletters
You May Also Like
---