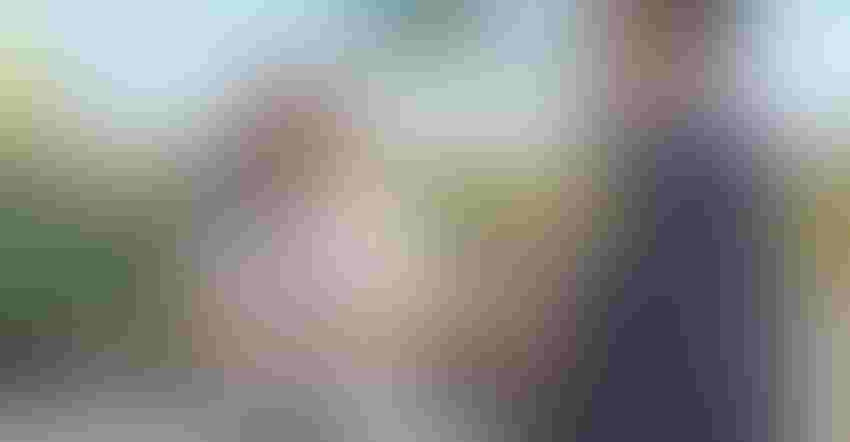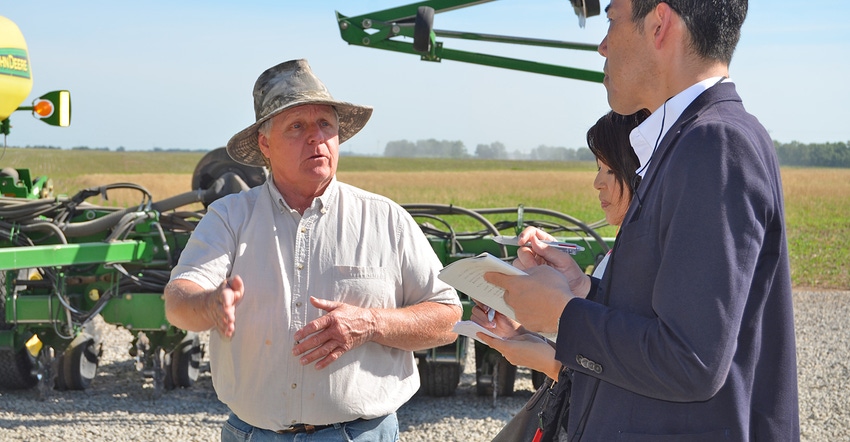 OPEN COMMUNICATION: Callaway County, Mo., farmer Kenny Brinker explains how his family farm uses sustainable farming practices to raise soybeans, corn and hogs to a delegation from Japan.
A white tour bus pulls off the gravel road and up to the small metal office building just north of Auxvasse, Mo. Kenny Brinker strolls out to greet his guests from Japan.
It is not the first time the Callaway County, Mo., farmer has had visitors. "We host a lot of foreign delegations," he says. For some, it is the first time setting foot on a U.S. hog and row crop farm — and they took advantage of the opportunity.

INTRODUCTION TO AG: Cody Brinker (far left) explains how farmers uses technology in planters to plant corn and soybeans while a group of Japanese food buyers looks on. The foreign delegation visited the Callaway County, Mo., farm in June to learn more about U.S. farm sustainability.
The group climbed into tractor cabs, inspected planters, walked soybean fields and peered into hog houses. It was all part of a day designed to inform Japanese retail and wholesale food buyers and processors about U.S. farm sustainability.
Sustainability is important to these Tokyo food importers and processors.
Industry movement
Masako Masi Tateishi, who represents the U.S. Soybean Export Council (USSEC) in Japan, says buyers want to know who is producing the food, how it is being produced and if the products will be available in the future.
In 2013, USSEC, together with members of the U.S. soybean industry, developed the Soy Sustainability Assurance Protocol (SSAP), which covers four key components including sound environmental objectives, social responsibility, conservation-focused management practices and continuous improvement. In 2016, the U.S. exported more than 110 million bushels of soy certified under the SSAP program, according to the USSEC website.
"We are here to see how the U.S. soybean farmer works," Masi Tateishi says. "They want to know what sustainability practices farmers are using. They want to know if they and the products will be here long-term."

BEHIND THE WHEEL: A grocer from Tokyo climbed into the tractor cab at Kenny Brinker's farm north of Auxvasse, Mo. He looked at the technology inside the cab and had his photo taken.
Family ties
The Brinker family has been farming in the U.S. since the early 1800s. Coming from Germany, over the years the family made its way from the East Coast to the Midwest. They finally settled on a farm in a rural area about 50 miles west of St. Louis. "We were right on the city limits of a town of 20,000 people," Brinker explains to the group. "The town began to move toward us, so we found this piece of land and moved further west."
Today, Brinker farms with his sons Travis and Cody in central Missouri. The family has 4,000 acres: half planted to corn, the other half to soybeans. They deliver the soybean crop to a nearby biodiesel plant. Oil is extracted, and the Brinkers receive the soybean meal back as a feed ingredient for their hog operation. They family also owns a 2,800-sow unit — Harrison Creek Farm — that produces roughly 80,000 pigs per year. "It all comes full circle," Brinker adds.
Long-term investment
While diversification helps to spread out risk, there are farming practices that increase the Brinkers' leverage to stay in the business.
"We look for ways to improve our land and water quality," Brinker says. "We use no-till farming practices with our crops, and plant cover crops."
The group toured a cover crop trial at a nearby soybean field. The Brinkers are working with the University of Missouri Extension to see if termination time of rye affects yield. "Leaving the biomass on helps our fields by keeping the soil in place," Cody says. "The roots of the cover crop allow the water to move in the soil below, benefiting our plants. We believe it is really helping improve our soil health."

PLOT TOUR: Members of the U.S. Soybean Export Council sustainability tour group visited a cover crop strip trial. Kenny Brinker works with the University of Missouri Extension to determine if termination dates affect soybean yield.
As a Tokyo grocer digs through the dirt, he comes across an earthworm. "We have a lot of those," Cody tells the man.
For his dad, farming practices like cover crops ensure the land remains productive for Travis and Cody.
New insight
This was not the first farm the group visited. Ryan Gill, grower and industry relations manager for Missouri Soybean Merchandising Council, who was touring with the group, says they stopped at the Bay Farm Research Facility in Columbia, Mo., a row crop farmer near Jefferson City, Mo., and a cattle operation near Mexico, Mo.
After peering through small hog house windows at a few sows, the Japanese group thanked Brinker and loaded back up on the bus. It was a quick visit to the farm, but one Gill wants them to remember.
"We hope they will continue to connect soybeans, cattle and hogs with Missouri farmers," he says.
About the Author(s) Editor, Missouri Ruralist
Mindy resides on a small farm just outside of Holstein, Mo, about 80 miles southwest of St. Louis.
After graduating from the University of Missouri-Columbia with a bachelor's degree in agricultural journalism, she worked briefly at a public relations firm in Kansas City. Her husband's career led the couple north to Minnesota.
There, she reported on large-scale production of corn, soybeans, sugar beets, and dairy, as well as, biofuels for The Land. After 10 years, the couple returned to Missouri and she began covering agriculture in the Show-Me State.
"In all my 15 years of writing about agriculture, I have found some of the most progressive thinkers are farmers," she says. "They are constantly searching for ways to do more with less, improve their land and leave their legacy to the next generation."
Mindy and her husband, Stacy, together with their daughters, Elisa and Cassidy, operate Showtime Farms in southern Warren County. The family spends a great deal of time caring for and showing Dorset, Oxford and crossbred sheep.
Subscribe to receive top agriculture news
Be informed daily with these free e-newsletters
You May Also Like
---