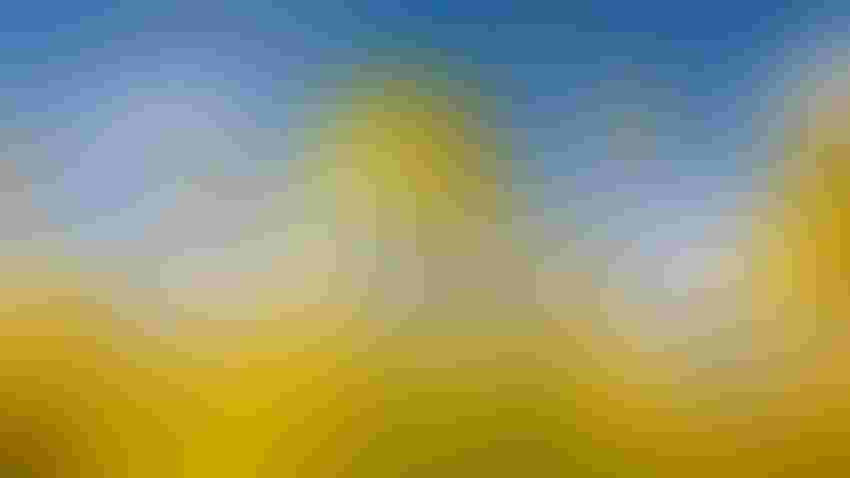 OILSEED CRUSHER: Scoular announced in mid-March that it is retrofitting its Goodland, Kan., grain handling facility to crush oilseeds again. Starting in 2024, winter canola and soybean farmers in Kansas and Oklahoma should be able to deliver their crops to the facility again.
CherriesJD/Getty images
Scoular announced it will recommission the former sunflower crush plant outside of Goodland that it purchased in 2021. The Nebraska-based agribusiness will make an investment to retrofit the facility to crush both soybeans and canola. Up to 40 new jobs will be created in Goodland, in northwest Kansas. The facility is expected to begin operations in fall 2024.
Scoular bought the facility in 2021 and switched it from a canola and sunflower crush plant into a grain handling facility for corn, wheat and sorghum.
Recently, demand for canola oil from the renewable diesel and sustainable aviation fuel markets has been predicted to grow to more than 5 billion gallons by 2025. Following this retrofitting, the facility will process 11 million bushels of oilseeds per year, toggling between canola and soybeans as availability dictates. The plant will also be able to process low-carbon crops, like camelina.
Scoular is also partnering with Kansas State University to assist farmers with best growing practices for winter canola.
The plant is off I-70 at the Caruso exit, 5 miles west of Goodland.
Kansas Cowboy Poetry Contest call for entries
Entries are open for the 2023 Kansas Cowboy Poetry Contest. The competition is open to current and aspiring cowboy poets with original serious or humorous cowboy poems.
Two regional qualifying contests will be held:
May 5. 7 p.m., Rollin "Red" Vandever Memorial Park, home of the Wilson County Old Iron Club, 10392 Jade Road, Fredonia

May 19. 6 p.m., Hays Public Library, 1205 Main St., Hays
Contestants can enter to perform at either location or at both. All ages are welcome. Those interested in competing can enter online at cowboypoetrycontest.com.
The top qualifiers at each regional contest will advance to the June 9 finals at the Flint Hills Discovery Center in Manhattan, Kan. State champions at the finals will receive the Saddlejack Bradrick Award, the coveted Governor's Buckle, discounts and gift certificates from leading Western wear stores, free membership in the International Western Music Association-Kansas Chapter, and two tickets to the 2023 Symphony in the Flint Hills on June 10, plus an opportunity to present their poems in the story circle after the symphony. All poetry must be family-friendly. The public is invited to attend these free events.
KLF accepting scholarship applications
The Kansas Livestock Foundation now is accepting applications for 2023-24 scholarships. Applicants must be graduates of a Kansas high school and enrolled at a Kansas community or senior college for the fall 2023 semester. 
Among the many scholarships available are:
The Merck Cartridges for Cash program offers $1,500 scholarships to Kansas State University College of Veterinary Medicine students and $1,000 awards to undergraduates studying animal sciences and planning to be engaged in livestock production. Since Finney County KLA members turned in the most cartridges in 2022, at least one student from that county will receive a CFC scholarship, providing there is a qualified applicant.

Hampel Oil-Mobil Delvac will offer $1,000 scholarships to juniors and seniors at K-State and Fort Hays State University.

GoBob Pipe and Steel will sponsor a $1,000 award for a student sophomore year or above attending a Kansas junior or senior college.

Proceeds from the 2022 Kansas CattleWomen Silent Auction and KLF Club Calf Sale will fund $1,000 KCW and Youth in Ag scholarships.
One application applies to all scholarships and can be accessed at kla.org/programs/klf-scholarships. Contact Shelbi Wiggs at [email protected] with questions. All materials must be digitally submitted by April 21.
BQA training dates set
Kansas State University has planned meetings in four locations to provide cattle producers with certification through the Beef Quality Assurance program. The training dates are offered by K-State Research and Extension, the Kansas Livestock Association and the Kansas Beef Checkoff. There is no cost to attend. The scheduled sessions are:
March 28. 6 p.m., City Limits Convention Center, Colby

March 30. 6 p.m., Butler County Community and 4-H Building, El Dorado

April 11. 6 p.m., Stanley Stout Center, Manhattan

April 13. 6 p.m., Hilton Garden Inn, Hays
Dinner will be provided by Certified Angus Beef, which will share its story of cattle producers' commitment to raising healthy, nutritious and high-quality beef with beef consumers and the brand's licensed partners.  
A.J. Tarpoff, K-State associate professor and beef Extension veterinarian, will walk through BQA best practices. Topics include cattle care, extreme weather planning, stockmanship and other critical topics for cattle production.  
BQA certification is good for three years. To register for one of the upcoming training sessions, contact Brooke Wines at [email protected] or 785-273-5115. Onsite registration will also be available at each location.
Subscribe to receive top agriculture news
Be informed daily with these free e-newsletters
You May Also Like
---