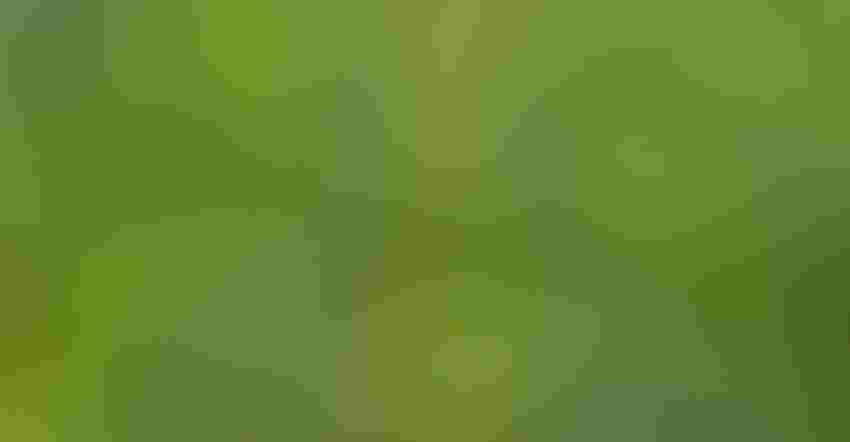 WHAT WENT WRONG? Fred Whitford says you should ask lots of questions if your field ends up looking like this. Head off such problems by doing preseason maintenance and thinking through weed control now.
You're not ready to spray this season unless you've prepared your sprayer and thought through issues related to preventing drift. That's the message from both Bill Johnson, Purdue University Extension weed control specialist, and Fred Whitford, director of Purdue Pesticide Programs.
"Figure that you're going to cover every acre twice," Johnson says. "Your sprayer is going to see a lot of use. You're protecting your investment in the field. You could make the case that your sprayer needs to be more accurate than your planter. It often costs more than your planter. Have it ready to go and calibrated, so that you're sure you're applying the amount of spray that you think you're applying."
Whitford reminds that getting the sprayer right is only part of the equation for effective, trouble-free weed control. "One thing I would do is ask myself if I've identified the weeds I need to control in each field," he says. "What are the tough weeds I must control? Match herbicides to get those weeds. You also need to know the best total spray volume, type of nozzle and sprayer settings needed to control them." 
Whitford agrees that people also ought to be sure the sprayer is ready for the season. "You can't afford to have breakdowns in the heart of the season because you didn't do preventive maintenance," he says.
Especially if you're spraying dicamba over dicamba-tolerant soybeans, suitable hours to spray are hard to come by. You certainly don't want to sacrifice acceptable spray hours to a breakdown that could have been prevented, he adds.
Prioritize spray jobs
Prioritizing which fields to spray when may be a big part of your workload if you're operating the sprayer. "Which fields have the worst weed problems based on history?" Whitford asks. "Keep an eye on those fields."
Prioritizing may involve considering more than type of weeds in the field this year. "Scope out which fields are next to sensitive crops, especially if you're spraying dicamba," Johnson says. "Know which fields need to be sprayed when the wind is from a certain direction. Then when you get a day that fits that criteria, you know you need to consider spraying that field.
"Wind speed is going to be very important this year. And it's not just for dicamba. Regulatory agencies will be paying more attention to wind speed on labels on all products going forward. Learn to factor it into what you do," he notes.
Factor weather in general into what you're doing, Johnson suggests. If you're spraying the newest dicamba products, you can't spray within 24 hours of a rain event if the chance for rain is more than 50%.
"If you do all these things and don't get the results you want, ask why," Whitford adds. "Were your rates off? Did you use the wrong products? Did you skip calibration? You need to pin it down."
You also need to respond if a neighbor tells you your spray application damaged his or her crops or even garden. Paying a visit is the right thing to do. "You need to be a good neighbor," Whitford says.
Subscribe to receive top agriculture news
Be informed daily with these free e-newsletters
You May Also Like
---