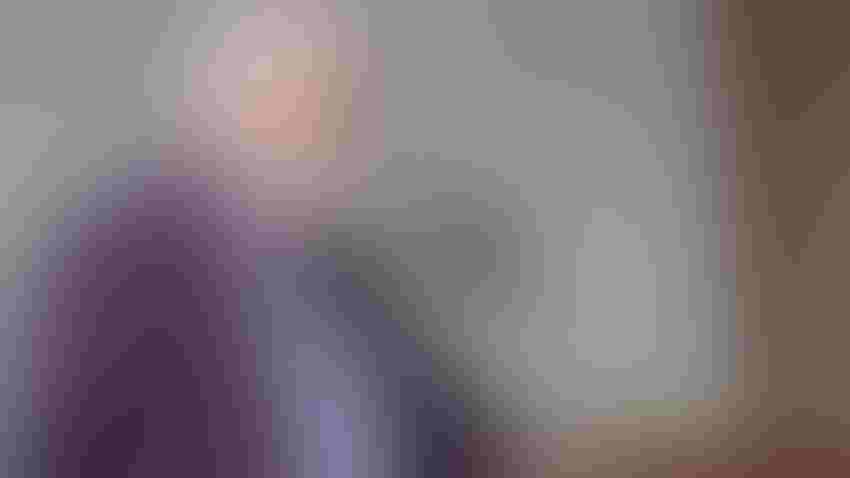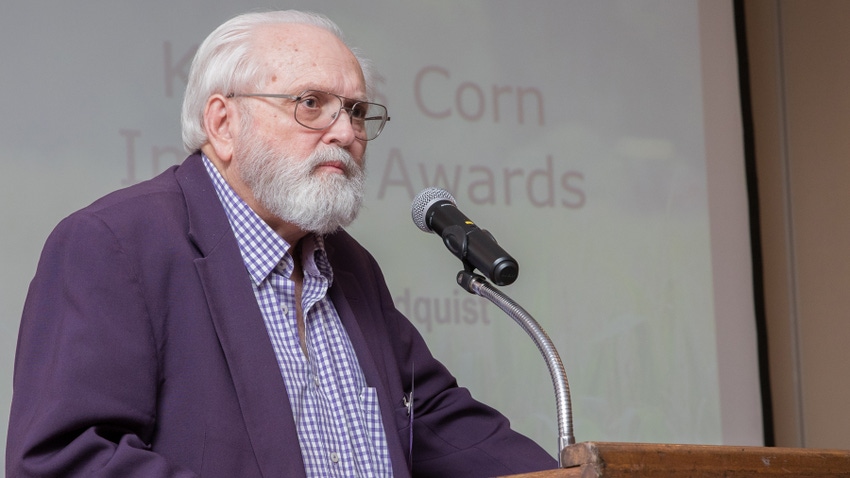 HALL OF FAME: The National Agricultural Hall of Fame will posthumously induct Barry Flinchbaugh, professor emeritus of agricultural economics at Kansas State University, in a ceremony Oct. 5 at the center, in Bonner Springs, Kan. Flinchbaugh — seen here in this file photo from 2018, when he was honored as the Kansas Corn Impact Award recipient — has been recognized nationally for his expertise and candid views on domestic and global agriculture policy. Flinchbaugh assisted in the development of every farm bill since 1968 until his death in 2020.
Courtesy of Kansas Corn
Three people responsible for making major contributions to the past, present, and future of American agriculture — Barry Flinchbaugh, Junius Groves and Fabiola Cabeza de Baca — will be inducted into the National Agricultural Hall of Fame on Oct. 5 at the National Agricultural Center in Bonner Springs, Kan.
This hall of fame honors individuals who have made outstanding national or international contributions to the establishment, development, advancement or improvement of American agriculture. Flinchbaugh, Groves and de Baca join a roster of notables, including former Sen. Pat Roberts, Eli Whitney, George Washington Carver and John Deere.
Barry Flinchbaugh (1942-2020). Barry Flinchbaugh was well known as one of the United States' leading experts on agricultural policy and agricultural economics. For more than four decades, he was a top adviser to politicians of both major political parties, including secretaries of agriculture, chairs of the U.S. House and Senate agriculture committees, and numerous senators and state governors. Flinchbaugh was involved to some degree in every U.S. farm bill written since 1968, and served on many national boards, advisory groups and task forces, providing input on domestic food and agricultural policy. He served as the chairman of the Commission on 21st Century Production Agriculture, which was authorized in the 1996 Federal Activities Inventory Reform, or FAIR, Act — also known as the Freedom to Farm Act.
Flinchbaugh was also an influential ag policy instructor in the agricultural economics department at Kansas State University. From 1970 to 2020, he taught Ag Policy 400 — a combination of ag trade, marketing and politics. Along with his accolades as a professor, he received many recognitions for his influence in the agricultural economics profession.
Junius G. Groves (1859-1925). Born in slavery on April 12, 1859, in Louisville, Ky., Junius George Groves came to Kansas at the age of 19 during the time of the Exoduster Movement of ex-slaves from Southern states along the Mississippi River. He began farming near Edwardsville, Kan., where he purchased 80 acres and raised white potatoes.
Much of Groves' success was due to his 46 years of devotion to the science of agriculture. He earned the title "Potato King of the World" in 1902 for growing the largest number of bushels of potatoes per acre, more than anyone else in the world up to that point. By 1900, Groves bought and shipped potatoes, fruits and vegetables extensively throughout the United States, Mexico and Canada. The Union Pacific Railway built a special spur to his property to accommodate his needs. At the height of his success, he owned more than 500 acres. Groves surpassed financial parity with most whites in contemporary Kansas and in the process, combated racism by example and by providing economic opportunities to blacks and whites with a particular emphasis on uplifting his race. During the busy farming season, he employed up to 50 laborers, most of whom were Black. He founded Groves Center, an African American community near Edwardsville, in the early 1900s. He also established a golf course for African Americans — perhaps the first in the United States.
Groves was one of the wealthiest African Americans in the nation by the first decade of the 20th century. His holdings were estimated to be worth $80,000 in 1904 and $300,000 by 1915. He was a founding member of the Kansas State Negro Business League, the Kaw Valley Potato Association, the Sunflower State Agricultural Association, and the Pleasant Hill Baptist Church Society. He was featured in Booker T. Washington's book The Negro in Business (1907).
Fabiola Cabeza de Baca (1884-1991). Fabiola Cabeza de Baca spent decades of her life teaching in the classroom or traveling miles across rural communities in New Mexico to share home economics knowledge as the first Spanish-speaking Agricultural Extension service agent. She created an educational, cultural and agricultural legacy in New Mexico and beyond. She opened doors to education and agriculture for countless individuals in Hispanic and pueblo rural communities who would not have otherwise had such opportunities. Notably, de Baca was the first agent to serve pueblo communities, having learned Native American languages to better communicate with people from several pueblos.
De Baca emphasized the nutritional value of native foods and developed new recipes for using them, introducing techniques of food canning — a process easier than drying, which also preserved more nutrients. She wrote bulletins in Spanish on subjects as basic nutrition, food preparation, canning, and care and use of the sewing machine.
On the national level, de Baca was a diversity committee member in the National Extension Association of Family and Consumer Sciences. Early in her career, she wrote what is arguably her most far-reaching publication — and the earliest cookbook of New Mexican foods — Historic Cookery. It was the first publication to document the U-shaped fried taco shell that is now known around the world.
Throughout her years, de Baca's achievements resonated beyond New Mexico. The United Nations recognized her expertise, and she joined the U.N. on a mission to Mexico to teach new skills to people in villages in the state of Michoacán. She trained a generation of Peace Corps volunteers who shared her influence across the world, a testament to her influence and profundity as an educator. On the national level, she was a diversity committee member in the National Extension Association of Family and Consumer Sciences.
To learn more about the National Agricultural Hall of Fame, visit aghalloffame.com.
Source: National Agricultural Hall of Fame
Subscribe to receive top agriculture news
Be informed daily with these free e-newsletters
You May Also Like
---