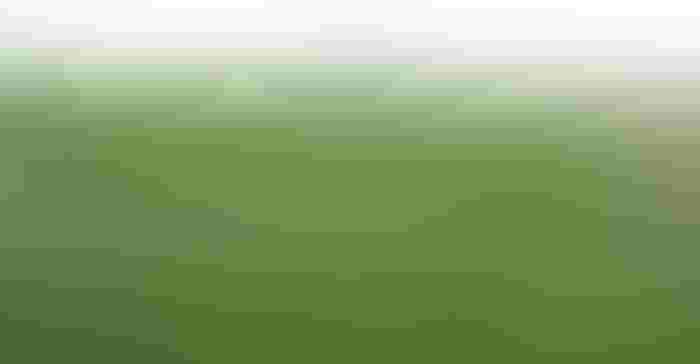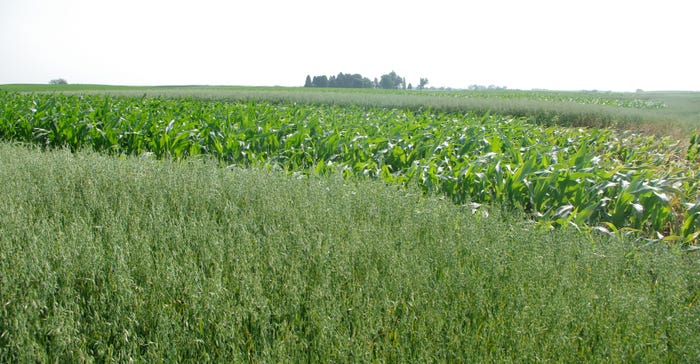 Corn is still king in Iowa, but there are stirrings of a renaissance of small grains. More farmers are putting oats, rye and other small grains into their crop rotation. By including small grains, they are regenerating soils, improving soil health, helping clean up and protect water quality, and providing other farm diversification benefits.
For the past decade, Sarah Carlson, Practical Farmers of Iowa agronomist based in Ames, has challenged and supported farmers who are interested in growing more oats and other small grains for a cover crop or as a cash grain crop. Carlson and PFI have been instrumental in expanding cover crops in Iowa from around 10,000 acres in 2009 to over 600,000 acres in 2017. That's a relative drop in the bucket at 2.6% of total crop acreage planted, as corn and soybeans still dominate Iowa's farming landscape. But small-grain acreage is on a notable rise in the past several years.
Goal: 1 million acres
Carlson and PFI leaders want to see a total of 1 million acres of small grains planted in Iowa in the next decade. The benefits would be substantial, she says. Oats and other small grains are cool-season crops that are planted in spring and provide coverage for the soil during the wet months, reducing erosion and soaking up excess nutrients that might otherwise end up in lakes, streams and rivers.
Until the 1950s, Iowa was the U.S. leader in oat production, harvesting more than 6 million acres a year for livestock feed. But as concentrated livestock operations began to dominate the landscape and farms consolidated, small grains nearly disappeared. In 2016, Iowa grew a mere 120,000 acres of oats — a 98% decline from 50 years ago.
The loss of oats and hay on the landscape was more than cosmetic. The Corn Belt's biggest environmental challenges resulted from that shift. "We have continuing problems with water quality, soil degradation and soil erosion, and loss of biodiversity and wildlife habitat," says Matt Liebman, the H.A. Wallace Chair for Sustainable Agriculture at Iowa State University. "Those are all things that extended crop rotations with small grains and forage crops like alfalfa can help address."
Where does oat production stand in Iowa?
The annual numbers for 2017 were released Dec. 14 by USDA's National Ag Statistics service. The annual USDA estimates show what's happening with oats.
In 2017, Palo Alto County in northwest Iowa was by far and away the leading oat-producing county in Iowa, according to NASS data. Farmers in that county produced 154,000 bushels of oats. Allamakee County in northeast Iowa was a distant second, with 79,700 bushels. Plymouth County in northwest Iowa was the third-largest with 72,300 bushels in 2017. 
Looking at oat numbers by crop reporting district for 2017, northeast Iowa was the largest oat-producing district with 768,000 bushels. 
Henry County had highest oat yield
The highest-yielding county for oats was Henry County in southeast Iowa with an average yield of 127 bushels per acre. Plymouth had the second-highest yield average at 109.5 bushels per acre. 
Two other counties, Tama and Boone, had average oat yields of over 100 bushels per acre with 104.7 and 103.8, respectively. In 2017, the highest-yielding crop reporting districts were northwest and central Iowa, which both recorded an average yield of 98.1 bushels per acre.  
Woodbury with lowest average yield
The lowest-yielding county in Iowa for oats in 2017 was Woodbury at 55.6 bushels per acre. Clayton had the second lowest average yield at 60.7 bushels per acre. The west-central district in Iowa had the largest drop in yield, down 10.4 bushels per acre from 2016, followed by the north-central district, declining 8.3 bushels per acre.
Yields are derived from production divided by area harvested. "Only published estimates were considered in our rankings of districts and counties," says Greg Thessen, regional director for NASS in the Iowa office in Des Moines.
For more information on crop acreage and production in Iowa, visit nass.usda.gov/ia.
Subscribe to receive top agriculture news
Be informed daily with these free e-newsletters
You May Also Like
---