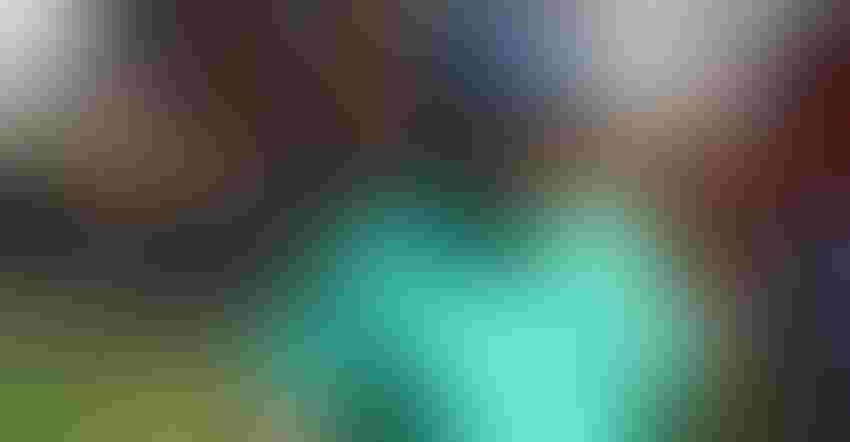 NEW VENTURE: Mike Shuter talks about his latest venture — a serious foray into organic crops.
As Mike Shuter, Frankton, Ind., transitions 260 acres to certified organic production, he confesses it's a "work in progress." He sometimes tweaks things on a daily basis.
He answers Indiana Prairie Farmer's questions for those who may be interested in his latest experiment.
Is raising organic crops in a no-till system unique? Yes. Almost all organic growers use conventional tillage, and I have a hard time with that. It just seems like those two don't go together. By trying to do organic with no-till, we're on the bleeding edge. 
How did you come up with the idea of doing this? I've been interested for some time and had heard a number of speakers, including Dave Ross of Beck's Great Harvest Organics, talk about it. For me, the piece that finally brought it all together was realizing we could use our hog manure as our primary fertilizer source, along with some poultry litter pellets and some of the new fertilizer product from Fair Oaks Dairy's manure digesters.
Why do you think you can use cover crops as your primary weed control? We've been doing cover crops for eight years, and we get a lot of good weed suppression in the spring. Especially with cereal rye and soybeans, if you get a good stand of both, it really does a pretty good job with weeds. We're also probably going to try some other combinations of cover crops. I'm looking at one combination that includes oats, hairy vetch and buckwheat. I've learned that buckwheat, particularly, can do some amazing things. For those weed issues that we have, we've hired a Hispanic crew to do some hand-weeding.
What measures are you taking to avoid contamination of organic crops from conventional crops? We're raising these organic crops on our own farm, where we have more control of surrounding crops. This first year, we're going to have a 30-foot buffer of non-organic hay around the organic corn. We're also going to use a short-season hybrid, planted late, so that it's not pollinating at the same time as conventional hybrids.
What about recordkeeping and other measures required for organics? There's lots of paperwork involved, but being the "paperwork junkie" that I am, I don't mind it that bad. Realistically, it's something of a burden, but that's just part of the organic territory. If we want to get the premium that comes with raising organic crops, then we need to prove what we're doing.
Can you talk more about premiums? We're planning to sell our organic corn to Agricor at Marion [Ind.]. We're figuring on a yield of about 140 bushels per acre, at about $9 per bushel. We believe that's a worthwhile return on investment.
Soil health is pretty important to you, right? Yes. I have five grandkids, which are the fifth generation on this farm. If we don't maintain soil health and keep organic matter built up, they're not going to have as good a chance to farm as I've had, or [my sons] Patrick and Brian have had. We can't feed this world and let our soil health go to pot. 
Do you think you'll ever get to 100% organic? No. At this point, we don't envision going over 400 to 600 acres at most, with the majority of our operation remaining conventional crops in a no-till system. By the way, while I'm trying organics, don't look for me to grow a ponytail anytime soon!
Boone writes from Wabash, Ind.
Subscribe to receive top agriculture news
Be informed daily with these free e-newsletters
You May Also Like
---