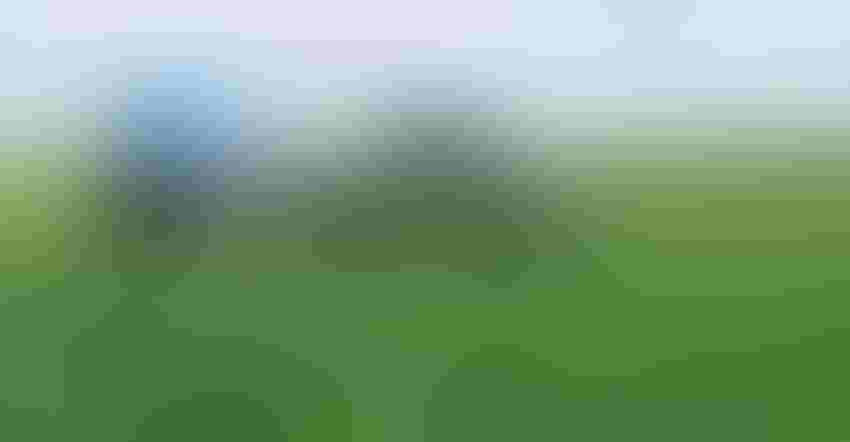 AVOID N LOSS: Farmers making aboveground nitrogen applications now have a new nitrogen stabilizer to prevent volatilization loss.
A new aboveground nitrogen stabilizer is being launched by Corteva Agriscience, the ag division of DowDuPont. Available for spring nitrogen application, the product, named PinnitMax, prevents volatilization loss of urea and UAN applications made to the soil surface. It can be mixed with liquid nitrogen or impregnated onto dry urea nitrogen fertilizer granules before application.
"PinnitMax helps ensure urea and UAN applications get into the root zone," says Tina Troester, nitrogen management specialist for Corteva. "PinnitMax also addresses the need for better handling with aboveground nitrogen stabilizers. There are other urease inhibitor products on the market and some of the most popular products in this category can be difficult to handle. We are providing a new solution that's user-friendly, powerful and rounds out the nitrogen maximizer portfolio for comprehensive protection of any nitrogen source used above- and belowground."
PinnitMax joins N-Serve and Instinct nitrogen stabilizers available from Corteva Agriscience. All types of nitrogen fertilizer can be protected with this portfolio: PinnitMax for aboveground urea and UAN applications, N-Serve for belowground anhydrous ammonia applications, and Instinct for belowground urea, UAN and manure applications.
How stabilizer works
PinnitMax prevents volatilization of urea and UAN applications for up to 14 days, helping ensure the nitrogen gets to the roots for optimum crop uptake, Troester says.
The product offers farmers and fertilizer retailers specific advantages, thanks to its unique formulation, including:
• the most powerful, gallon-for-gallon, aboveground urease inhibitor with an ultra-low use rate
• simple blending, free-flowing applications and effortless cleanup, freeing up labor and processing time for a more efficient operation
• the active ingredient NBPT (n-butyl thiophosphoric triamide)
"This new addition to the Corteva nitrogen maximizers portfolio features the technology to protect any nitrogen fertilizer used, helping farmers to fully realize yield potential," Troester says. "Farmers and retailers can now customize their season-long nitrogen management. PinnitMax works aboveground to help get your nitrogen to the root zone, while N-Serve and Instinct technology work belowground to keep it there."
Trend to split N application
With more farmers making split applications of nitrogen for corn, this product will fit well for both sidedress and broadcast-applied N, Troester notes. Or if you dribble urea or UAN on the soil surface as a sidedress-topdress application between corn rows, the new stabilizer works well also. With more no-till acres, there's increasing use of liquid UAN with herbicide added and the tankmix applied to supply N and control weeds on the same pass through the field.
Most of the time fertilizer dealers will be using PinnitMax, either impregnating it onto dry urea fertilizer, or mixing it with liquid UAN and applying the stabilized nitrogen to farmers' fields. Some farmers have the capability to treat their own acres, such as sidedressing corn with liquid N. Farmers can use PinnitMax themselves, mixing it with UAN.
PinnitMax will be priced competitively with other N stabilizers on the market. Fertilizer dealers will set the price they charge. Available for spring applications in the U.S., PinnitMax will be rolled out to other geographies in the next few years. For more information, visit pinnitmaxstabilizer.com or contact a Corteva Agriscience sales representative.
Subscribe to receive top agriculture news
Be informed daily with these free e-newsletters
You May Also Like
---