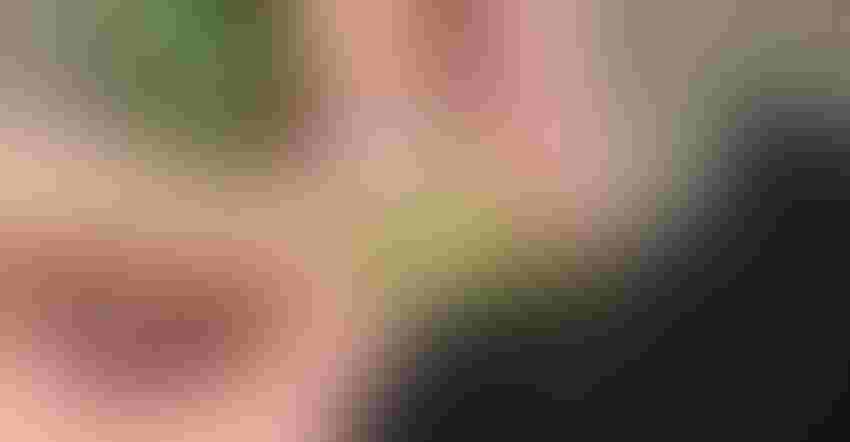 PROFIT-ROBBER: Soybean sudden death syndrome can show up later in the season, but management of the problem starts early. From seed selection to seed treatments, there are options to consider.
Willie Vogt
During the 2021 growing season, yellow patches started to show up in soybean fields in early September across much of Iowa. Field scouting revealed that many of the patches were symptoms of sudden death syndrome. Unfortunately, the yield loss caused by this disease resulted in fewer bushels for farmers to sell during a time of relatively high soybean prices.
SDS is caused by the fungus Fusarium virguliforme, a soilborne pathogen that enters the soybean plant through the roots. Root infection can happen very early in the season. Foliar symptoms usually do not appear until the soybean crop enters into the reproductive growth stages, so we often do not see SDS until August. It is important to note that some of the yellow patches in soybean fields were revealed to be brown stem rot, rather than SDS, and some patches were not disease at all.
The development of SDS in many Iowa fields was surprising, because weather conditions favorable to disease were not generally observed in 2021. This shows us that biology has a lot of tricks at its disposal, and that we can't anticipate every pest management risk. However, there is a set of management tactics that will help minimize SDS risk.
Step 1. Take good field notes. Know what fields have had SDS in the past (not brown stem rot or any other look-alike disease or disorder). If the field has a history of SDS, even if it is minor, see the next steps. If the cause of the yellow patches is something other than SDS, ask an Extension specialist, a local agronomist, or check out the Crop Protection Network (cropprotectionnetwork.org) for management recommendations.
Step 2. Pick a good SDS-resistant variety. Every seed company should have SDS ratings for its varieties. In a study that included over 50 locations, university research has shown that resistant varieties can reduce foliar symptoms by 50-90%.
More important than reducing symptoms, however, is that resistant varieties also delay the onset of symptoms. This is important as the later symptoms appear in a field, the less effect the disease has on yield. Selecting a good resistant variety should be the cornerstone for managing SDS.
Step 3. Pick an effective SDS seed treatment. In general, Ilevo from BASF and Saltro from Syngenta are consistently the most effective at reducing SDS and yield loss. Other seed treatments may help, but our research shows that these two seed treatments consistently reduce SDS symptoms.
Over several years and locations, foliar symptoms are reduced by an average of 25% to 35% with the use of seed treatments. Seed treatments are generally less effective at reducing SDS symptoms than are resistant varieties.
Seed treatments that target SDS are not free, so when needed, choose a product wisely. Extension specialists are often are asked to pick between Ilevo and Saltro. In an effort to help farmers make the most informed seed treatment selection, we tested these two products in a project funded by the soybean checkoff in 2020 and 2021.
We collected disease notes and yield data from 122 trials in 13 states, and Ontario, Canada, and discovered very few differences between the two products. It is good to know that there are multiple products to help manage SDS, but keep in mind that both products belong to the same FRAC (fungicide resistance action committee) group. This means that the two products will not reduce the risk of SDS pathogen resistance developing when rotated with each other. Funds for this research came from the North Central Soybean Research Program.
Step 4. Avoid extra fieldwork. Don't do extra fieldwork that doesn't make as big an impact as variety and seed treatment selection. Unless you have a known compaction problem, tillage will be of little value for reducing SDS. Cover crops neither increase nor decrease SDS risk. Planting problematic fields last may reduce SDS risk, but also may lower yield potential.
Sudden death syndrome continues to be one of the more problematic diseases for Iowa soybean farmers. The tactics above are particularly effective when combined and used as part of a larger integrated pest management plan for SDS and other crop diseases.
Mueller is an associate professor and Extension plant pathologist at Iowa State University. Sisson is an Extension specialist with the Iowa State University Integrated Pest Management program.
Subscribe to receive top agriculture news
Be informed daily with these free e-newsletters
You May Also Like
---