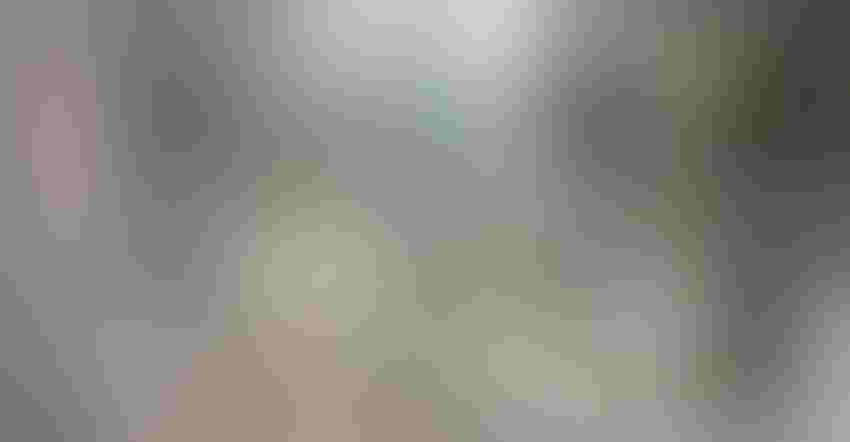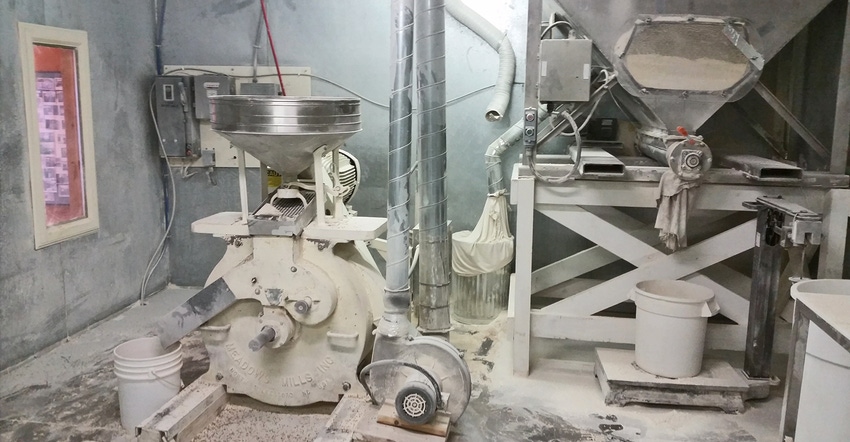 GRAIN MILLING: This is the flour mill at Lonesome Stone Milling, where a variety of grains are cleaned, dehulled, stored and milled to order. The grains include red winter wheat, soft red winter wheat, hard red spring wheat, winter rye, and blue and yellow corn.
Nestled in the small town of Lone Rock, Wis., Lonesome Stone Milling was founded in 2009 to provide high-quality, locally grown, milled grains directly to consumers, artisan bakers, distilleries, restaurants and retail stores. Gilbert Williams; his wife, Judy Ettenhofer; and their business partner, Gary Zimmer, own Lonesome Stone Milling. Williams serves as manager of the business, and Zimmer is counted among the farmers who supply grain to the mill.
The idea to purchase the old mill in Lone Rock and refurbish it for its current purposes came out of a conversation over lunch between Williams and Zimmer. Zimmer is a founder of Midwestern Bio Ag, a business dedicated to soil fertility and health through biological farming.
Interesting opportunity
"We knew a grain cleaning mill was coming up for sale, and it seemed like an interesting opportunity," Williams says. "We got our start by purchasing the facility and some equipment on a handshake agreement in the beginning. And from there it has taken off."
Lonesome Stone Milling cleans, dehulls, stores and mills-to-order a variety of grains, including red winter wheat, soft red winter wheat, hard red spring wheat, winter rye, and blue and yellow corn. An authentic stone mill is used in the process. A total of 15 products, ranging from bagged flour to an assortment of pancake mixes, are made available to individual and retail customers in the Madison, Milwaukee and Chicago markets. About 40% of the grain used by Lonesome Stone Milling is organic.
"Our customers know us and our products, and because of this they trust us," Williams says. "Commonly, our customers are food-conscious shoppers who carefully choose what they eat based on their values and health benefits. Certainly the drive for more whole-grain products has brought about more interest in our products, as well."

GOT FLOUR? Gilbert Williams, co-owner of Lonesome Stone Milling, wears a "Got Flour?" T-shirt in a field of Brasetto rye before harvest last summer.
The farmers who produce grains used by Lonesome Stone Milling are integral to the success of the mill and products. Over the years, as demand has increased for products, the mill has expanded to working with 14 farmers from the Driftless Region of Wisconsin to source the grains. Building and maintaining relationships directly with local farmers who produce the grains milled at Lonesome Stone Milling is a priority for Williams.
"Their success is our success," Williams says. "Farmers are hardworking people who take the most risk in producing our food. Our work in milling and producing a product for end consumers allows us to bring the farmers as close to the end user as possible. When it works out, it's always nice to bring along one of the farmers we work with when we are delivering products to one of our customers. Their personal stories and relationships are an important part of why consumers choose our products. Our idea of a local farmer is that you should be able to name the farmer where your food came from."
The farmers selling their grain to Lonesome Stone Milling share the business's goals, Williams says.
"Practicing sustainable growing systems and careful soil management is part of our philosophy. Cover cropping rotations fit well with the grains we are buying and the products we produce."
Since its inception nine years ago, Lonesome Stone Milling has steadily expanded in space and capacity. Moving into the future, Williams sees opportunities to continue to responsibly grow Lonesome Stone Milling by continuing to connect consumers with the farmers who produce their food. He also sees opportunities to provide a broader lineup of products to new markets while serving more artisan bakers, distillers and stores.
Giebel writes from Baraboo, Wis.
Subscribe to receive top agriculture news
Be informed daily with these free e-newsletters
You May Also Like
---