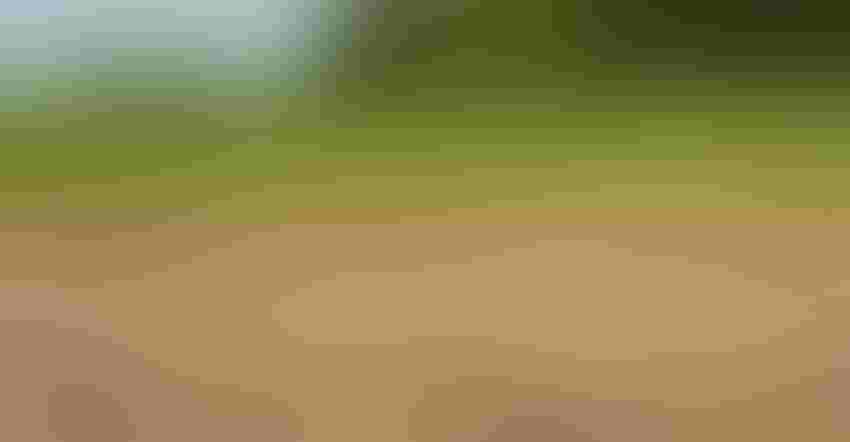 WET 2018: Heavy rains left many crop acres looking like this in mid-July in Minnesota. Several areas of the state experienced flash flooding that month.
The 2018 growing season, with its weather extremes, presented challenges for many Minnesota farmers.
We saw snow fall through the end of April, delaying planting by up to two weeks. Warming soils in May helped with seed germination, yet cool showers impacted soil mineralization, and accordingly, plant growth.
Then parts of the state got slammed with rain — and a lot of it. A sizzling July heated up crop growth, causing plants to pollinate up to three weeks earlier when compared to past growing seasons. Come late summer, more rain fell, interfering with harvest.
Eric Wilson, Beck's field agronomist covering northeast Iowa and southeast Minnesota, provided an overview of last year's growing season and offered insight on how Midwest weather conditions affected crops. Here is an overview of what he offered, coupled with the hybrid seed company's research conducted in the Midwest:
Lack of stand uniformity. After planting a week or two later than usual, some growers saw a lack of stand uniformity and some chemical damage from herbicides, particularly mixes with acetochlor.
"An overexposure to chemicals didn't do any favors with wet, muddy conditions," he said.
One factor that would affect emergence is solid seed-to-soil contact, and the planter's closing wheels will impact that. Wilson noted that Beck's research on closing wheels is the most popular with farmers, based on the number of calls its Indiana headquarters receives.
Research results vary with weather conditions and soil types, he said, noting that Minnesota and Iowa have more forgiving soils. In a three-year corn study, yields increased with any closing wheels other than the standard closing wheels on a planter. With soybeans, yield increases were seen with any other closing wheels than the rubber two-wheel closing wheels.
Hungry plants. Even with delayed planting, warm weather helped corn develop quickly, causing plants to pollinate seven to 10 days early. By the end of the season, growers reported seeing a range of ear sizes, nitrogen deficiency and top die-back.
"From V6 to R1, corn has 'lunch'— rapid uptake of nutrients," Wilson said. "In 2018, it was shortened by a minimum of three weeks. And on top of that, we had above-average rainfall. Saturated conditions affected nutrient uptake and loss, assuming NPK was down there [at root level] and wasn't washed out. Nutrients just sat there, and the corn developed with no food."
As heavy rains pushed N down, those growers who were to split-apply fertilizer last season saw the benefits.
"Split N applications paid huge — up to 30 to 45 bushels more in some cases," Wilson added.
One way to help plants get nutrients falls back to placement. Beck's has researched placing starter nitrogen on both sides of a corn row, known as the 2-by-2-by-2 system (fertilizer placed 2 inches beside the seed on both sides and 2 inches below the soil surface). The idea is to make it easier for roots to reach nutrients, thus helping promote root uniformity and overall plant health.
While an investment, an application of 2-by-2-by-2 nitrogen shows potential, Wilson said. Last year, in a three-site study in Indiana, Kentucky and Illinois, the average yield response was more than 5 bushels per acre of corn for 30 units UAN 2-by-2-by-2 N, versus 30 units UAN 2x2 N. Yields averaged 10 bushels per acre higher when 60 units UAN were applied. A 2-by-2-by-2 trial in Minnesota didn't provide enough data to publish.
Fungicide application timing matters. Timing of fungicide application does influence the product's effectiveness. Those growers who were able to apply it at the right time had fewer stalk integrity issues last growing season, Wilson said. So when is the best time to apply?
Wilson shared research data from sites in Illinois, Ohio and Iowa, where fungicide applied on R1 corn at 8 a.m. showed a 4-bushel advantage over fungicide applied at 3 p.m.
"The dew on the leaves could be helping as a medium with longer retention time," Wilson said.
Fungicide application timing on soybeans favored the early morning time, too, Wilson added, but the yield difference was not as big compared to corn.
Subscribe to receive top agriculture news
Be informed daily with these free e-newsletters
You May Also Like
---