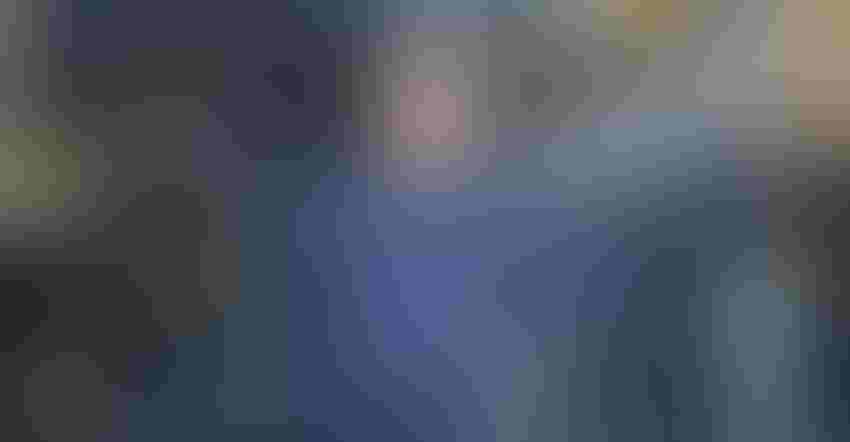 KNOWS HIS BUSINESS: Mose Middleton has worked in the custom application business for over 30 years. He was recognized as the 2019 Operator of the Year by Agco.
An outstanding farm writer years ago chose to remain a writer instead of moving into management. When asked why he never accepted the promotion, he replied simply that if you like what you do and do it well, what's wrong with staying with your passion?
That scenario aptly describes Mose Middleton, who has applied fertilizer and ag chemicals for over 30 years. In November, he completed 30 years being employed at the same location, serving many of the same farmers for three decades. The name of the business he works for has changed five times due to mergers within the industry, but he's still doing the same job in the same place. He is an applicator for Nutrien Ag Solutions, located in Fulton, Ind., south of Rochester.
He's had opportunities to become a manager, but being an applicator suits him just fine, Middleton says. "The farmers I meet are good people," he notes. "I like to stop and talk to them when I can and get to know them. I want them to succeed, and that helps us succeed."
Changes in technology
"I remember spraying fields with a pickup sprayer and 20-foot booms," Middleton recalls. "Then for a while I drove a 1984 Chevy truck with big tires and 60-foot booms. After that, we got our first RoGator machine."
GPS guidance was a huge step forward, Middleton says. Today, autosteer helps him get across the field accurately. "It's easier on us as applicators — we don't get as tired," he says. "That's important in seasons when you run seven days a week to keep up. It also helps us be more accurate."
Today, the fleet of equipment that Middleton and other operators at his location run includes machines with either 120- or 100-foot booms. They also have two applicators with dry boxes to spread lime or bulk fertilizer.
"We apply a lot of lime in this area, too," he says. "The labs prepare prescriptions, and we apply it where it's needed."
Do it right
Middleton's goal is to do the best job he can applying, whatever the input might be. "Variable-rate application was a big step forward for the industry," he says. "That technology allows us to apply the amount of product that's needed where it's needed.
"It not only helps customers because they're getting lime or fertilizer applied where it should provide the most benefit, it helps on cost. Fertilizer is expensive today, and you can't afford to apply it where you don't need it.
"There's another plus, too. Getting the right inputs at the right rate where they're needed helps the environment. We're not applying more than we need."
Each year for the past 14 years, Agco has recognized a professional applicator as Operator of the Year. David Webster of Agco says there were 80 nominations in 2019, including several from Canada. Middleton was one of three finalists, and the overall winner.
"After meeting Mose, we knew we had found a great applicator and advocate for our industry," Webster says.  
Subscribe to receive top agriculture news
Be informed daily with these free e-newsletters
You May Also Like
---