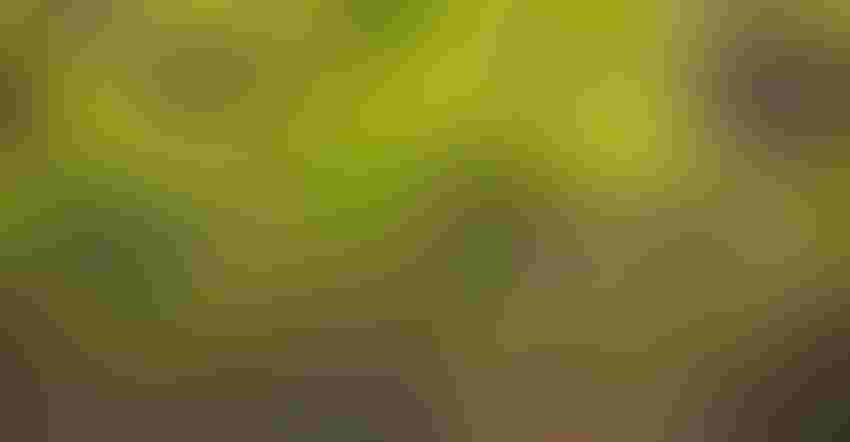 BUMP YIELDS: Positively influencing soybeans in early stages is important. By V2, the soybean has begun forming nodules on its roots, and by V4 it has increased lateral root growth and started branching at its first node.
Dan Thornberg/Getty Images
"In the zone" is a term popularized in sports coverages about the performance of athletes. It can also be described as productive, creative and powerful. We can use the same description for how we want our crops to perform — generating high yields!
Once corn and soybeans are past emergence, growers are evaluating solutions to drive yields. Many crops were planted using some type of zone management, including variable-rate technology, fertilizer rates, different varieties and populations. Throughout the cropping cycle, the soil, seed or plant itself grows through different "zones of influence."
Corn, V1 to V5
This zone of influence is critical to how the plant will perform throughout the rest of the season. Nodal roots are initiated, and they begin to elongate and develop root hairs. The number of kernel rows is also set by V5. Influencing the plant during this zone to add two more rows around can be an advantage of 15 to 20 bushels or more per acre. By V6, the growing point is aboveground, and early shoot initiation has started. It's important to have the corn plant performing in the zone during this critical time of growth.
How can we influence a plant to be in the zone at this V1 to V5 growth stage? How can we maximize the energy produced and take unnecessary stress off the plant?
First, we need to be able to manage the plant during this growth stage without adding trips to the field. Ohio uses a one-pass corn herbicide system in most areas, but we would have a free trip if the grower was using a two-pass herbicide system. If the grower planned to use a fungicide at V6 to V7, the application could be moved earlier to better influence those critical growth stages. One trip many growers are making at this stage is sidedressing nitrogen. While working with several dealers when they are sidedressing corn, we set up systems to band-spray 15 inches over the row. The 15-inch band cuts the cost per acre on high-yield treatments in half. Now you have converted your sidedress bar for multiple tasks, saved a trip and further increased yield potential.
Soybeans, V2 to V6
Positively influencing soybeans in early stages is important; because by V2, the soybean has begun forming nodules on its roots, and by V4 it has increased lateral root growth and started branching at its first node. Around V5 to V6, indeterminate soybeans have further increased lateral root growth and the number of nodes developing. (The development of nodes is as important to soybeans as the development of two more rows of kernels on the ear for corn.) If nodes are available and the plant has water, the nutrition and energy it needs, it can produce extra bushels later in the season. If no nodes are available, the additional late growth is mostly vegetative.
It's easier to make a trip to add a high-yield treatment in soybeans. Today, we have many high-yield additive options, including broad-spectrum foliar fertilizer products with systems to help penetrate the leaf without burn. We have different types of bio-stimulants (extracts and hormones) with tankmix flexibility.
Extract bio-stimulants includes amino acids, organic acids, sugars and protein hydrolysates. These can provide the plant with key ingredients. They make it easier for the plant to try to balance its internal hormone production, reducing the energy needed for the plant to find and or produce itself. As a defensive approach, extracts can protect yield during times of stress. Hormonal bio-stimulants, usually containing one, two or all three of the key growth hormones — cytokinin, gibberellic acid and auxin — can be added to assist the plant in hormonal balance, optimizing yield potential.
Fungicides can be tank mixed for early diseases like septoria brown spot in soybeans.
Work smart
This year is a great time to see what maximizing the V1 to V5 zone of influence can do for you. Maximize your trips and try new things.
Walk fields at random after applications to see if you have influenced the crop. Compare treated areas to untreated areas to see if you put the crop in the zone to produce higher yield and quality. In 2017 and 2018, I was involved in spraying hundreds of trials throughout Ohio. I was able to influence corn and soybean yields more than 90% of the time, with a combination of the products mentioned above.
Good luck, be safe and stay in the zone!
Wurm is a certified crop adviser and nutritional account manager for Rosen's Inc. Contact him at 614-940-6477 or [email protected].
Subscribe to receive top agriculture news
Be informed daily with these free e-newsletters
You May Also Like
---