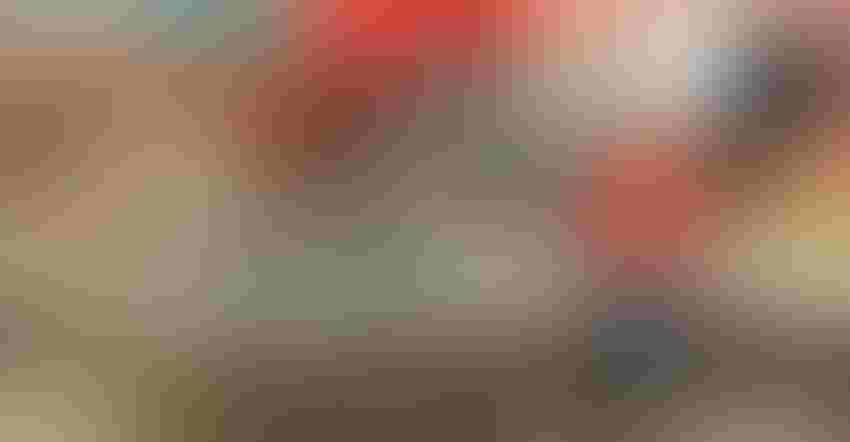 THE TOO: Jeff Toussaint's 6-row "home-built" interseeder achieves excellent seed-soil contact and germination.
Rocco Laurienzo
Weather permitting this year, Jeff Toussaint will interseed two-thirds to all 600 acres of his corn at Ridgeway, N.Y. After four years of experimenting, he's now got his system down.
Toussaint harvests his corn for an ethanol producer. As a grain farmer without livestock to produce manure for fertilizer, he has started covering more acres with soil-building crops by interseeding into standing corn. "Cover crops are another piece of the puzzle for building soil health and organic matter," the Orleans County grower says. "Interseeding is the next step toward better ground care."
Not waiting for the primary crop to be harvested before seeding a cover crop can reduce cover crop failure risks due to poor fall growing conditions, he reasons. The earlier start also provides erosion protection, holds more nitrogen for the next crop, and increases organic matter. That, in turn, improves soil structure and water-holding capacity.
Lessons learned
Four years ago, following a national no-till conference session on interseeding, Toussaint planted triticale with a 3-point hitch spreader. That produced a reasonable catch rate, but a poor spread pattern. "We needed to plant before the corn was too tall to disrupt the spread," he says.
In 2015, he tried a 12-row air seeder built by fellow farmers and friends Donn and Chad Branton. "The unit worked well," he says. "But blowing the seed on top of the ground caused inconsistent germination."
Dry conditions prevented interseeding in 2016. Last year, "we plumbed 12 interseeding row units to the tool bar of a 6-row cultivator frame on an air seeder. That produced good seed-soil contact, and consistent germination fieldwide and in the knolls and valleys," Toussaint says.
SOIL-BUILDING SUCCESS: This lush mix of radish, ryegrass and clover was ready by corn harvest to hold nutrients for the next crop.
In 2017, as part of a New York Farm Viability Institute-funded project conducted by the American Farmland Trust, Toussaint interseeded 10 acres with four herbicide treatments applied crosswise. "I want to learn which species of cover crops can handle shade from the corn and which species interact well with which herbicides for good weed control, good corn yield and a healthy cover crop," he adds.
He also interseeded 150 acres on his own with a mix of tillage radish, ryegrass and crimson clover. "Those species are more highly rated for shade tolerance," he says, "and I wanted the best chance to succeed with our regular herbicide program applied on the larger scale."
Toussaint also hosted the largest planting of 26 farms in a cover crops trial with the Western New York Soil Health Alliance and Western New York Crop Management Association. Based on that, he may try an expanded planting of Dwarf Essex rape with tillage radish in 2018.
Finding the right fit
Toussaint continues to adjust his interseeder system. "The GPS autosteer on my 16-row planter doesn't match well with the 6-row interseeder. A wider tool bar and wings may correct for tight spots. I don't want to knock over the corn," he adds.
For Toussaint, the jury is still out on interseeding. Nonetheless, he's confident that cover cropping isn't detracting from his corn yield. In the past, cover-cropped fields yielded a 14-bushel per acre gain over fields not covered. And this conservation-minded grower is also studying how Pennsylvania farmers are rolling and crimping cereal rye to reduce weed pressure and planting into green.
Toussaint offers four tips for interseeding:
1. Timing is critical. Earlier seeding (Corn growth stage V4) is better than later. Use the sunshine to get the cover crop established.
2. Select cover crops that are shade-tolerant.
3. Plan herbicide applications that are friendly to your chosen cover crops.
4. Keep moving through the learning curves. Be patient; it's rewarding to see the changes begin.
"Interseeding gives farmers the opportunity to capture the very best growing days to establish a cover crop. It's great to see interest growing in this practice in New York," says NYFVI Director David Grusenmeyer.
David Haight, AFT New York State director, estimates 200,000 of New York's 1.1 million-plus acres of corn are planted with cover crops each year. "Interseeding cover crops is one way to help farmers improve their soil productivity, and be better able to endure severe weather with heavy rainfall or a lack of rain due to drought," he says. "Conservation practices are capable of improving the bottom line for farmers while protecting water quality."
Rent an interseeder first
Interseeding appears to be seeding entrepreneurship and creating business opportunities for custom work by early adopting farmers and through interseeder rental, according to Jeff Ten Eyck, American Farmland Trust New York State agricultural stewardship specialist and CCA. But he cautions that, while all farms could reap the benefits from interseeding, it must be done right to avoid damaging corn.
"We can help direct interested farmers to resources in their region of New York State," Ten Eyck says. Contact AFT New York at 518-581-0078.
Those interested in interseeder availability may also check with their local Soil and Water Conservation District, Natural Resources Conservation Service or Extension office.
Dunn writes from her farm at Mannsville, N.Y.
Subscribe to receive top agriculture news
Be informed daily with these free e-newsletters
You May Also Like
---