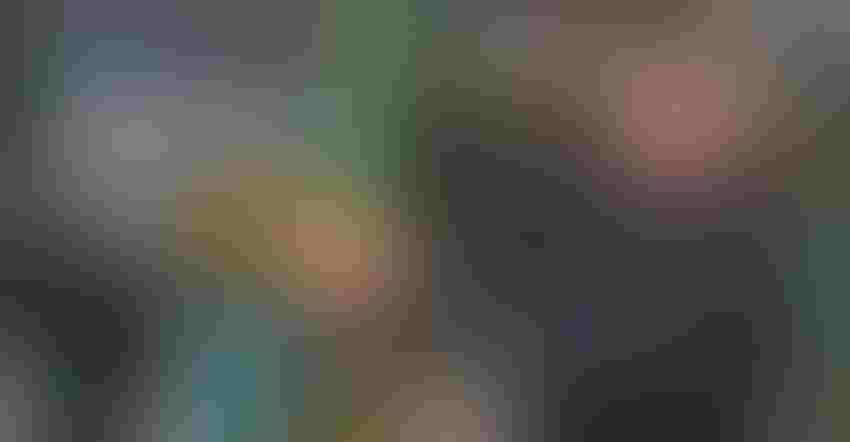 FUTURE OF AG SERVICE: Burke Admire manages the newest Premier co-op branch, near Boggstown, Ind., built with the future in mind for delivery of ag products and services to farmers.
Serving farmers today, from the ag retailer's perspective, is about more than just sending out a truck of fertilizer or quoting the cheapest price possible on herbicides. Harold Cooper believes it's about providing growers with the services they need and doing it while being as environmentally friendly as possible.
"Our goal is to operate in a safe, responsible and environmentally friendly manner," Cooper says. He is CEO of Premier Ag Cooperative, which serves a broad section of southeast and south-central Indiana, from Indianapolis south to Louisville, Ky., and southeast to Cincinnati, Ohio.
"We encourage better management practices and do our best to see that we help growers apply the right product at the right time," he says.
About 60% of the fertilizer applied by Premier today is through variable-rate application, Cooper notes. That helps get the right amount of product to areas within fields where it can do the most good, based on 2.5-acre grid soil sampling. At the same time, it minimizes the chances for buildup of excess soil fertility, which can lead to more movement of nutrients into the environment.
Premier Ag Co-op has received the Environmental Respect award at the state level numerous times. In December, Cooper and other Premier representatives traveled to New Orleans to receive the Retailer of the Year award from the Ag Retailers Association. In presenting the award, ARA President and CEO Daren Coppock recognized Premier for its focus on safety, employees and finding customer solutions through precision ag innovation.
New facility
Premier's newest outlet serving customers opened earlier this year. Burke Admire, who manages the facility, says lots of planning went into making it a state-of-the-art facility that should serve customers effectively for years to come. To learn more about this innovative facility, watch for a story on this website tomorrow.
Building the facility and incorporating modern technology to improve worker safety, increase accuracy and deliver the right product in the most environmentally friendly manner possible illustrates how his business is looking toward the future, Cooper says. Automation reduces exposure to products for employees and increases efficiency in delivering products to customers in a timely manner.
One word written on the display board in the boardroom of the new facility says a lot, Cooper believes. It is "Sustain." At a national level, Land O'Lakes Cooperative began promoting Sustain as a concept a couple of years ago.
"The idea behind it is to recognize that we need to be environmentally conscious in agriculture," Cooper says. The goal is to promote practices that get the right inputs where they belong, without wasting inputs or leaving more of an environmental footprint than necessary.
Ceres Solutions is another Indiana-based co-op that rolled out the Sustain concept to customers recently. Betsy Bower, an agronomist with Ceres Solutions, notes that the co-op promoted the concept to farmers at major company field days in 2019.
It's a concept big enough that non-ag companies are becoming involved, Bower says. The draw for large corporations is to encourage farmers who do the right things for the environment. In many cases, these companies are driven by the desire to be able to say their products are produced in an environmentally sustainable way. Expect to hear more about this concept in the future.  
About the Author(s)
Subscribe to receive top agriculture news
Be informed daily with these free e-newsletters
You May Also Like
---