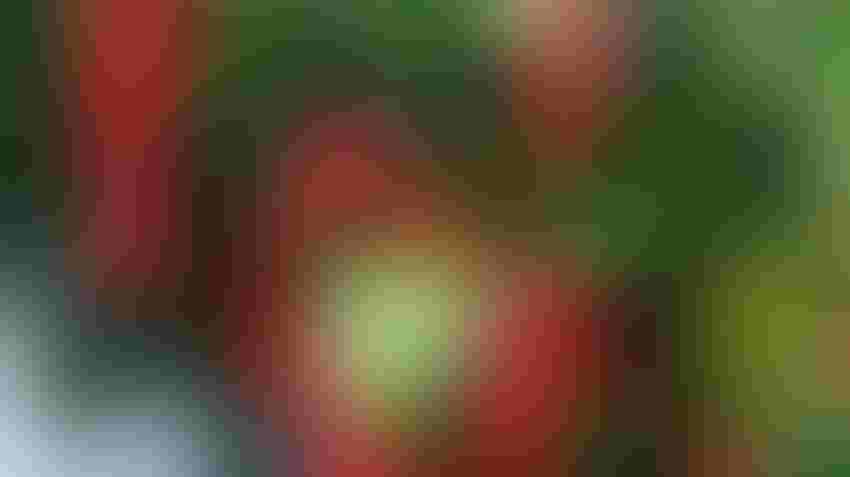 Peppers grown by Ezequiel Lopez-Reyes of Oregon State University Extension.
Ezequiel Lopez-Reyes, OSU
Ezequiel Lopez-Reyes will never forget the taste of fresh fruit and vegetables brought straight from his father's farm field when he was a child in Mexico. In honor of that memory, he established a plot of his own in Oregon.
Lopez-Reyes, Oregon State University Extension Service Open Campus and Juntos student success coordinator, has been growing his home garden for five years. It's full of peppers, tomatoes, tomatillos, epazote and cilantro. He grows so many pepper plants, they often overflow into pots. All of his bounty goes into meals he cooks with culturally important foods.
Lopez-Reyes shared his gardening experience as a guest speaker in the Washington County Master Gardener Association webinar series. To learn more, check out the recording of "Hot Peppers! From Seed to Salsa."
"I love to cook," said Lopez-Reyes, who has gardened since he was 10 years old. "I was one of four brothers and when I was young, I was the one who used to help mom cook. Not because I had to, but I was interested. Now I love to experiment. My girlfriend loves it."
Lopez-Reyes, who works with Latino families and students in Washington County to help prepare them for life after high school, grew up in Michoacan, Mexico. He comes by his love of gardening honestly. His dad was a farmer and his mother worked in the nursery industry for 30 years. 
"Dad bought me a small cherry tree when I was 8 from Home Depot," Lopez-Reyes said. "I was so fascinated with growing. We didn't have much money. We were lucky to have enough food to go around because it was very, very expensive. Summer was my favorite time. For three months, I felt so rich."
Peppers are some of his favorite vegetables to grow and eat. His choice may change day by day, but during a recent interview Lopez-Reyes said he loves guajillo chile peppers, the dried version of mirasol peppers that look like serranos but turn red when ripe. Guajillo peppers, which are used extensively in Latino culture, flavor the dishes he learned to love as a child.
"I use them in posole and enchiladas," he said "They are not the spicy kind. When dried they are such a beautiful red. They give color, flavor and a little spice. They are mixed in a blender with garlic and onion and added to the sauce."
Pepper on a tree
Chile de arbol, which translates to pepper on a tree because it grows as a large shrub, is another constant in his garden. The dried version of serrano, chile de arbol packs some heat and can be added to chilquiles, salsa rojas, camarones a la crema and other Mexican dishes.
Guajillo and chile de arbol are just two of the peppers on Lopez-Reyes' long list of chosen ones. He also grows cola de rata (rat tail pepper), fatali, ghost, habanero, Carolina reapers, cayenne and jalapeno. Seeds for these peppers are fairly easy to find. He suggests shopping locally first and then turning to online sources like Pepper Joe. Many peppers will be available as starter plants in nurseries when the appropriate time for planting arrives after the soil has warmed to at least 60 degrees, usually in late May or June.
Lopez-Reyes gravitates to the hot peppers because he grew up eating them, especially in eggs and beans.
"We have to have fresh peppers," he said. "They're like a pickle. We probably have peppers with every single meal. I've always been fascinated with them, how they grow, their aroma, what's growing around them."
Growing peppers in the maritime Northwest is more challenging than in Mexico, where the semi-tropical climate is perfect for hot-weather vegetables like peppers. A warming climate will most likely change that, Lopez-Reyes said.
To get ready for the season, he starts seeds indoors in April or March if he's really anxious to get going. He uses plastic strawberry containers he saves from the grocery store. The lid provides a seal, and it is see-through so you can watch the peppers grow and get a better idea when to transplant to larger pots in preparation for planting in the garden.
"It puts people off because they don't know when to plant," he said. "There's a lot of things we have to consider. Not every year is the same. We have to adjust to the weather. You may get something one year and not another. We have to be OK with that."
Like last year after an abnormally wet spring even for western Oregon, Lopez-Reyes – and many others – ended up with green pumpkins and fewer ripe peppers.
Lopez-Reyes wants people to be comfortable growing peppers, though he understands there is some trepidation because they take a long warm period to ripen.
"I hope they understand that everything takes a little work, but it's important to try something new," he said. "You'd be surprised what you can do. It's important we all try different foods. A lot of good conversation comes out when talking about gardening and food."
He offers these five tips for growing peppers and shares a salsa verde recipe here.
[Kym Pokorny is a public communications specialist at Oregon State University.]
Source: Oregon State University
Subscribe to receive top agriculture news
Be informed daily with these free e-newsletters
You May Also Like
---