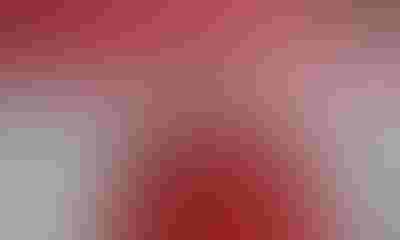 They are like curse words to many farmers in the Midwest--Palmer amaranth and waterhemp. These two tough weeds continue to pose problems for growers. However, next year there is another tool to help control these weeds before they emerge.
Valor EZ is a liquid formulation of Valor that will be available in spring 2017. According to Eric Miller, marketing manager Valent, the company anticipates approval for next year. "It has all the benefits of flumioxazin, along with the residual control for tough weeds."
How big is the problem?

LIQUID LOAD: Eric Miller, marketing manager Valent, the company is working to have a liquid form of Valor--Valor EZ--for growers to fight tough to control weeds like waterhemp and Palmer amaranth.
Waterhemp and Palmer amaranth are quick to grow and take ahold of fields. Waterhemp will grow 1- to 1¼-inches per day, while Palmer amaranth will put on 1½- to 2-inches of growth per day.
Growing this quickly makes management difficult. Three to four inches is the maximum controllable height for any herbicide on both weeds.
In the Midwest, waterhemp emergence begins in late April. Palmer amaranth starts showing up in early-May. It takes just three weeks for Palmer amaranth to go from emergence to flowering and with the number of seeds both weeds produce, it is hard for farmers to knock them down. Adding to the problem is that both weeds remain actively growing through the first frost, which often does not happen until November.
Miller says farmers need to focus on an early, clean start to weed protection. The new Valor EZ is a pre-emergent herbicide that provides that lingering weed control.
Why the new formulation?
The new Valor EZ offers all of the benefits of Valor in dry form, but with an easier mixing experience.
"Growers will see that same 4 to 6 week control for Palmer amaranth and waterhemp," Miller notes. And the transition from dry to liquid is simple. "With the dry formulation of Valor in the past it was 2 ounces per acre, now with spraying it is 2 fluid ounces per acre. It is easy for retailer or grower."
Since Valor EZ will be a new herbicide on the market, Miller says farmers will want to preorder to ensure availability. "You want to have it in place in time for next year's growing season." He adds it is just one more tool for farmers to combat those hard to kill weeds, , plus it will be an ideal mixing partner once the Roundup Ready® Xtend Crop System.
Subscribe to receive top agriculture news
Be informed daily with these free e-newsletters
You May Also Like
---