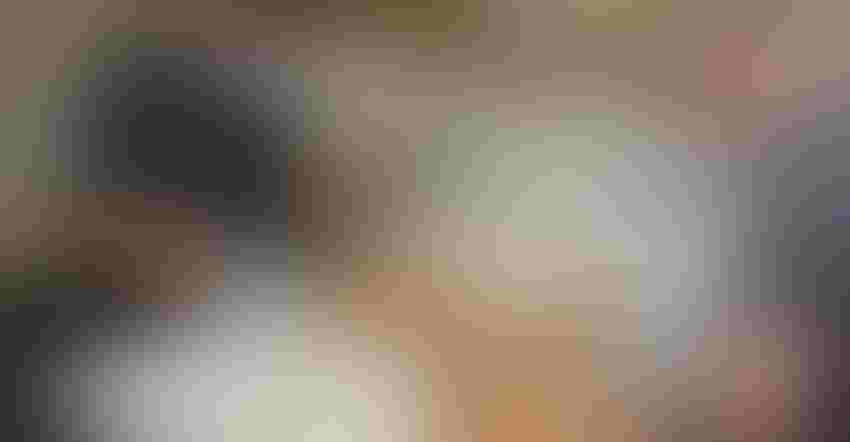 START WITH SOLID SAMPLE: Seed lab staff at the Minnesota Crop Improvement Association are shown checking samples of black oats for germination. The lab offers a wide variety of tests that help determine seed quality, such as germination and physical purity. Other services include testing for crop and weed contaminants, varietal verification, vigor, seed count and herbicide tolerance.
Paula Mohr
Quality seed is easy to take for granted, until you have the misfortune of getting seed that doesn't germinate or produce as expected.
Seed testing helps ensure seed qualities, such as germination, vigor, purity and moisture — for growers as well as producers and buyers.
The Minnesota Crop Improvement Association seed laboratory offers various tests for seed quality, including other crop and weed contaminant percentages.
At MCIA's annual meeting last winter, Brent Turnipseed, manager of the South Dakota State University seed testing laboratory, talked about common issues he sees in seed testing and ways that seed growers could enhance the seed testing process. With 30 years at the seed lab, he has seen it all. Turnipseed offered the following:
Fix the easy things. When sending in a sample, fill out all appropriate paperwork: lot number, field number(s), name, phone number, address and email, bulk sales forms, etc., or for sending in samples for certification.
The type of noxious weed seed exam needed depends if you are advertising and selling in Minnesota, the continental U.S. or Canada. Make sure you know where your seed is going.
When you ship seed across state lines, the germination test is only valid for five months (excluding the month of the test). And once seed crosses the state line, it is subject to that state's seed law.
Turnipseed has seen some interesting contents in seed samples, such as dead baby rats and paper clips. Bottom line: The sample submitted to the lab must be representative and clean.
"Dropping a bucket [into the bin] and skimming the seed off the top is not gathering a representative sample," he said. "Crusting and moisture are issues with that."
Be aware of the uncontrollable. Sometimes, things are out of the growers' control. Be aware that things can happen, and plan for them if possible. Make sure samples are packaged properly, because there have been times when the postal service has delivered broken sample envelopes or packages that were dropped in mud puddles. And there was the time that a college student entrusted with delivering a sample left it in the windshield for two weeks before remembering to drop it off at the lab, Turnipseed noted.
Know the pros and cons of home germination tests. Turnipseed said the lab often hears from clients who run home germination tests and get rates 10% to 20% higher than the lab. Why? Questions that Turnipseed asks when confronted about this include:
• Is the client picking only good seed to germinate?
• How did they plant their seed? In soil, a rolled T-shirt, a kitchen towel?
• How do they define germination?
• How may seeds did they use in their test?
"I think it is good when someone does a home germination test; and I've sent an instruction sheet to many clients over the years on planting seed for a home germination test," Turnipseed said. "At least they'll have an idea of the germination ballpark. But I reinforce that they are not trained to evaluate seedling structures, do not have the appropriate materials to do germination according to AOSA [Association of Official Seed Analysts] rules, and that they should seek out an official test from an appropriate lab."
Germination tests conducted at MCIA and SDSU labs are run according to AOSA rules; use the proper planting media and wetting agent, and are planted in four reps of 100 seeds or eight reps of 50. All seedling structures are evaluated to determine if they are normal or abnormal. Two added benefits of lab testing: Analysts learn to recognize mold, and disease issues and dormancy is determined when possible at the end of germination testing.
Time for germination testing can take from five to 28 days, depending on crop species and age, he added. For example, new-crop cereals need a five-day pre-chill to break any potential dormancy, plus seven more days at proper temperature. Germination for old-crop cereals is a seven-day test. Soybean germination is a seven-day test, but an accelerated aging test adds three days, bringing germination to a total of 10 days. Corn germination is a seven-day test, while a cold test takes 12 days. And the germination period for native species can take up to 28 days.
For more information on seed testing, visit either MCIA, mncia.org, or the SDSU seed testing lab, bit.ly/sdsuseedtesting. 
Subscribe to receive top agriculture news
Be informed daily with these free e-newsletters
You May Also Like
---