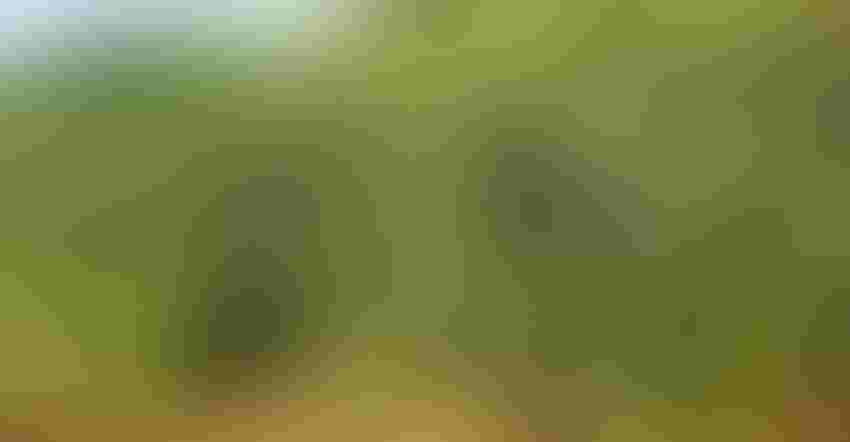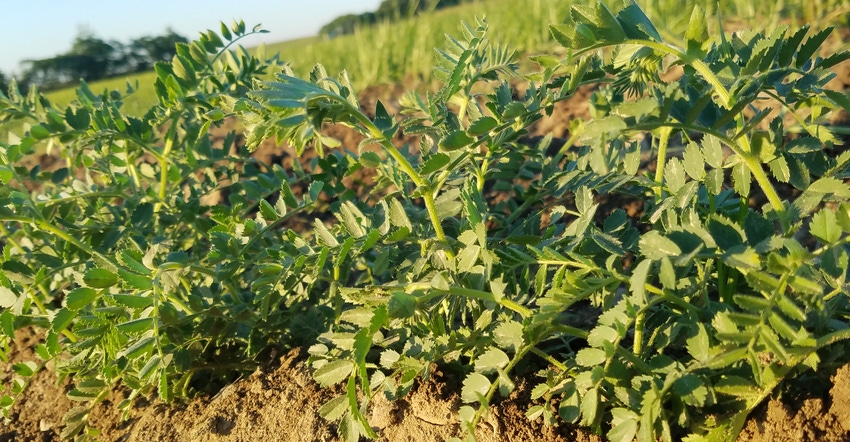 UP AND GROWING: Carl Taber's chickpeas are emerging quickly on his farm in Trumansburg, N.Y. He's growing chickpeas as part of a partnership that looks to establish a local market for the crop.
Carl Taber
Carl Taber of Trumansburg, N.Y., has always been a dairy guy. But with dairy farms getting larger in the Empire State, he looked at the economics and decided it wasn't for him anymore.
In 2014, he sold the cows and transitioned into growing field crops. And while he misses the cows, it's also given him the chance to try growing some new crops. Like chickpeas.
No, New York state isn't a chickpea hub by any stretch. In fact, most acres are grown out West — think Idaho, Montana, North Dakota and other Western states. But there's growing demand for chickpeas in New York state and the rest of the Northeast.
So, Taber, with the help of Cornell researchers and his county's economic development director, planted his first chickpeas last year — only 200 pounds — split between three varieties. This year, he's doubled down, planting 5 acres about May 18.
For Judy McKinney-Cherry, executive director of the Schuyler County Partnership for Economic Development, she's hoping these chickpeas will grow into a blossoming new industry for growers and a local source of chickpeas for a promising business.
"We're never going to be in a position where we're going to be displacing, you know, the chickpeas that are grown in North Dakota," she says. "We're never going to produce enough to supply the total need. But I do believe that being able to incorporate New York chickpeas into your product, yeah, I think there's a premium that can be had to that."
But can it grow here, and can it be profitable? That's the big question for Taber right now.
Getting it in the ground
Last year's planting was so small, Taber says, that he didn't use any field-scale planting or harvesting equipment. By the time he was able to get the seeds, it was already late June, and the field had significant weed issues.
But he was able to grow a crop.
This year, the plants were drilled into the ground much earlier at a seeding rate of 160,000 to 170,000 seeds per acre. Initial germination wasn't great, Taber says, and he's seen quite a bit of nutsedge in the field. Plus, the weather was wet, and with a family funeral he had to attend, he couldn't get a preemergence herbicide applied in time.
But the seeds are treated. McKinney-Cherry worked with Cornell's Alan Taylor, who works in the School of Integrative Plant Science Horticulture Section, on treating them before planting.
"There is already registered seed treatment fungicides labeled for chickpea, so we followed the labeled rates of two materials: Mertect 340 F and Apron XL. Seed treatment fungicides are used for two reasons: There may be seedborne fungi present on the seed and also soilborne fungi," Taylor wrote in an email. "Ascochyta blight is caused by a seedborne fungal pathogen and is controlled with Mertect. Damping-off is caused by several soilborne pathogens, and Apron XL controls pythium."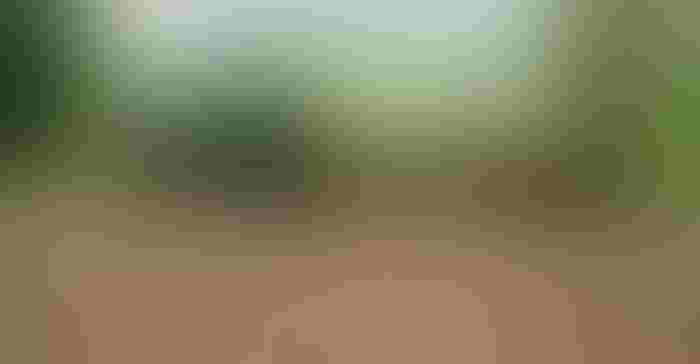 The plot was corn silage that was chopped last fall and then planted into an oats cover crop that was terminated this spring. The oats, Taber says, helped with erosion control but also soaked up extra nitrogen in the ground.
He had to switch plots last year, he says, because the seed company told him to not plant the chickpeas in a field with high nitrogen levels. "Because they won't nodulate as well. They really don't require too much fertility," Taber says.
So far the crop has emerged, although emergence has been "uneven." Nutsedge, a formidable foe, is growing right alongside the chickpeas.
The plants, Taber says, are much like soybeans in that they are both legumes and grow close to the ground. But the chickpeas' growing season — 100 days — is slightly shorter on average.
Still, last year was too late to plant. This was evident in fall when Taber was counting on Mother Nature to produce a good frost to help the plants get dry for harvest. That didn't happen. There were still green stems on the plant in November, "which killed the combine," he says.
Hopefully, this year's earlier start will allow the crop to dry out.
Filling a potential need
The idea for the project started after McKinney-Cherry visited with the founders of Antithesis, an Ithaca, N.Y, startup that's developed Grabanzos, marketed as "crunchy, chocolate-coated bites made better for you." Ashton Yoon, the company's co-founder, says it started marketing Grabanzos in 2018, but worked for a year prior on its development.
Apparently, the chocolate bites are made of chickpeas, but the source was in Arizona.
"I knew what they were leaving on the table in terms of profitability," McKinney-Cherry says. "Because of the fact that they had to source from so far away."
"Anytime that you're producing a product, the cost of moving the raw material to the site can be very costly, if not the most costly part," she adds. In this case, the chickpeas come from Arizona but go on a long, winding road to New York as they have to be dried and processed, then trucked to another facility to get made into flour before making it to New York to be made into a snack.
"When I listened to their logistics I just said, just the cost of gas alone to get the chickpeas up here by semi, if you could shave that piece off, it would be hugely beneficial," McKinney-Cherry says.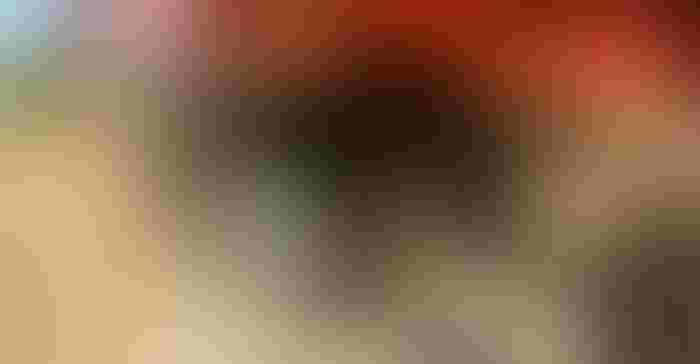 So, why couldn't the chickpeas grow here? McKinney-Cherry says she couldn't get a definitive answer as to why no one grew the crop. But it wasn't because of the soils or climate. Apparently, Penn State tried in 2015 to grow some chickpeas on farms in Pennsylvania, with success.
"I think that was a moment of, 'Geez, we should try it,'" she says.
After making connections with Cornell and a seed producer in North Dakota, McKinney-Cherry contacted Taber, whom she already knew as he's the chairman of the county's industrial development agency.
As creating local jobs through economic development is a crucial part of her job, McKinney-Cherry is serious about making the project work and sees many positives from it.
"I believe the products being made out of chickpeas will expand, and the East Coast could be an alternative, because of water issues and wildfires out West," she says.
Recovering dairy farmer
Taber grows 500 acres of crops. He's still involved in the local dairy industry as he grows 170 acres of corn silage for neighboring dairy farmers.
He also grows 140 acres of wheat and triticale, and cuts some hay ground.
Speaking of soybeans, he's growing a few acres around the chickpeas to give deer something to eat instead of feeding on the new crop. It worked well last year, Taber says, so he's done it again this year.
Chickpeas aren't the only new crop he's tinkering with. He's also planted 80 acres of a new hybrid corn for a former Cornell researcher who's trying to develop a new feed source for local hogs and poultry.
He describes himself as a recovering dairy farmer who's trying to keep farming and possibly find something new for his farm. But it's not just about making money.
"It's more than that right now," Taber says. "I now have the ability to do some of these other little projects. I just have the ability to."
About the Author(s)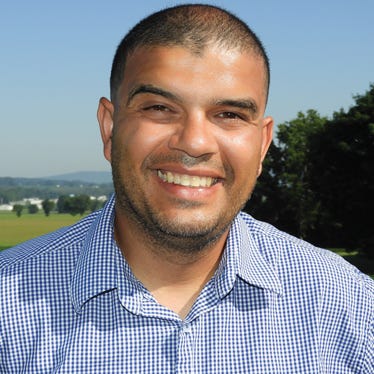 Editor, American Agriculturist
Chris Torres, editor of American Agriculturist, previously worked at Lancaster Farming, where he started in 2006 as a staff writer and later became regional editor. Torres is a seven-time winner of the Keystone Press Awards, handed out by the Pennsylvania Press Association, and he is a Pennsylvania State University graduate.
Torres says he wants American Agriculturist to be farmers' "go-to product, continuing the legacy and high standard (former American Agriculturist editor) John Vogel has set." Torres succeeds Vogel, who retired after 47 years with Farm Progress and its related publications.
"The news business is a challenging job," Torres says. "It makes you think outside your small box, and you have to formulate what the reader wants to see from the overall product. It's rewarding to see a nice product in the end."
Torres' family is based in Lebanon County, Pa. His wife grew up on a small farm in Berks County, Pa., where they raised corn, soybeans, feeder cattle and more. Torres and his wife are parents to three young boys.
Subscribe to receive top agriculture news
Be informed daily with these free e-newsletters
You May Also Like
---