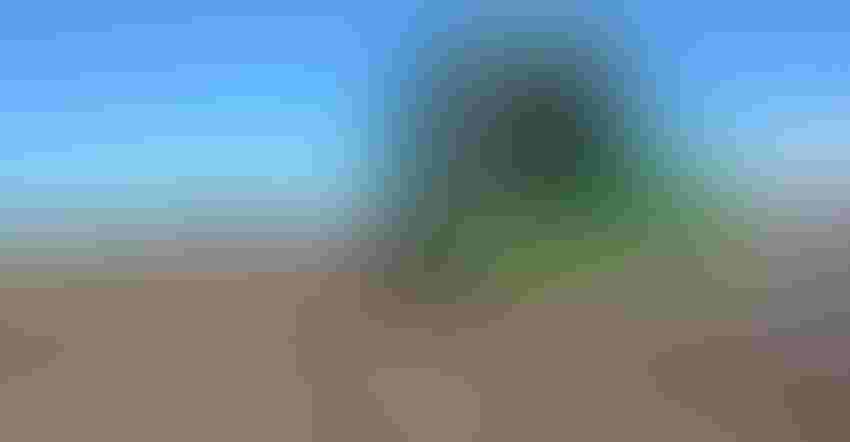 NEW HARVESTER: Increasing use of picker-baler harvesters is both a driver of more acres and a sign of sustainability of more cotton, according to an analysis by Cobank. The harvesters greatly increase efficiency of harvest and reduce manpower demands. The fact that more farmers are making the hefty investment needed to own one is a sign of commitment to growing the crop.
Willie Vogt
Cotton acres doubled in Kansas in the 2017 growing season, and total bales ginned more than doubled. Acres are expected to increase another 40% to 130,000 acres this year.
Oklahoma and Texas, the other two states in what the Cotton Council calls the "Southwest," are also increasing. Texas is the top cotton producing state in the nation, and Oklahoma rates fourth.
Cobank recently did an analysis of the cotton boom and what is driving. Here are the five factors to which they attribute the boom.
1. Unprofitable prices for grain crops. Corn, soybeans and wheat have seen five years of low prices and producers are looking for options. For many growers, 80-cent cotton brings a better bottom line than $4 corn, $5 wheat or $11 soybeans.
"Economics are a big part of cotton's growth, says Gary Feist, manager of Southern Kansas Cotton Growers Cooperative. "Producers can't make money with wheat, the crop that has long dominated this region."
Growth has been especially rapid in the counties along the southern border, where cotton is an excellent rotation crop with wheat, corn, soybeans and sorghum.
2. Declining water availability. The Ogallala Aquifer is declining, and there are either pumping restrictions or water tables too low to profitably pump in many areas. Cotton is a desert crop and much less water intensive than corn or soybeans.
"Cotton uses one-third to one-half less water than corn, Feist says.
The 2017-18 winter was brutally dry and spring has not been promising. The panhandle of Oklahoma, southern Kansas and northwestern Texas are all in drought, As of May 1, the U.S. Drought Monitor showed 85% of the state of Kansas in at least moderate drought and 7% in exceptional drought.
The Oklahoma panhandle is all in the exceptional drought category, along with the western tier of counties and a chunk of the northwest, while Texas, especially the panhandle and the western half of the state, remains in drought. Water-sipping cotton is a popular choice, especially in the Northern High Plains region.
3. Round bale harvesters. The round bale harvesters are relatively new, but provide a big jump in efficiency of harvest. The harvester eliminate the need for a boll buggy or module maker and the tractor drivers needed for each. The round bales emerge from the harvester fully plastic-wrapped and bar-coded labels are automatically affixed.
The harvesters are expensive — about $600,000 to $750,000 each. Yet their numbers are growing. Producers in Southern Kansas Cotton Growers Co-op have increased round-bale harvesters from three last year to 20 this year.
"That's a lot of investment, which tells me producers are pretty serious and about continuing to grow cotton," Feist says.
4. Better varieties, including tolerance to 2,4-D. For years, one of the things holding producers back from planting cotton was the crop's sensitivity to drift of 2,4-D sprayed on nearby wheat fields.
NEW VARIETIES: Another reason cotton acres are increasing in Kansas, Oklahoma and Texas are increasing is the development of new seed varieties, including Enlist from Phytogen, a variety that is tolerant of 2,4-D herbicide. 
With varieties now available tolerant to both 2,4-D and Dicamba, growers are seeing that problem go away and are planting more acres of cotton as a result.
5. Seed cotton returns to the farm bill. Cotton was excluded from the 2014 Farm Bill, but is now back in after better risk management programs were included in the Omnibus Spending Bill passed by Congress.
The details of the cotton portion of the Farm Bill won't be known until Congress passes the bill, but most growers see the return of cotton to the bill as a benefit.
Subscribe to receive top agriculture news
Be informed daily with these free e-newsletters
You May Also Like
---