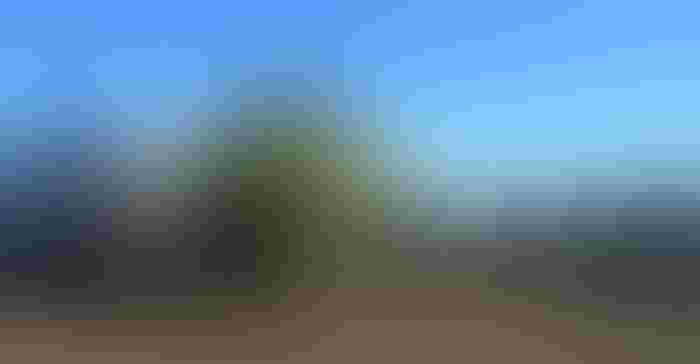 Harper County farmer Jim Robb has been a pioneer of regenerative farming, going to double-cropping in the 1980s, no-tilling in 2000 and companion-cropping about five years ago.
With his companion crops, Robb says his goal is to harvest four crops per year from each field, and he has been successful at getting that done. The best results, he says, have come from planting canola and winter peas for the winter months and soybeans and sunflowers in the summer months. He has tried both conventional sunflowers and Peredovik (short height) sunflowers.
Along the way, Robb says he has uncovered some sharable secrets of success:
1. Plant one legume and one non-legume. The legume will help fix nitrogen for the non-legume and will not be a competitor for applied fertilizer.
2. Plant together. Plant both seeds in the same row, on the same day, at the same depth. The larger seed will make a pathway to the surface for the smaller seed. In addition, putting the seed in together starts the symbiotic relationship almost immediately.
3. Plant one deep rooted crop and one shallow crop. The deep-rooted crop can help bring up moisture and nutrients for the benefit of the shallow crop, something that can be of major benefit in drought years.
4. Plant one stronger crop and one weaker crop. The stronger plant provides a support for the weaker one to climb on. In the case of canola and winter peas, the stronger stalk of the canola allows the winter pea to be supported as it climbs.
5. Reduce seeding rates. You can plant fewer seeds per acre for both of the companion crops. Robb says his best rates have proven to be four pounds of canola with 40 pounds of peas of 88,000 soybean seed with three pounds of sunflowers.
6. Exploit the synergy. There is a definite synergy between the two crops. That affects water use, fertilizer use, yield, insect resistance and possibly disease issues.
7. Plant north and south. This maximizes daily sun exposure and lines up magnetic field lines. Yields are 3 to 5 percent higher when rows are oriented north and south.
8. Harvest straight cut or windrow, then harvest. If you harvest both crops together you can take the combination to a seed cleaner to separate the grains. Or you can one twice, one high and then one low. The double cut works for sunflower and soybeans but you have to accept about a 10% loss to wheel tracks.
9. Harvest east to west. An east to west harvest will enable you to spread straw better if there are south or north winds.
10. Plan for air application. If you plant a "flying on" seed, plant only on low-residue ground and fly crosswind.
Seed applied by air does not have the benefit of the down pressure on a planter, so lower levels of residue are needed to ensure good seed contact with the soil. A crosswind will deposit the seed evenly across the field.
Subscribe to receive top agriculture news
Be informed daily with these free e-newsletters
You May Also Like
---