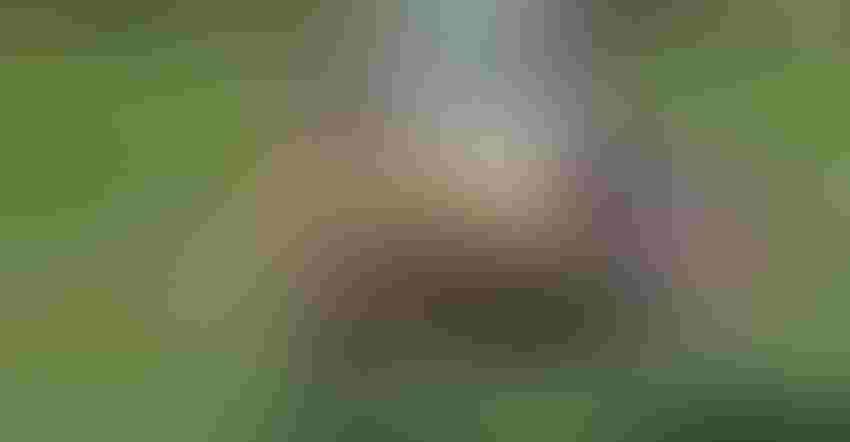 CHECK TANK FITNESS: Whether sprayer-mounted or strapped onto a trailer, poly tanks need to be checked before growing season.
You've got them — poly tanks — on spray rigs, pickups, truck flatbeds, trailers, even parked in or next to the machine shed. The lifespan of these polyethylene plastic tanks depends on, among other things, thickness and quality of the material and how much ultraviolet sunlight they're exposed to. Warranties expire for a reason. And like your knees, they don't last forever.
Give poly a fitness test
Now's the time to evaluate tank condition, urges John Rowehl, Penn State Extension agronomist. Here are three simple ways to test the fitness of a poly tank before next season:
• Look for crazings. Crazing — a patchwork of very fine tank wall cracks — is the first sign of deterioration. Take a water soluble marker and color several 6-by-6-inch areas on the tank wall. Rub the marker off with a rag and look for "crazing," a patchwork of very fine cracks appearing as fine lines. Check for it at the most likely stress points on your tanks.
• "Candle" it. Feed a bright light into the tank and look closely from the outside for defects or cracks that show up as different lines or areas of light intensity.
• Do a stress test. Tanks showing signs of UV damage can be further tested (when empty) by taking a baseball bat and "swinging for the fences." Yes, it might break. If it does, then you know that the tank might have failed because the material was too brittle.
A tank in good shape should flex and rebound without breaking. You may have put the tank out of commission, but you'll save having a tank rupture down the road.
A weakened tank may be safe for water. But you can't afford to lose several thousand dollars of fertilizer or a tank of spray mix — or the far higher cost of a reported environmental spill.
Know your tanks
Vertical storage tanks aren't designed for transport. They don't have built-in baffles. Tie-down slots molded into the tank tops are designed to secure them on the ground, or for transport when empty. But roping or strapping a storage tank onto a flat bed with too much force can cause tank sides below the tie-down slot to buckle and possibly crack.
Transport tanks are usually built stronger, with baffles to slow liquid movement. They're secured to a cradle, then to a truck or trailer bed with bands or hoops.
Tank strength is rated in specific gravity. Water at 8.3 pounds per gallon has a specific gravity of 1.0, so a tank with this rating shouldn't hold heavier materials such as fertilizers.
A fertilizer that weighs 11.7 pounds per gallon would have a specific gravity of 1.4 (11.7/8.3). That means a fertilizer tank needs to be rated at least that high.
Source: Penn State Extension
Subscribe to receive top agriculture news
Be informed daily with these free e-newsletters
You May Also Like
---